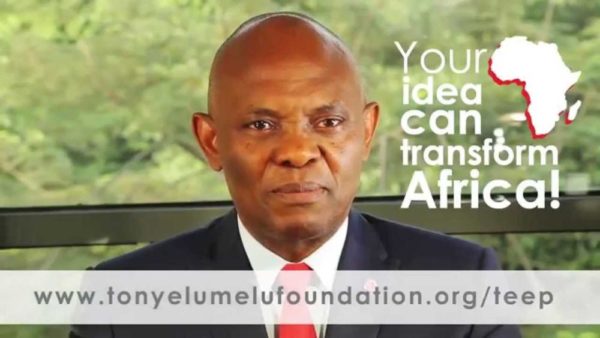 So, all you have is this business idea and you can't seem to think of how to take the leap from that point to actualisation… right? Well, the Tony Elumelu Foundation Entrepreneurship Programme is offering to help mentor you towards getting to your goals.
The Foundation has opened the application portal to business owners who have been in operation for 3 years and less. The organisers have done a break down of parts of the application form which might be a little challenging:
Business profile: here we want to know about your business idea in detail. These are questions you would be asked by anyone – friends, family and potential investors
#AfricanEntrepreneurs your idea can transform Africa apply for TEEP
Revenues and Market Potential: Who are you planning to sell your products/services to and how well do you know the industry you want to get into?
Team and company structure: is this idea yours alone, or do you have partners and people with the same vision?
Financials: here is where it may get tricky, but if you've done your thorough research, you will be able to answer these questions – realistically. Don't make up fancy numbers to try to boost your application. Be honest – your business is still an idea, we do not expect you to have all your cash-flow figured out, we want to know how financially savvy you are and if you will be able to attract the investment you need as well as make good use of the funds we give you.
So if you have an idea, go ahead and apply. Figure out what you want to call your business, plan how many employees you will have, how much revenue you will generate and how much market potential there is for your product/service. Don't cringe at the difficulty in answering questions about your idea, relish the chance to bring it to reality and you are on your way from Idea to IPO.
Click here to apply