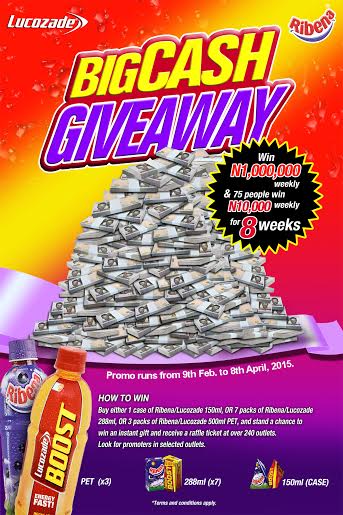 If you won a million Naira in the ongoing Lucozade and Ribena Big Cash Giveaway promo, would you share it with your spouse or partner?
Well, you really don't need to hoard because everyday energy drink Lucozade Boost and vitamin c enriched drink Ribena are set to make millionaires every week for the next eight (8) weeks in its "Big cash giveaway" promo.
So as to spread the love to its loyal, energetic and fun-loving consumers across Nigeria, Lucozade Boost and Ribena will give out 1 million Naira to 1 lucky winner every week for 8 weeks, while 75 people will also win N10,000 Naira every week for the same duration.
How to win
From now till Wednesday 8th April 2015, buy either 1 case of Lucozade /Ribena 150 ml, or 7 packs of 288ml or 3 packs of 500ml PET in designated stores. Collect & keep your raffle ticket and you just could be the lucky winner of these awesome cash prizes.
Visit the designated sales outlets in Lagos, Port-Harcourt, Uyo, Calabar and Enugu to purchase and enjoy your Lucozade Boost and Ribena and 1 million Naira could be yours. Look out for the Lucozade or Ribena brand ambassador to collect your free gift and raffle ticket. You could also win lovely instant prizes at the point-of-sale.
You can join the conversation on Twitter on #BigCashGiveAway to learn more. For any queries about this promo please call the toll free line 0800-GSK-CARE (0800-475-2273).
See Newspapers, posters and fliers for more details.
________________________________________
Sponsored Content