Africa's Next Top Model season 1 winner, Ugandan model Aamito Stacie Lagum was definitely one of the models blazing the runway during the fashion week of 2015.
After being spotted in editorials and top publications like Marie Claire South Africa, and being named one of the Top 10 Models Dominating the 2015 NYFW Runway by Style.com, we are guessing her nearly 13 appearances at the New York, London & the ongoing Milan Fashion Week 2015, are some of Aamito's greatest achievements yet.
Walking for designers such as Marc by Marc Jacobs, Bottega Veneta, Giles, J. Mendel, Paul Smith, Lacoste, Sophie Theallet, Rag & Bone and more, we can tell 2015 will be the year Aamito truly comes into her own. We also predict more African models will rule the runway.
We have the fab details on Aamito's debut at Fashion Week. Check it out!
Caution: There are images with slight nudity.
***
New York Fashion Week Fall 2015
The Marc by Marc Jacobs Fall 2015 Runway
The Marc by Marc Jacobs runway show was all the rave thanks to its military-inspired collection, faces like Kendall Jenner and ANTM's Aamito who walked the runway; and of course the brand's A-list celeb backing.

The rising African model hit the runway wearing the brand's collection of coats, accessories, 'Solidarity' pants and studded boots, and she was sure to give her best version of a military face. The Marc Jacobs brand used the William Morris-inspired prints as the sounding board for the 'Solidarity' trousers as a tribute.
One of our favourite aspects of her look was its military-meets-preppy vibe, with a beret to match.
Her makeup was rebellious yet youthful and still kept in line with the key aesthetics of the collection.
The J. Mendel Fall 2015 Runway
Aamito's appearance in this stunning dress at the J. Mendel show was a welcomed sight. With the fish net stockings and pulled back hair, she had a vintage appeal.

A key inspiration the brand wanted to display is the celebration of New York City's eternal glamour & nightlife, with a naturally elegant and instinctively cool vibe.
Taking a closer look at her makeup, Aamito rocked a bare face with a light shimmer and we see why; they probably didn't want to take the attention off that beautiful dress. Her overall makeup look was feminine with an ethereal hint created by Beauty Dot Com.
The Suno Fall 2015 Runway
Aamito also walked the Fall 2015 runway show for Suno. Wearing a striped dress with a V-neck, her look was very 70s with a soft and feminine silhouette.

Suno went for a disrupted design theme with their collection mixing prints and patterns.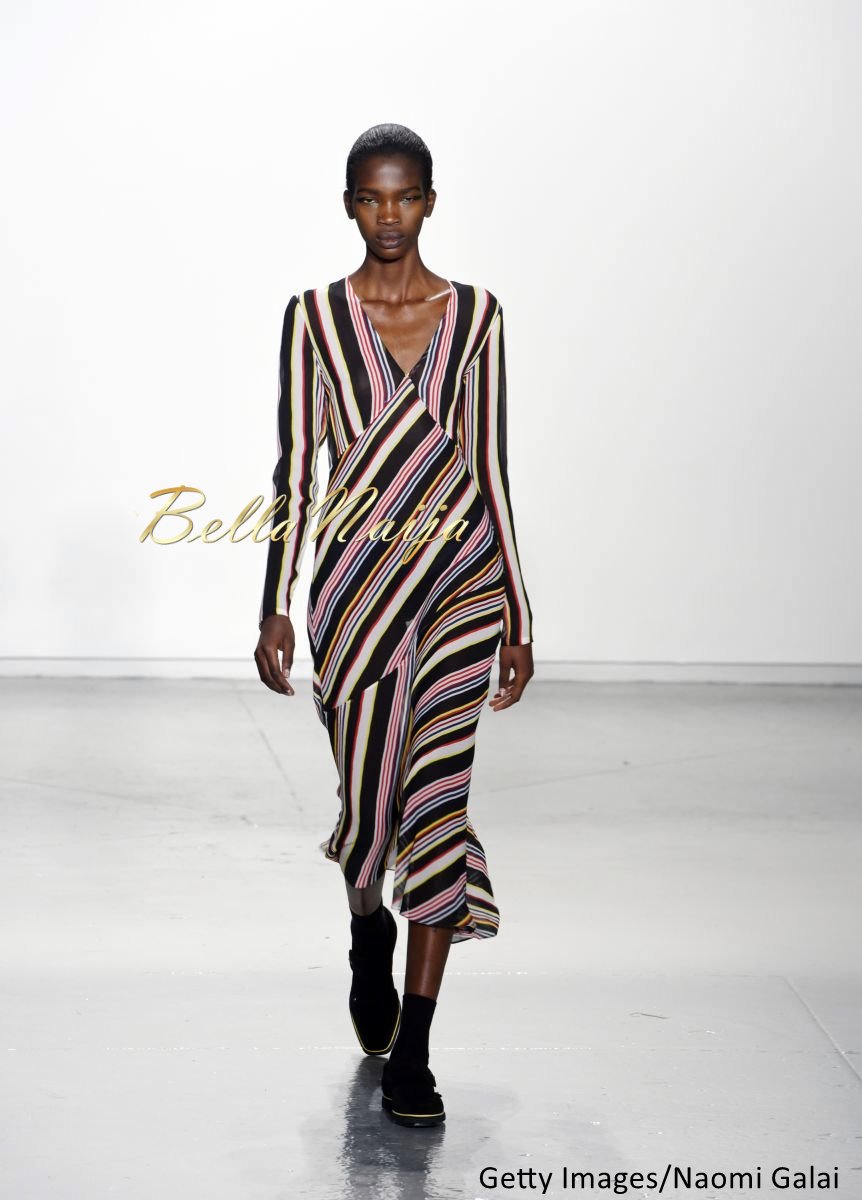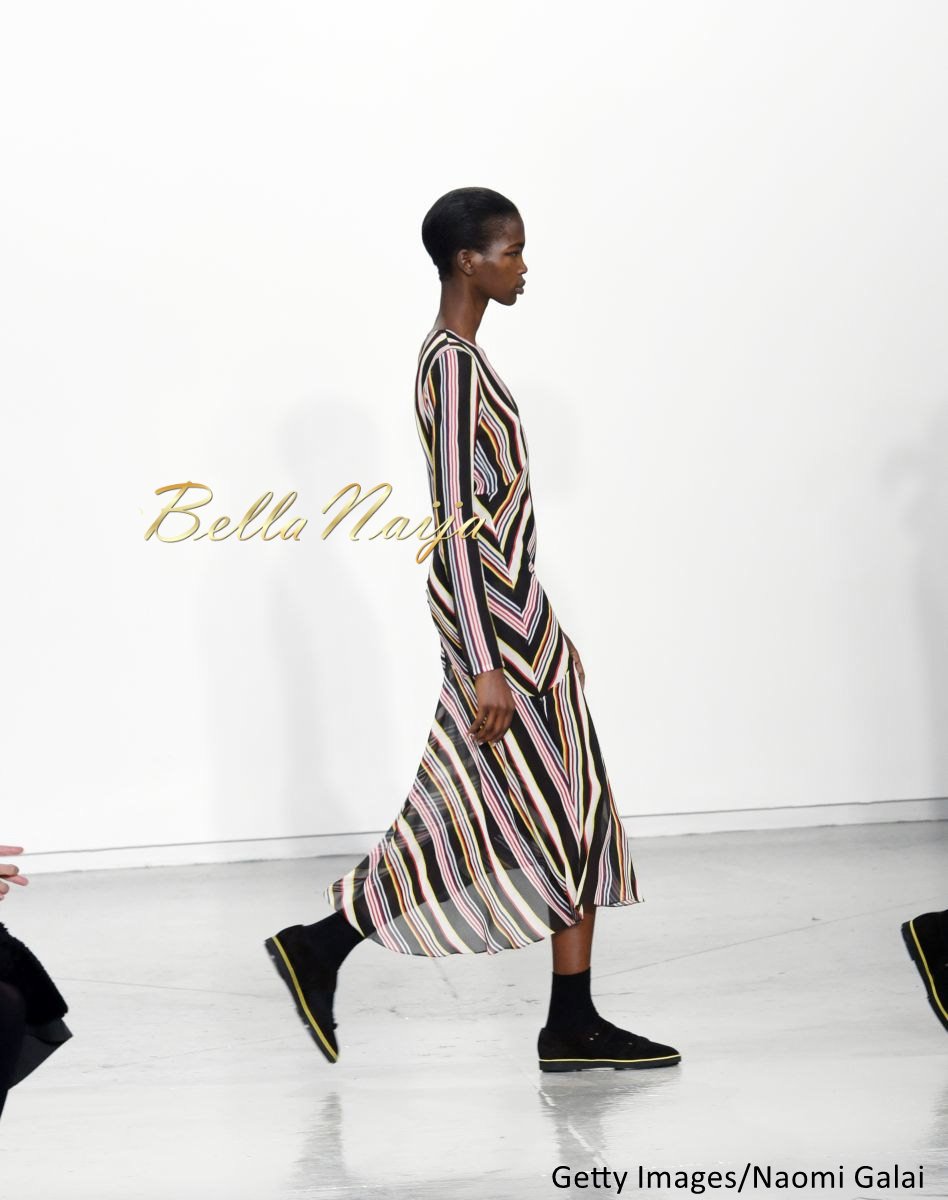 The showcase makeup was  created by Maybelline New York and was all about the eyes.They created thick exaggerated lines at the outer corners of the eyes and left the rest of the face bare. The look was completed with a mild blush to the cheeks and with nude coated nails.
The Tome Fall 2015 Runway
Aamito was chic & cozy in one of the pieces Vogue described as "curvy-friendly" at the Tome Fall 2015 runway show in collaboration with Sarah Jessica Parker (SJP). The movie star described the collection as having its "own voice. They're not inclined to look and see what everybody else is doing". Coming from SJP, that's a great review.

We noticed a lot of designers opted for less-is-more makeup, and it was the same for the Tome showcase. Aamito was bare-faced with her hair parked in a low bun.
The Rag & Bone Fall 2015 Runway
Now this was an interesting look. Rag & Bone decided to give the world a new take on outwear and Winter-proof pieces with a mix of silk, lace, wool and more fabrics.

Aamito's outfit was a combination of the sporty-nightwear trend Rihanna made popular last year – and we still aren't sure if we're feeling it.
Rag & Bone opted for a roughly chopped cropped hairstyle with a flat appearance achieved by tying a hair net close to the head for a long period. Her makeup was subtle with bold brows and glossy lips created by Paul Hanlon.
The Richard Chai Fall 2015 Runway
Smokey eyes, a matte face, sleeked back hair and menswear-inspired outfits – these were the aesthetics for the Richard Chai showcase. The theme was 'cozy layering' coupled with mixed prints.

Aamito walked the runway in true Fall fashion in a Winter coat layered over shirts and patent – covered wedged flats.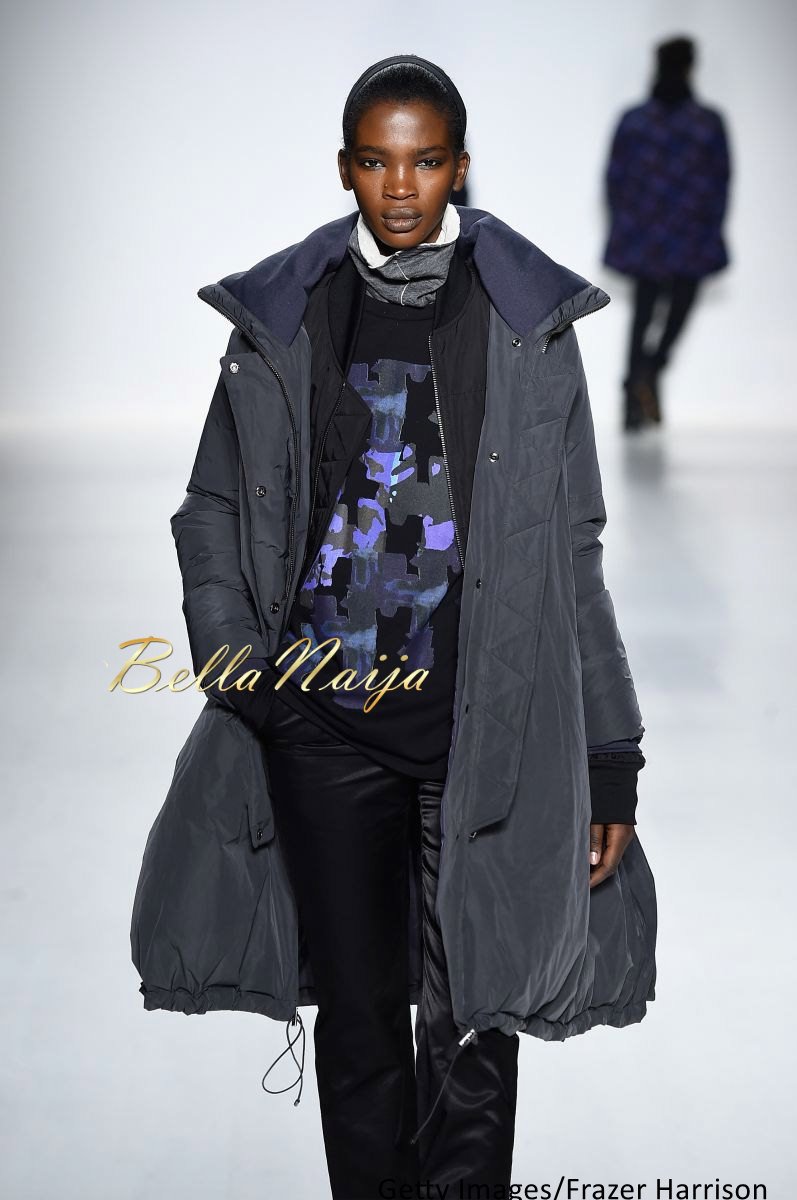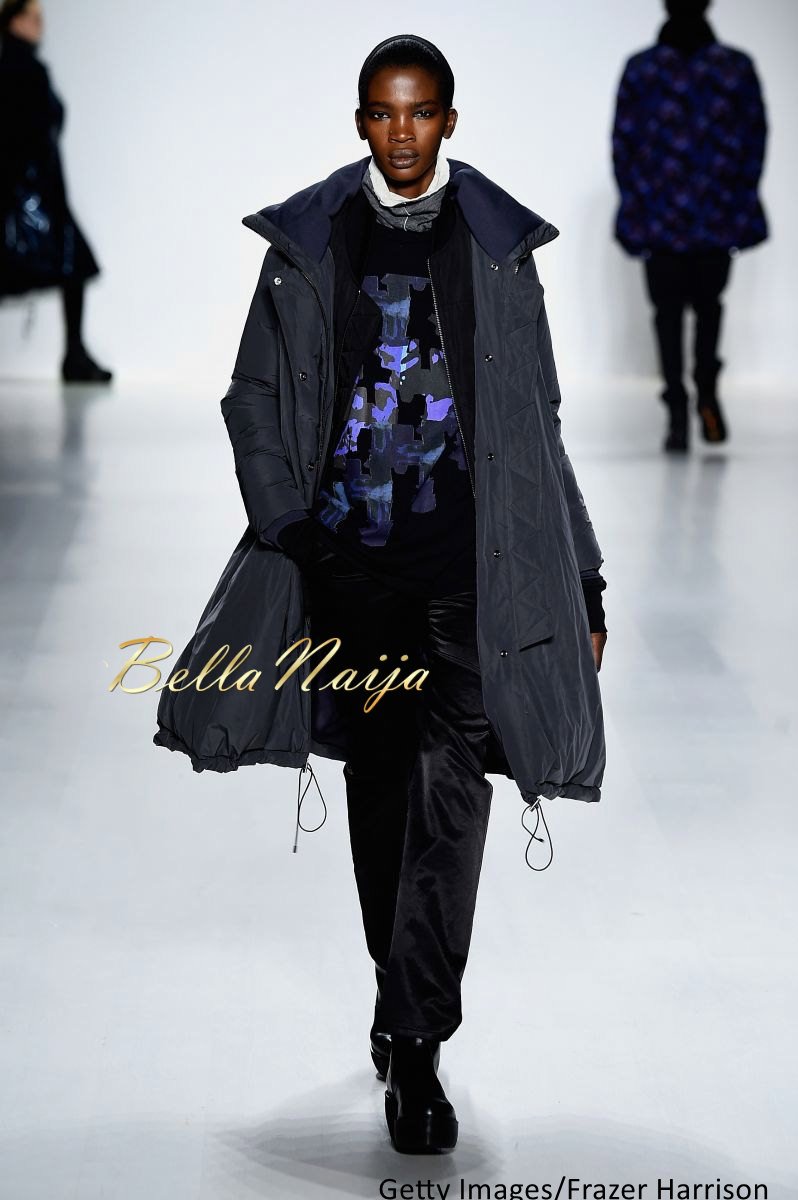 For makeup, the models' faces were first hydrated to give off a dewey effect, then made nude and completed with lightly brushed brows and black mascara.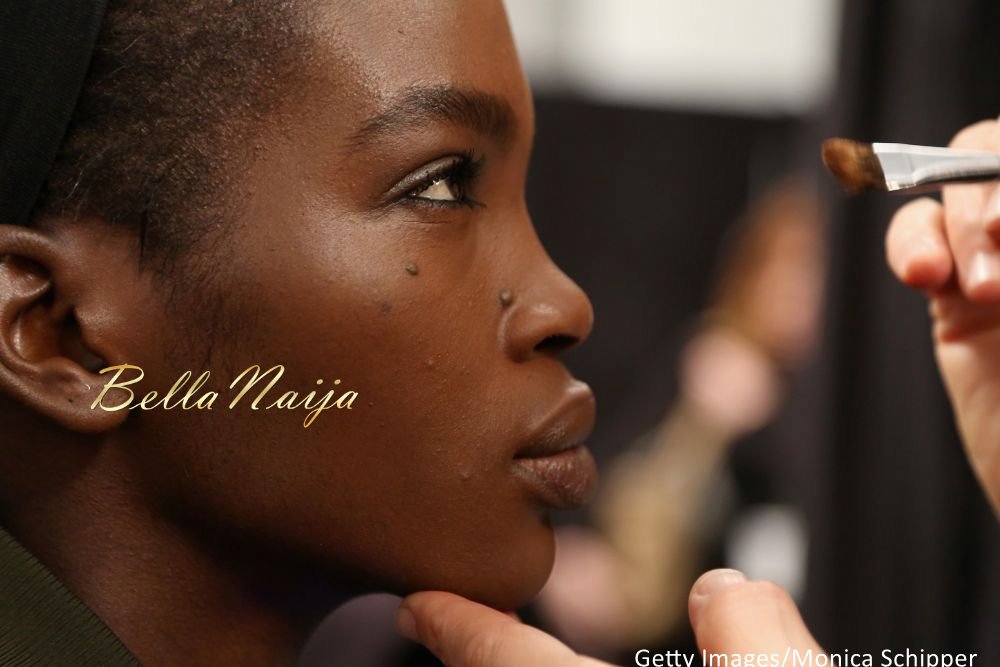 The Sophie Theallet Fall 2015 Runway
This has got to be one of our best looks! Aamito really owned the runway as she wore one of the closing looks for the Sophie Theallet Fall 2015 show.

Dressed in a shimmery liquid gold gown, we can't help but love how goddess-like Aamito looks. And that wasn't her only look…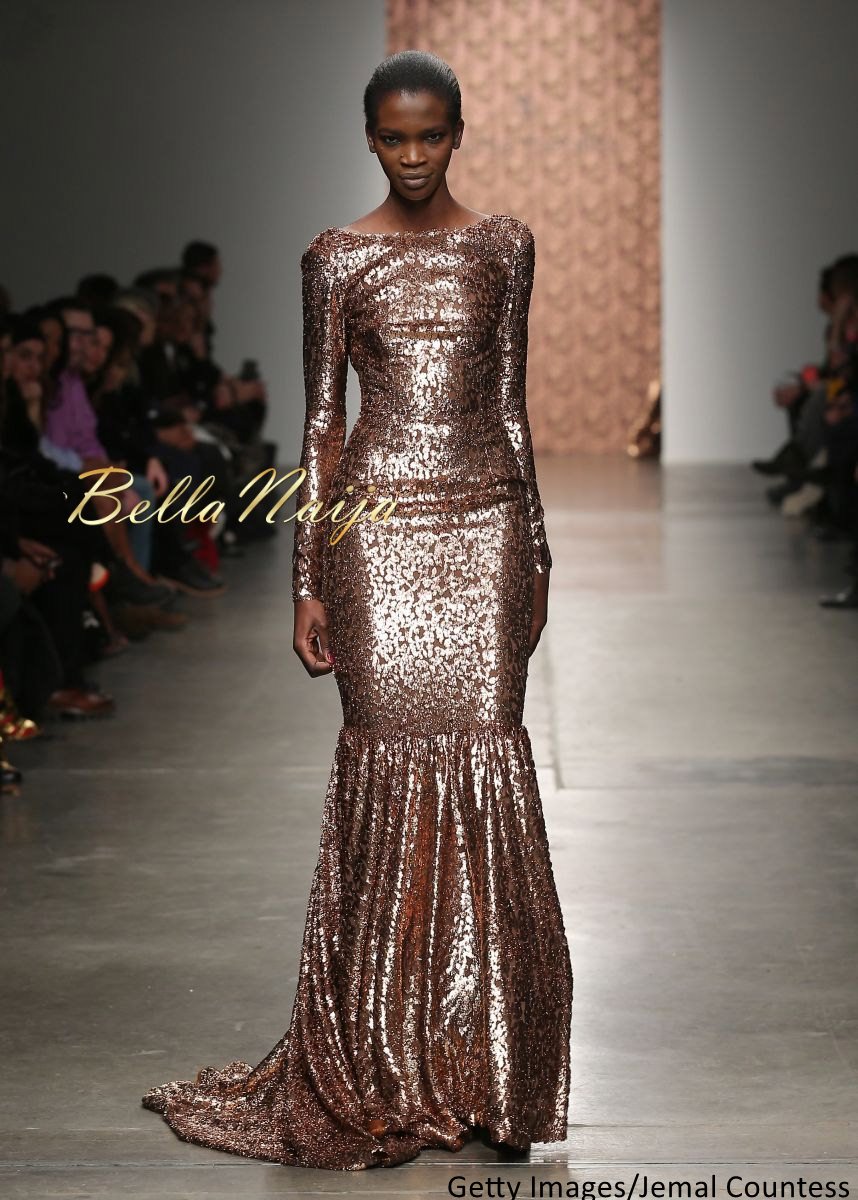 …she transformed into a gypsy girl for her 2nd outfit which had an ethnic-preppy vibe.
The Lacoste Fall 2015 Runway
The main theme for the Lacoste show was tennis. With a sophisticated urban vibe, the pieces were tailored & sports-inspired, and some models even rocked sweatbands.

Aamito looked chic in her Winter 'tennis allure' piece which also had an interesting aspect with a short cape.
***
The London Fashion Week Fall/Winter 2015
Paul Smith Fall/Winter Runway
The Paul Smith runway was a celebrated mash-up of chic and classy pieces mixed with a modern and sophisticated appeal. Aamito hit the runway in a flowing silk blouse with a mini-cape neckline and slightly over-sized dark trousers.
The women's showcase collection had a menswear theme incorporated with men's buttoned down shirts, thick and structured coats and more.

With makeup by makeup artist Sam McKnight, the showcase' hair theme was a post-swim pony. This was meant to mimic the look of a damp pony tail after a swim.
Jonathan Saunders Autumn/Winter Runway
The Jonathan Saunders showcase was a bubble of geometric prints & patterns. With colourful pieces that included cotton coats, Lace-up thigh-high boots, sleeveless dresses, sweaters, Sunday dresses and more, the collection was a pop of activity.

Aamito rocked the show in a multicolored short-sleeved dress, complete with a turtle neck and lace-up booties. Her makeup was kept to a minimum with sleeked back hair and a bare face.
Giles Fall/Winter 2015 Runway
The Giles runway show at London Fashion Week was a mix of Grunge makeup and goth designs. Here, Aamito shared the runway again with Kendall Jenner and even took a few selfies backstage.

The collection's pieces had an ethereal vibe with almost all pieces coming in black and shades of black. The theme centered on the Victorian Era with a lot of ruffled high neck shirts and flowing capes, embroidery, bow details and corsets.
The makeup looked hollow with Aamito's eyes slightly darkened plus a black lip, created by Lucia Pieroni.
***
Milan Fashion Week Fall/Winter 2015
Bottega Veneta Fall Winter 2015/16
The Bottega Veneta Womens showcase took a bold approach to mixing patterns and colours. Aamito's piece was a white 70s-inspired shift dress, complete with knee-high gold boots. The entire collection played off a lot of silk, tweed and cotton for a fun but sophisticated edge.

Her makeup was subtle but pretty. Her face was close to bare, with soft lips and tamed brows to complement her 70s vibe
We are glad more African models are being debuted at International runway shows and can't wait to see what's next for Aamito.
Photo Credit: Getty Images/Nielson Barbard | Getty Images/Slaven Vlasic | Getty Images/Frazer Harrison | Getty Images/Monica Schipper | Getty Images/Arun Nevader| Getty Images/Naomi Galai | Getty Images/Anna Webber | Getty Images/Pietro D'Aprano | Getty Images/Ian Gaven | Getty Images/Tim P. Whitbey | Getty Images/Ben A. Puchnie