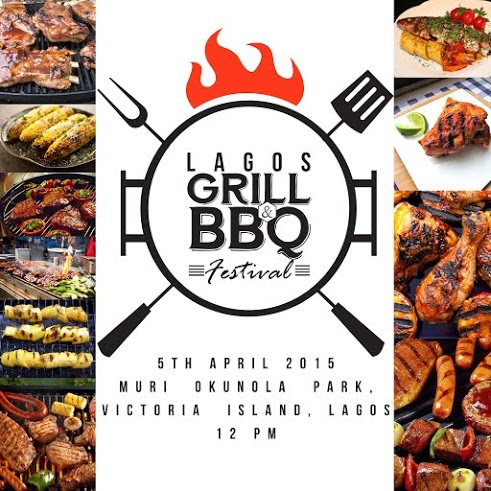 Are you ready for some grilled bites and yummy treats?!
Well the Lagos Grill & BBQ Festival will be holding this Easter Sunday this April 2915 at Victoria Island, Lagos. The family fun event will feature delicious food from over 10 Grill & BBQ spots from across Lagos with entertainment and fun for all.
According to Francis Ebie (Chief Coordinator, Lagos Grill & BBQ Festival) – "The event will be the first of its Kind in Nigeria – a fusion of Western style food festivals and authentic Naija grill and BBQ."
The event will be transformed into a Summer style festival with gazebos, comfy sitting areas, cocktail tables and a stage for great performances. A section of the park will be for the kids with interactive games, bouncy castles and play pens. Adults will also get to channel their 'inner kid' as there will be fun food competitions like 'How many hot wings can you eat' and the 'fastest burger eater' contests. The winners of these contests will go home with great prizes courtesy of the sponsors and organizers
Guests can look forward to entertainment from top musical and dance acts, including a special grill show and master classes from top Grill & BBQ chefs in Lagos!
Come and be a part of this feast of flavors this Easter Sunday, in Lagos!
Date: Sunday 5th April 2015
Time: 12Noon
Venue: Muri Okunola Park, Victoria Island, Lagos
Contact: For enquires call The Grind: +234 810 543 3999 | Send an e-mail to: contact@lagosgrillandbbqfestival.com | Visit: www.lagosgrillandbbqfestival.com | Find them on Facebook/Google+/Twitter/ : Lagosgrillfest | Follow them on Instagram: @lagosgrillfest
_________________________________________________________________________________________________
Sponsored Content