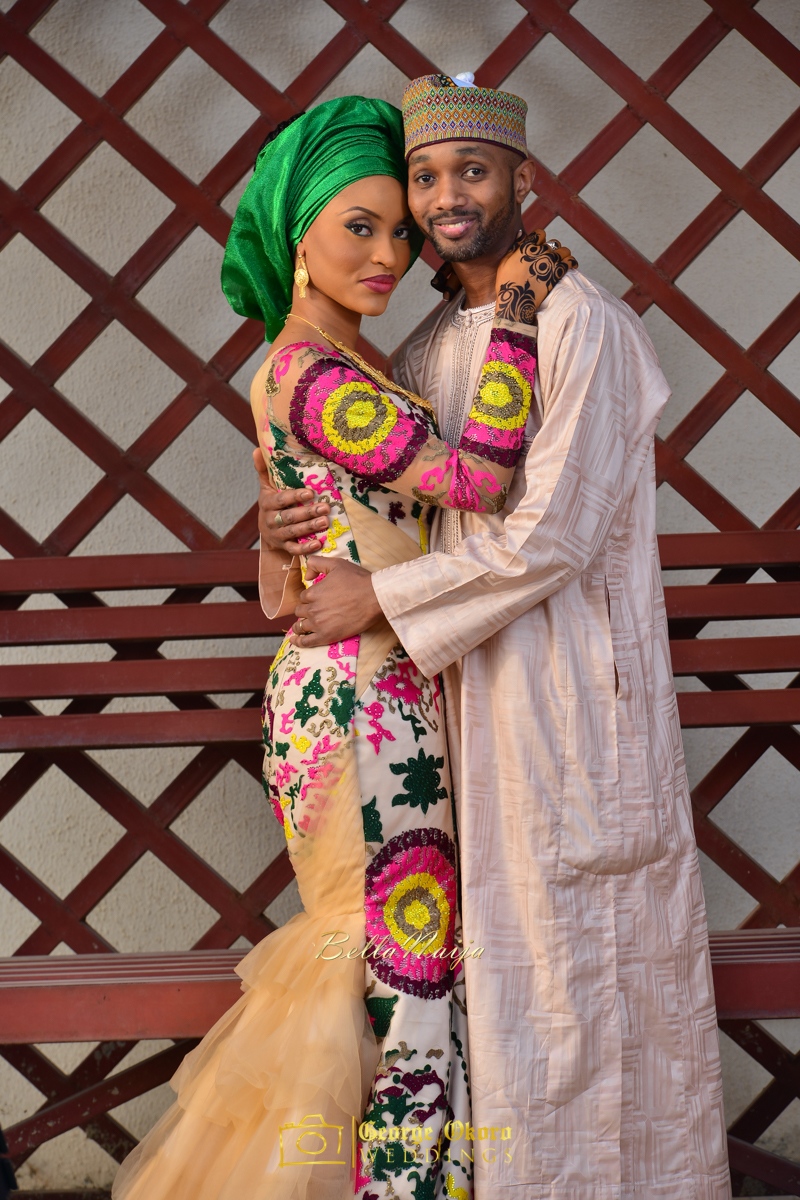 Hadiza Maitama-Sule & Salihu Rilwanu Lukman's Kano wedding was full of celebration, beauty, culture and tender moments.
The bride says it was love at first sight for her and Salihu, "Well well, it was a love at first sight … even though I played hard to get don't blame me, every girl does that shakara, but my superhero got his princess :)"
The groom proposed over the phone, "he was in Vienna and I was in Nigeria and he gave me some time to think but in my mind it was already a YES!!!!! Later he got my very very very beautiful ring."
Hadiza & Salihu's Advice for Couples Getting Married
Make sure you plan way ahead of time and never ever be a last minute couple! NEVER!!! Also, always schedule meetings with your wedding planners.
Pray, pray and pray and let Allah do the rest.
~ Photography: George Okoro Photography
Kamu
Kamu means 'catch'. Hadiza's face was covered and female representatives from her family haggled the groom's family for a price to see the bride's face. After the amount was agreed and exchanged, her veil was opened and perfume was sprayed on her.
On her first look, Hadiza says, "For my kamu I went all multicoloured. We Fulani love our many colours. I wore two outfits for my kamu. The first outfit was lace, by DZYN and the talented Fati Mamza went for a softer look on me."
"The second outfit had embellished multicoloured crystals on turquoise lace and the joyful Bimmms made all my aso oke."
Wedding Dinner
"I wore gold and bronze for my dinner in Kano. Gold is a royal colour and it made me feel like an Egyptian princess. The lace and dress was custom made by Ejiro Amos Tafiri."
Photography: George Okoro Photography | instagram.com/georgeokoro | www.georgeokoro.com | [email protected]
Wedding Info – Dates | Venues, Colours
Kano Dinner: 24 December 2014 | Fabs Event Center kano | coral, peach, gold and white
Kamu: 25 December 2014 | The Afficent, Kano | traditional royal theme – brown, green,red and gold
Wedding Attire
Makeup: Fati Mamza for Mamza Beauty | instagram.com/mamzabeauty
Kano Dinner: Custom lace and dress by Ejiro Amos Tafiri | instagram.com/ejiromostafiri
Aso Oke: Bimmms Alaso-Oke & Beads | instagram.com/bimmms24
Kamu: Dzyn for bride and Aso Ebi Bella | instagram.com/dzynbabe
Shoes & Clutches: Sergio Rossi, Stuart Weitzman, Kurt Geiger London, Truly Zac Posen, Aldo Arise limited edition by Ostwald Helgason
Vendors
Wedding Planners: Mrs Toyin in Kano – 08037219371 | Let's Talk Events for Abuja
Wedding Cakes: Creamy Bites Cakes in Kano – 07039771078 | Let's Talk Desserts for Abuja
Decor
Kano Dinner: Blue Velvet | instagram.com/bluevelvetmarquee
Kano Dinner Marquee: Fabs Event Planners | facebook.com/fabseventplanners
Kamu: The Afficent, Kano
Invitation Cards: Cards 89
DJ: Dj Showky for Elegante Club
MC: MC Biggie
Security & Ushers, Cocktails: Mrs Toyin – 08037219371
Food: Dhalal Lebanese and Meena Restaurant, Let's Talk Events
Chapman: Meena Resturant
Dessert: Stock Pot