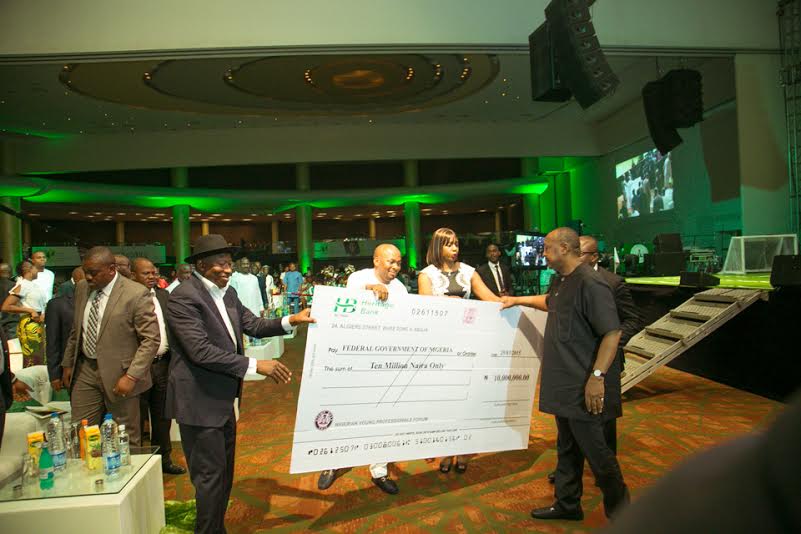 At "An Evening with the President of the Federal Republic of Nigeria" on a Sunday night in Lagos, President Goodluck Ebele Jonathan, GCFR was presented with a Heritage Bank's cheque of N10 Million Naira by Moses Siloko Siasia (Chairman, NYPF) on behalf of the Nigerian Young Professionals to support families of fallen heroes and identify with the Nation's Armed Forces at this time of frequent attacks by the insurgent.
The event also has an interactive session with the President at Eko Hotels & Suites in a bid to further enlighten young people on the need to cast a vote for the right candidate in the 2015 Nigerian General Elections.
Tagged "Making an Informed Decision Ahead of the General Elections", comedian of the GCFR, Ali Baba, set the ball rolling. Nigerian Young Professionals in the UK and USA streamed live to the event, enabling them to contribute and directly ask President Jonathan questions as it affects young professionals in Nigeria and in the diaspora.
Moses Siasia charged young professionals to vote wisely as the event was an avenue to declare our position as we throw our weight behind the President Jonathan re-election bid. Adding that we are privileged to be living at a time when the range of opportunities open to young people is greater than ever. "It is a time when we can truly benefit from establishing links with each other to develop an effective professional network to positively impact on our country."
President Jonathan on his part promised that he will continue to encourage young people in their businesses, educational pursuits and other areas of endeavor, thereby empowering them to be able to take up positions at all levels.
The President also responded to questions on his plans for young Nigerians, especially below the age of 40, saying young people were very important and needed to be encouraged to maximize their potential. He promised that in the next four years, if given the mandate, he would continue to build on the gains of the last four years and improve the lives of the young Nigerians.
According to him, his Administration has just sworn in one of the youngest Nigerian ministers and will give the young people more of such appointments. He said "as a Nation, the country must prepare for its future by investing in the young people. We must work hard and encourage the young people."
The President also promised to intensify the fight against corruption and ensure that the problem of stigmatization of Nigerians becomes a thing of the past over the next four years.  He also talked about his fight against corruption using technology like the Integrated Personnel & Payroll Information System (IPPIS) and promised to clear corruption through such innovative measures in the Oil & Gas industry.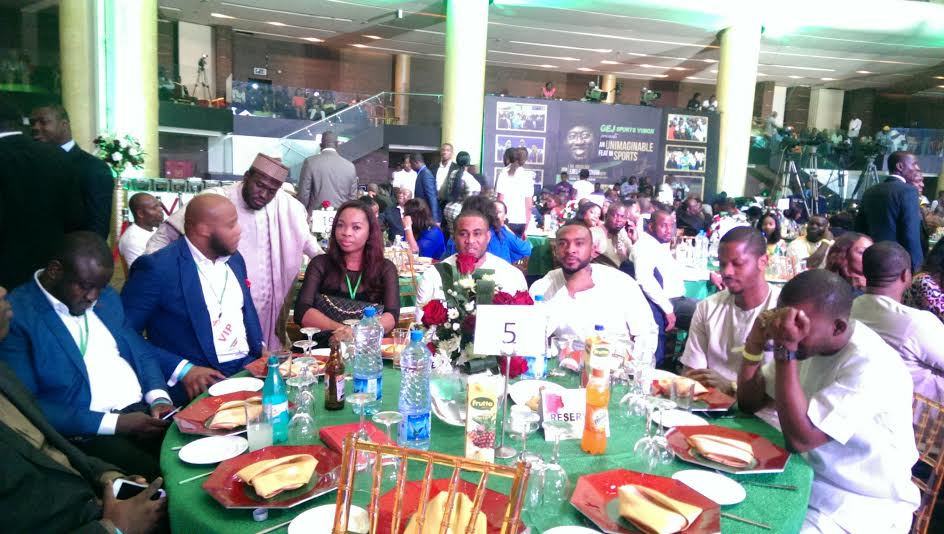 President Jonathan expressed appreciation to the young professionals that joined the event online reminding them that they are ambassadors of Nigeria and should conduct themselves in the best possible way.
________________________________________________________________________________________________
Sponsored Content