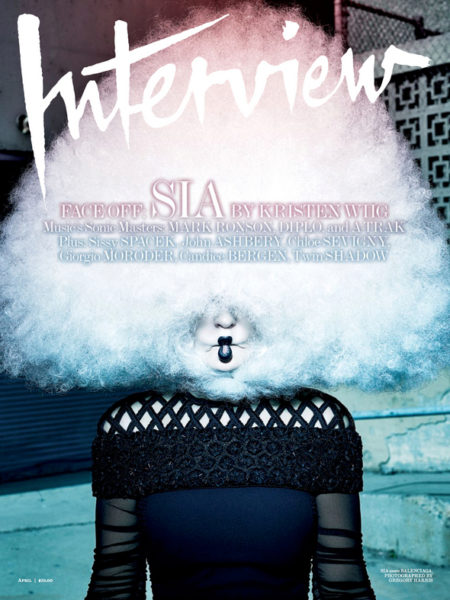 Australian singer-songwriter Sia is known for her awesome music and signature big blonde hair.
She covers Interview Magazine's April 2015 issue and in the issue the 39-year-old artist talks about several things, including why it is that she is always hiding her face.
For the feature she is styled by Elin Svahn and photographed by Gregory Harris.
Read excerpts from her interview below.
On her blonde bob: "I had the idea that, well, if Amy Winehouse had been the bouffant, maybe I was the blond bob. I wasn't saturating the market; I was an indie-pop singer…"
On hiding her face: "I'm trying to have some control over my image. And I'm allowed to maintain some modicum of privacy. I would like not to be picked apart or for people to observe when I put on ten pounds or take off ten pounds or I have a hair extension out of place or my fake tan is botched. Most people don't have to be under that pressure, and I'd like to be one of them. I don't want to be followed by paparazzi."
On aliens: "…I think that it would be unwise of us not to believe that there is life outside of us, intelligent life. And so I do believe in aliens. I have seen the [former] Canadian minister of defense discuss the fact that he knows that the American government is working with five different species of aliens presently. Which is a real fucking mind-blower.."​
For more on Sia, visit Interviewmagazine.com!
Photo Credit: Interview Magazine