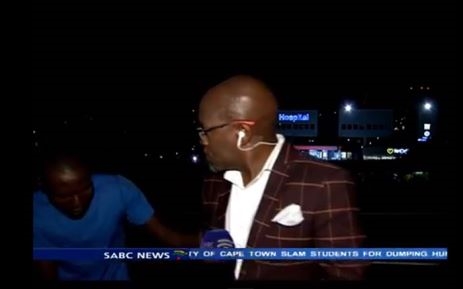 South African Broadcasting Corporation's contributing editor, Vuyo Mvoke, was mugged live on TV on Tuesday night as he was covering the arrival of Zambian President Edgar Lungu, at a hospital in Johannesburg.
The mugging was recorded and televised live and the video on Youtube has since gone viral.
Spokesperson Kaizer Kganyago told eNCA "The crew was not harmed although they are still in shock. They were robbed of personal belongings including cell phones and a laptop. The matter has since been reported to the police who were called to the scene."
According to the SABC, about four armed men demanded that the SABC crew hand over their cellphones, laptops and broadcasting equipment.
SABC TV News reporter Chriselda Lewis and Foreign Editor Sophie Mokoena were also present and handed over their cellphones to the men. Chriselda Lewis later tweeted a screenshot of the footage saying: "Do you know these men? They robbed us at gunpoint. They screamed at us 'Kill these dogs' #sabcnews."
The video shows the men walking past, then turn around and begin demanding items from the SABC crew. In the footage, the culprits appear oblivious to the fact that they were being filmed despite standing directly in the crew's spotlight.
Watch the viral video below!