Hi BNers!
It's Wednesday and time for you to get the scoop on sales, discounts and bargain deals happening.
This week there's only one offer, see it below!
***
Get 15% off a Short Course in Jacket-Making & Trousers with Martwayne!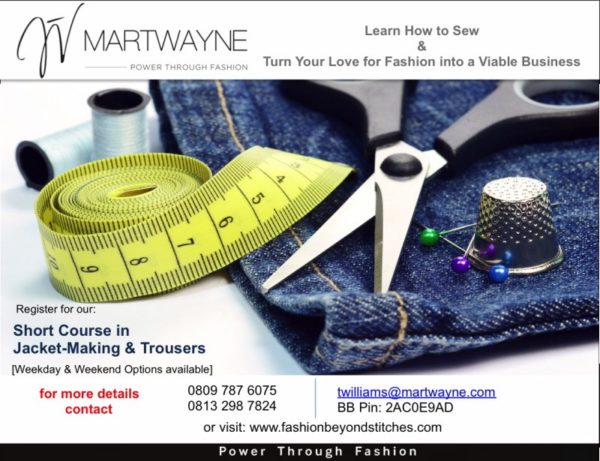 The Short Course in Jacket-Making & Trousers is a Ladieswear Course and it teaches how to create a proper tailored trouser suit – which is really a combination of a tailored trousers and tailored pants –  from scratch! The course modules include measuring, fitting and proper finishing.
Please note that this Course is for experienced "sewers" only. 
The Course Fees are N52,500. Payment of the full fees on/before 24 April, 2015 entitles you to a discount of 15% off the fees. That's N7,875 off!
Fees are all inclusive of a toolkit, handouts and writing materials and a training certificate.
For more details contact 0809 787 6075, 0813 298 7824 or email: twilliams@martwayne.com or BB Pin: 2AC0E9AD
______________________________________________________________________________
Sponsored Content