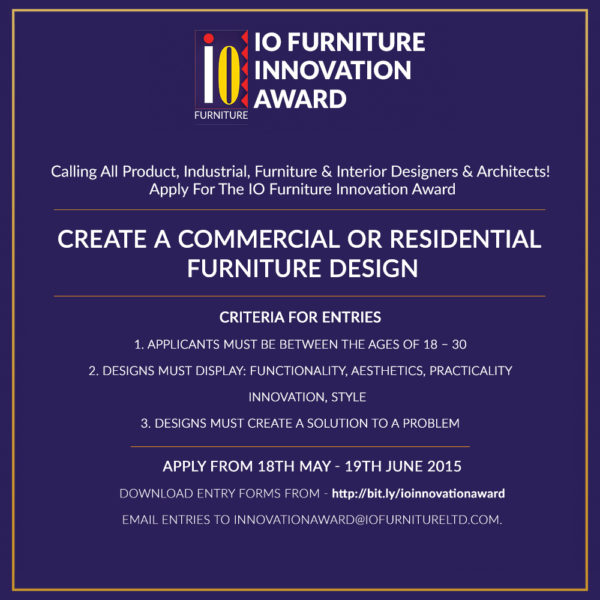 IO Furniture, an interior design and furniture manufacturing company, announces their new CSR initiative "The Innovation Award"; a competition that gives young budding designers the opportunity to showcase their talent.
The Award is aimed at promoting the raw, untapped talent of the youth today through a competition that requires them showcasing their creativity in furniture and interior design. IO Furniture firmly believes that through this platform they will start a conversation that will inspire and motivate the youth in the design industry and show them the endless possibilities of design and manufacturing in Nigeria.
Guidelines
1. The 2015 competition requires entrants to create a furniture design for either a commercial or residential space.
2. Applicants must be between the ages of 18-30.
3. All designs must display the following characteristics:
Functionality
Aesthetics
Practicality
Innovation
Style
4. Sustainability and Eco-friendliness are also major themes of the Innovation Award and entries will be judged based on their ability to marry these elements into their designs.
A panel of experts will judge the 2015 Innovation Award; they include Architect Tayo Babalakin – President of the Association of Consulting Architects Nigeria (ACAN), Muni Shonibare – Chief Executive Officer, IO Furniture, Steffano Moretti – Head of Production, IO Furniture and Architect Papa Omotayo.
The application process starts on Monday 18th of May, 2015 and ends on Friday 19th of June 2015.
Download entry forms at www.bit.ly/ioinnovationaward | Forward Email entries to:  [email protected]
For more information about IO Furniture see the following social media platforms:
Facebook: www.facebook.com/iofurnitureltd | Twitter: @iofurnitureltd | Instagram: @iofurnitureltd | Youtube: www.youtube.com
Essential Interiors is the official media partner for the IO Furniture Innovation Award.
_____________________________________________________________________________________________
Sponsored Content