You Don't Want to Miss this! The Much Anticipated Lagos Leather Fair is Finally Here | June 3rd & 4th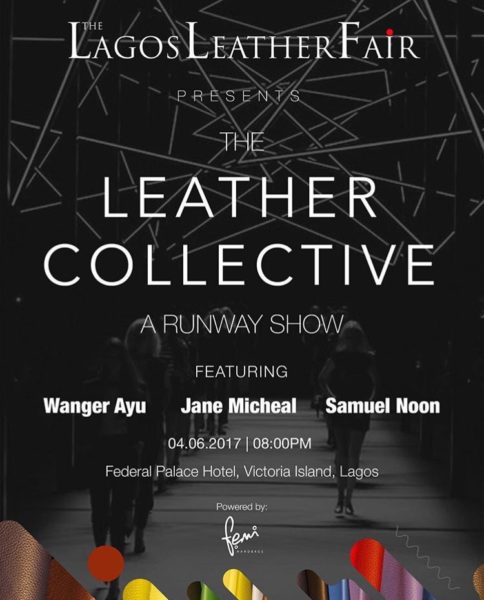 This Saturday and Sunday, the 3rd & 4th of June, the much anticipated Lagos Leather Fair is set to hold at the Federal Palace Hotel, Victoria Island, Lagos.
The Lagos leather fair, pioneered by Femi Olayebi of FemiHandbags, is set to draw attention to the untapped potential in the leather industry, discuss the challenges currently being faced and identify possible innovative solutions that will enhance the industry. The fair presents a platform for guests to have an amazing shopping experience from over 50 leather designers and exhibitors who will be showcasing their different products.
Here's the schedule for day 1 and 2 of the fair.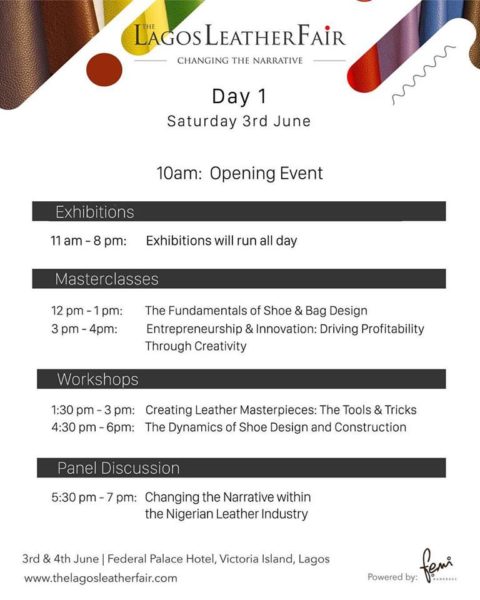 DAY 1
10:00 am: Opening Event 
11:00 am – 8:00 pm: Exhibitions will run all day.
MASTERCLASSES
The Fundamentals of Shoe & Bag Design
Time: 12:00 pm – 1:00 pm 
Speaker: Roberto Gussoni
Hosts: Zainab Ashadu and Matiu Gordon
Entrepreneurship & Innovation: Driving Profitability Through Creativity
Time: 3:00 pm – 4:00 pm 
Speakers: Muni Shonibare and Reni Folawiyo
WORKSHOPS
Creating Leather Masterpieces: The Tools and Tricks
Time: 1:30 pm – 3:00 pm 
Instructor: Obiora Odinma Ononye (Obi Leather)
The Dynamics of Shoe Design and Construction
Time: 4:30 pm – 6:00 pm
Instructor: Adesola Benson
PANEL DISCUSSION
Changing the Narrative within the Nigerian Leather Industry
Time: 5:30 pm – 7:00 pm
Speakers: Hon. Minister, Aisha Abubakar, Waheed Olagunju, Dr Adeyinka Abimbola & Alhaji Nabegu
Host: Peter Bamkole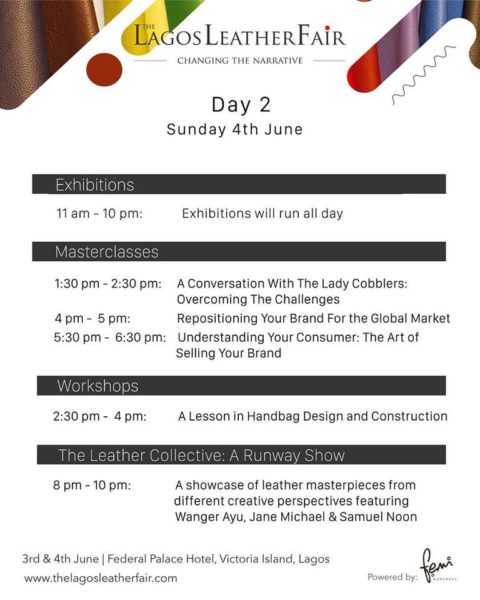 DAY 2
10:00 am – 10:00 pm: Exhibitions will run all day.
MASTERCLASSES
A Conversation with the Lady Cobblers: Overcoming The Challenges
Time: 1:30 pm – 2:30 pm
Speakers: Tosin Dekalu & Tokunbo Onagoruwa
Host: Adeola Azeez
Repositioning Your Brand for the Global Market 
Time: 4:00 pm – 5:00 pm
Speaker: Nelly Wandji
Host: Isioma Onochie-Aihie
Understanding Your Consumer: The Art of Selling Your Brand
Time: 5:30 pm – 6:30 pm
Speakers: Bukky Karibi-Whyte, Bayo Rotimi & Uche Nnaji
Host: Shade Ladipo
WORKSHOPS
A Lesson in Handbag Design and Construction
Time: 2:30 pm – 4:00 pm
Instructor: Robert Gussoni
FINAL SHOW: THE LEATHER COLLECTIVE
A showcase of leather masterpieces from different creative perspectives.
Time: 8:00 pm
Designers: Wanger Ayu, Jane Michael Ekanem and Samuel Noon
———————————————————————————————————————
Sponsored Content