Join Victoria Orenze at the Monthly Ignite GLA Fellowship themed Trust | Tomorrow, June 3rd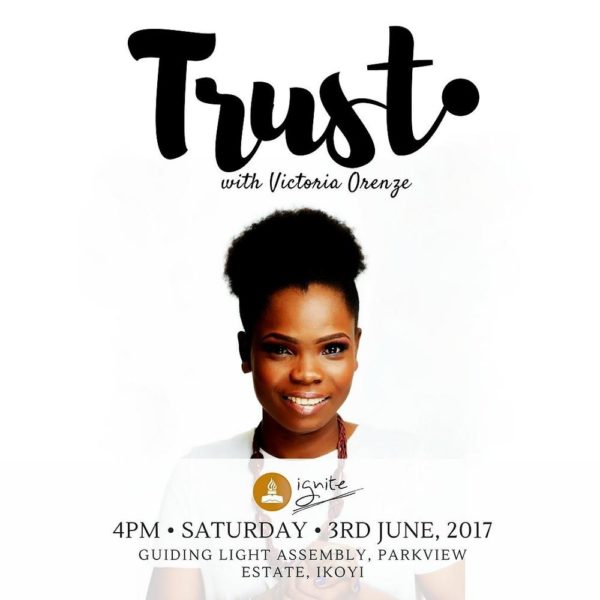 We know that it's so easy to get distracted and lose your connection with God. Every month, we are faced with responsibilities and work load that make it even harder to fellowship with the Father or even hear him.
At Ignite Fellowship, we come together at the beginning of every month to help one another reconnect with the Father so we can go to the world and Ignite. Through prayer, praise and study of the word, you leave refreshed and ready to go into the world and be the light.
Date: Saturday 3rd June 2017
Time: 4pm prompt!
Venue: Guiding Light Assembly, Parkview Estate, Ikoyi, Lagos
Guests: Victoria Orenze
Theme: Trust
Ignite fellowship is for our generation, so if you are in your 20s and 30s, and even if you're a little into your 40s, you're welcome here. And whether you're single, married or… its complicated, we're here for you.
The struggle to Trust God is real and we are talking about it this Saturday. Victoria Orenze will be joining us at our Ignite fellowship this Saturday, 3rd of June as we discuss the theme 'Trust' at the Guiding Light Assembly, Park view Estate, Ikoyi at 4 PM and you don't want to miss it!
We have a million questions for this month's fellowship!
If you've asked any of those questions, or if you've ever struggled with Trust , you need to be at our fellowship on Saturday!
It's free, and there's free food! Come, bring a friend, and let's unburden and offload. Let's fellowship with God and one another. Let's get ready for a new month.
——————————————————————————————————————–
This content has been published for free as part of BellaNaija.com's commitment to youth, education, healthcare and community development as part of our corporate social responsibility programme.