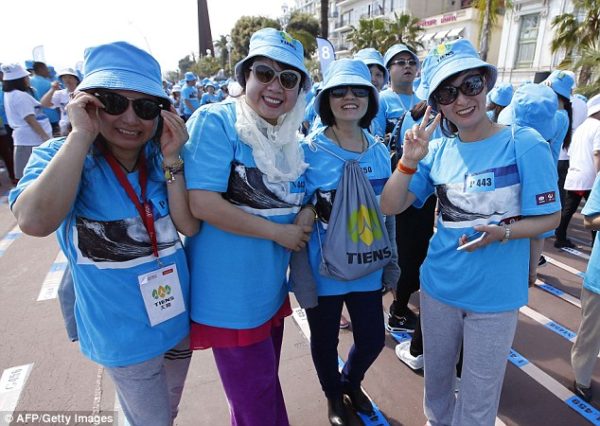 Wouldn't you love to have a boss like this?
A Chinese billionaire Li Jinyuan, 57, who is the Company Chairman of Tiens Group, recently took 6,400 of his staff on a four day holiday to France, Daily Mail reports. He decided to give his staff a treat to celebrate the 20-year anniversary of the founding of the company.
He booked up 140 hotels in Paris where the group visited the Louvre and various popular cultural sites in the city. Afterwards, they visited the glamorous Cote D'Azur, where Jinyuan booked 4,760 rooms in 79 four-and five-star hotels in Cannes and Monaco.
The trip ended with a world-record breaking human chain in the Cote D'Azur – the 6,400 employees arranged themselves to spell out the phrase "'Tiens' dream is Nice." Guinness World Record officials present to validate the world's biggest ever human chain.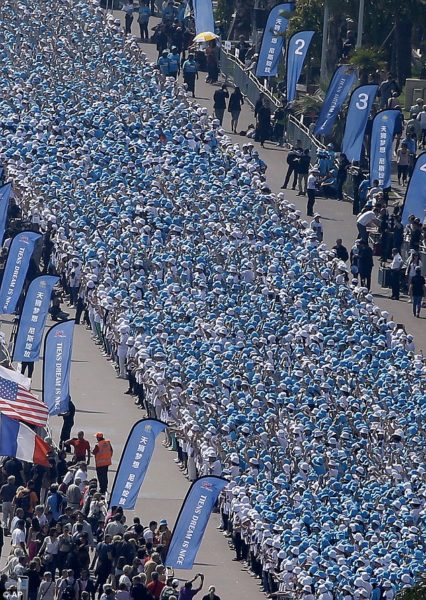 France is expected to be 33million Euros richer thanks to the all-expenses-paid staff trip.
Founded in 1995, Tiens Group is an international conglomerate with businesses in biotechnology, health management, e-commerce, hotel and tourism among others.
Photo Credit: Daily Mail/Getty Images/AFP