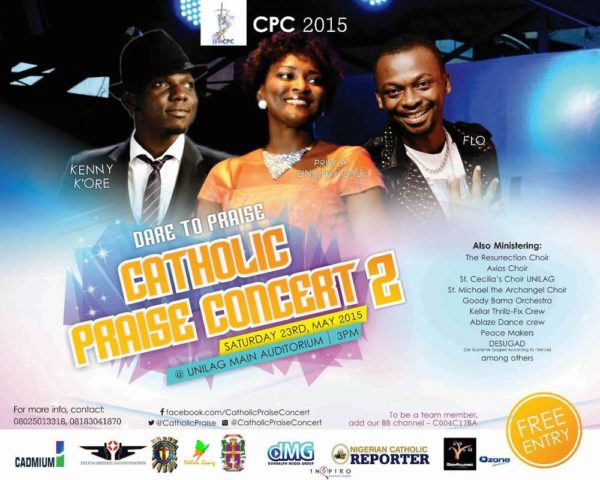 The Catholic Praise Concert (CPC) is a free one-day, Gospel music concert that debuted on the 26th of April 2014, and is evolving into an annual Catholic evening of Praise music offering.
This year's edition features Holy Mass, praise, worship, dance, and special highlight performances by some of the best-known musical talents in the Gospel music genre across traditional and contemporary music culture such as hymnal, praise-worship, dance, and pop-gospel.
The theme for this year is "Dare to Praise" and it will be starting with Holy Mass, ministering live on stage are: The Ressurection Choir, AXIOS Choir, Prisca D Nightingale, St. Cecilia Choir Unilag, Kellar Thrillz-Fix Crew, De Supreme Gospel According to Dance, Goody Bama Orchestra, Kenny K'Ore, FLORocka, Peace Makers, St. Michael The Archangel Choir, among others.
Entry is Free!
Date: Saturday, 23rd May 2015
Time: 3 PM
Venue: The University of Lagos Main Auditorium
Come, be a part of this glorious worship experience.
____________________________________________________________________________________________
Sponsored Content