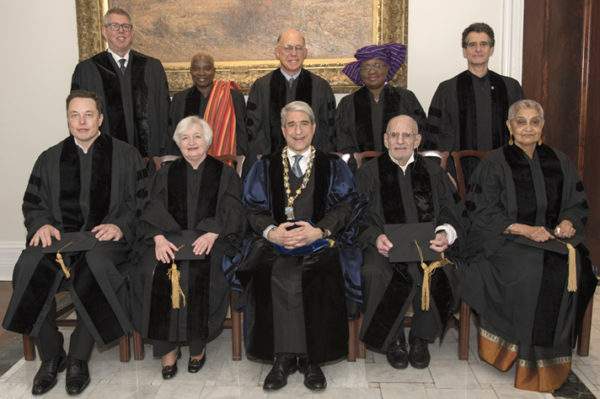 Minister of Finance and Coordinating Minister for the Economy, Ngozi Okonjo-Iweala, and renowned African music superstar, Angelique Kidjo have been awarded honorary doctorate degrees by Yale University.
Okonjo-Iweala was awarded an honorary Doctor of Humane Letters degree, and Kidjo was awarded a Doctor of Music degree.
Yale News made the announcement.
Here is what they wrote about Okonjo-Iweala and Kidjo:
Ngozi Okonjo-Iweala (Doctor of Humane Letters)

You are a citizen of your country, your continent, and the world. Shaped by challenging experiences during your childhood in Nigeria, you have made social and economic reform your mission. As Nigeria's coordinating minister of economic development and minister of finance, you have tackled corruption, created a vision and path to long-term economic stability, and worked to build a culture of transparency. At the World Bank, you made food security a priority and provided policy advice and capital for the world's poorest countries. With wisdom, a fierce dedication to doing what is right, and unflagging energy, you have transformed the economic landscape of your nation. We are proud to name you Doctor of Humane Letters.

Angélique Kidjo (Doctor of Music)

Through songs and singing, with artistry and advocacy, you have become known as one of the world's great voices for Africa. In your music, you embrace a dazzling spectrum of genres, from traditional West African rhythms to jazz, funk, rumba, and salsa. You sing from the soul and invoke the conscience. You are a cultural and humanitarian leader. With passion, warmth, and generosity, you work tirelessly for the empowerment and education of African women and girls, and serve as a UNICEF Goodwill Ambassador. You are a friend of Yale, and we are delighted to grant you this degree of Doctor of Music.
Okonjo-Iweala and Kidjo were two of nine individuals who received honorary doctorate degrees. The others are as follows:  Jeffrey Friedman (Doctor of Medical Sciences), Peter G. Schultz (Doctor of Science), Dean Kamen (Doctor of Engineering and Technology), Elon Musk (Doctor of Engineering and Technology), Janet Yellen (Doctor of Social Science), Peter Salovey (Doctor of Social Science), Larry Kramer (Doctor of Humane Letters), and Gayatri Spivak (Doctor of Humanities).
Photo Credit: Yale News