It's time to answer another question in our Natural Hair Pop Quiz! Last week we found out that African hair does not grow slower than other afro-textured hair textured. Click here if you missed it.
In continuation of the natural hair pop quiz series, the second question that we'll be looking at is;
Question: Does trimming your hair more regularly help it grow faster?
Answer: False, trimming your hair doesn't help it grow.
Prior to my discovery of the natural hair community, I use to be told that trimming the hair regularly would help it grow. Even though this advice didn't make sense to me, I still made sure that my hair was trimmed regularly, because I liked the smooth and cleaner ends that I got after every trim. The only thing was that my hair never grew like promised.
A popular hair care tip that we're often told is to cut our hair often so that it can grow. And when someone experiences major hair damage, they are often told to cut their hair so that new growth can grow longer and healthier. Though this is true to some extent, a hair trim or hair cut will only temporarily solve the problem, it won't eliminate the root cause of the hair damage.
So if you're one of the few people who just don't understand this hair advice, let me explain the reasoning behind it.
Why have you been told to trim your hair?
No matter how careful you are with your hair, the older and longer your hair gets, the weaker its ends get. The reason is that the cuticle layers on each hair shaft gradually chip away as the hair grows farther from the scalp.
When the hair first grows out of the scalp, it is at it's healthiest state. However, with frequent washing, styling, twisting, combing, brushing, braiding, pulling, blow drying and what not, the multiple cuticle layers of the hair will gradually start to reduce in numbers, until the cortex (inner layer of the hair) is exposed and left unprotected.  This gradual loss of the cuticle layers is the reason why the ends of your hair or twists are much thinner than your roots.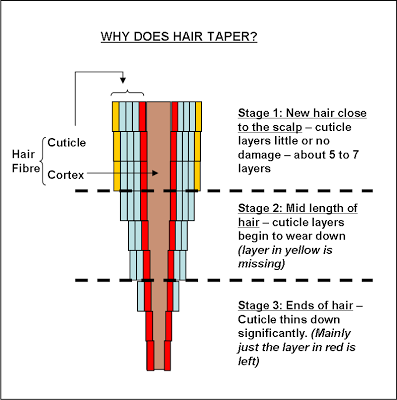 Eventually, these thinning ends will split into multiple thin hair strands which can turn into single stranded knots (SSKs) and/or get tangled with neighboring (healthy or unhealthy) hair. Since split ends are damaging to the portion of hair that hasn't yet split, they have to be trimmed away, so that they don't damage the rest of the hair that's still healthy.
Ever heard of the phrase "One bad apple ruins the whole bunch"? Split ends are the bad apples of our kinks and coils, and if they're not removed, they can "spoil" the rest of our hair.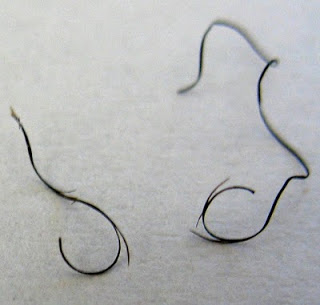 Does trimming your hair lead to hair growth?
No, because hair growth cannot be controlled by things that are done to the hair after it has grown out of the scalp. Hair growth is only controlled by internal factors such as your genetics, diet, health and lifestyle. This means that a simple hair trim will not change your genetic composition.
Can a hair trim help you get longer hair?
Yes, because when unhealthy hair is trimmed off, it allows the healthier portion of the hair to grow to its fullest potential and to retain as much length as possible.
In conclusion, hair trims don't help your hair grow longer, but simply help in length retention.
What are some of the things you do to retain length on your natural hair? Share them below and/or on social media. Don't forget to tag us – @bellanaijabeauty and @coilsandglory
Photo Credit: TheNaturalHavenBloom