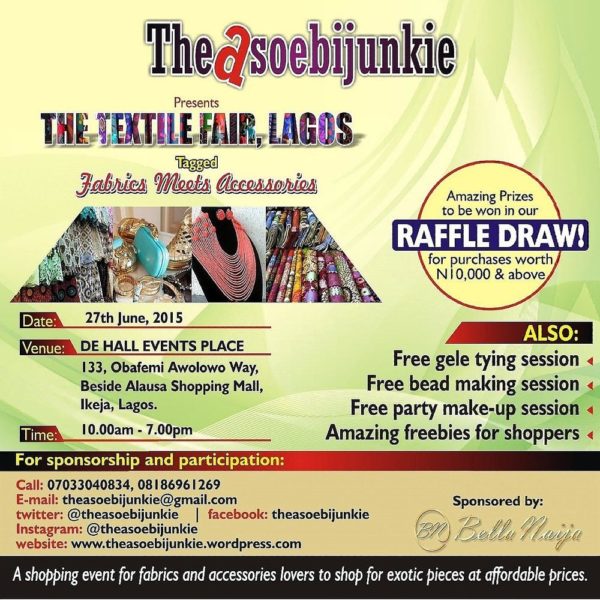 The Textile Fair Lagos is an event dedicated to fashion fabrics, so that fabric lovers can get top quality fabrics at discounted prices.
The first edition on the 6th of December 2014 was successful beyond our imagination. Now, we will be having the second edition on the 27th of June 2015 – Whoop! Whoop!
This edition is tagged 'Fabrics meets Accessories', so we won't be having just textiles but exquisite accessories will be on display by various vendors for you to choose from.
If you are a bride-to-be, or planning any event and you need aso ebi, don't look further come check variety of colors and fabrics from various fabric vendors all in one place and get the best bargain.
Come check out amazing beaded and costume jewelry from our vendors at discounted prices and ready to wear designs from fashion designers on sale. You can also learn how to tie gele as well as how to apply flawless party make up to make heads turn at your next owambe, and so much more!
Don't miss out on our raffle draw! All you need to do is to buy goods worth N10,000 and above and you get a ticket to participate in a raffle draw to win exquisite fabrics from our sponsors.
Early shoppers will also get free fabric goody bags!
Some of the Vendors to look out for at the fair are:
Solesfashion, Just fabulous fabrics, Zeevida Fabrics, Beccabee jewelry, Ivy designs,Patrick Ayanski, Titos accessories, Fortheloveofasoebiconcept, Nife Jewelry, Fabricsbybeth,LA_herederashoes, V2vcollections, Xquisite Jewelry, Elizabeth Cress, House of Solange, Zelfashion, Haabies,Loveboxcoy, Wowfactorbyremix, Regalshoes, Xlavies, Cocktailsbytsm, Haanies, Numerouno , Ojulewa, Bellevous, Bella Signora and many more.
Date: Saturday, 27th of June 2015
Time: 10 AM – 7 PM
Venue: Dehall events place, 133, Obafemi Awolowo Way, Ikeja beside Alausa shopping mall
For more details, call/whatsapp 07033040834 or send a mail to [email protected]
Twitter: @TheAsoEbiJunkie
Facebook: TheAsoEbiJunkie
Instagram: @TheAsoEbiJunkie
____________________________________________________________________________________
Sponsored Content