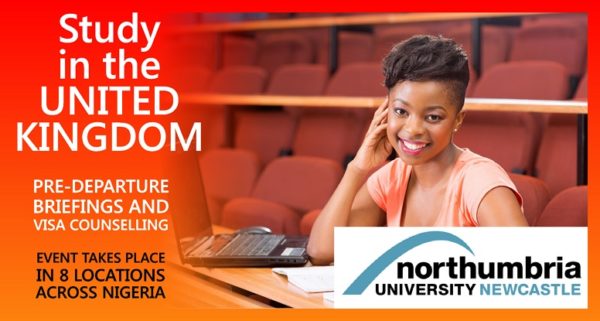 Northumbria University, based in the heart of Newcastle upon Tyne, is a research-rich, business-focused, professional University with a global reputation for academic excellence.
They are holding a pre-departure briefing and visa counseling event across Nigeria for students already offered admission letters and prospective students for the September 2015 and January 2016 entry.
The event which is geared towards preparing students for studying in the UK for Foundation, BSc, MSc and PhD will take place at the following locations:
Abuja
Date: Tuesday, 9th June
Time: 9 AM
Venue: Plot 1221, Aminu Kano Crescent, Wuse 2, Abuja
Contact: 08087106632, 0701318519
Portharcourt
Date: Wednesday, 10th June
Time: 10 AM
Venue: 85, Olu Obasanjo Road, GRA, Portharcourt
Contact: 08087106639, 08066473461
Yaba 
Date: Friday, 12th June
Time: 9 AM
Venue: 7, Hughes Avenue, Alagomeji – Yaba, Lagos
Contact: 08081909285, 08081909283
Festac
Date: Friday, 12th June
Time: 1.30 PM
Venue: 21 Road, D Close, House 11, Festac, Lagos
Contact: 08087106682
Uyo
Date: Friday, 12th June
Time: 10 AM
Venue: 123 Olu Obasanjo Road, Former Abak Road, Uyo
Contact: 08087106656
Ikeja
Date: Monday, 15th June
Time: 9 AM
Venue: 7, Allen Avenue, (Adjacent Best Western Hotel) Ikeja, Lagos
Contact: 08087104631, 08087106627
Calabar
Date: Tuesday, 16th June
Time: 10 AM
Venue: 136, IBB Way Opposite Margaret Ekpo International Airport Calabar
Contact: 07084225574
Benin
Date: Thursday, 18th June
Time: 12 PM
Venue: 4, Imose Close by Airport Road, GRA, Benin City
Contact: 08081909290
Please come along with all your original documents for on-the-spot assessments.
Register here http://bit.ly/1Gmz31o for seat reservations!
________________________________________________________________________________
Sponsored Content