Yipeee! The Jurassic 'charm' is back.
If you have ever been a lover of the Jurassic Series, from its first movie – Jurassic Park in 1993, then we're happy to inform you that the charm is back – bigger and better as the latest movie from the franchise, Jurassic World opens on Friday, 12th June. Yes, it's this Friday!
From Jurassic Park (1993) to The Lost World: Jurassic Park to Jurassic Park III, it's now time for the Jurassic World to shine its way on the big screen. Jurassic Park was created 22 years ago, by owner John Hammond, on an island near Costa Rica, Isla Nublar. Its main attraction was the presence of living, breathing dinosaurs, created with a mixture of fossilized DNA and genetic cross breeding/cloning.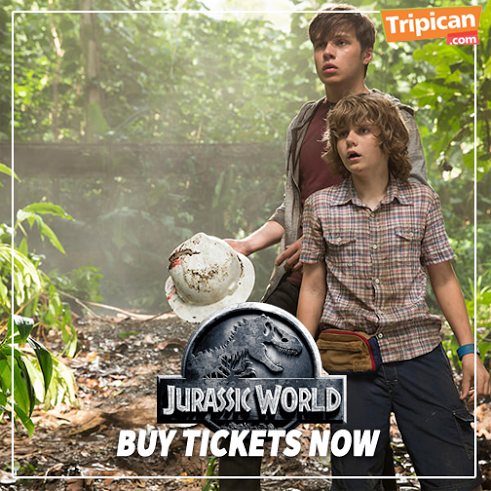 22 years later, the Park, now owned by Simon Masrani, has a fully functioning dinosaur themed park just as the founder, John Hammond originally envisioned. When however, a hybrid dinosaur, Indominus Rex, goes on a deadly rampage, it is up to one of the park's trainers , Owen Grady, and the operations manager, Claire Dearing to contain the dinosaur before any more damage is caused.
It stars Chris Pratt, Bryce Dallas Howard, Irrfan Khan, and a host of others.
Watch the Jurassic World Trailer!

This movie is one of the most anticipated movies for this month, so be sure to get your tickets at www.tripican.com.