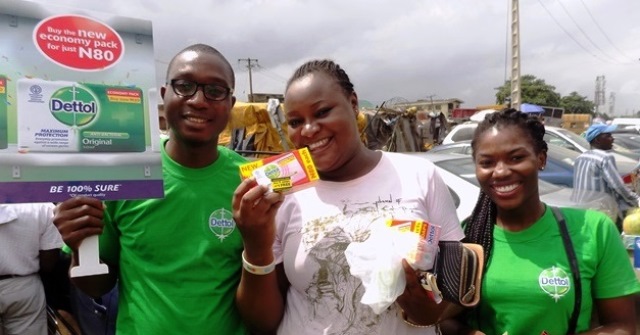 As an innovative brand constantly seeking ways to make the lives of Nigerians easier and safer; leading Health and Hygiene brand- Dettol from the stables of RB Nigeria limited has been storming markets pan Nigeria with the new Dettol soap sizes.
The new introduction includes the family pack size of 175g and the economy pack of 55g which is readily available in the market alongside the 70g and 120g soap. The new soap sizes are available in various variants ranging from Dettol Original to Dettol Cool, Dettol Skin Care and Dettol Re-Energize.
Speaking on the rationale behind the introduction of these new soap sizes, Marketing Director, RB West Africa stressed that Dettol is a consumer centric brand; fashioning hygiene products around the need of our consumers.
"As a brand, we place priority on our consumers' needs and we constantly seek innovative solutions that will make their lives easier and safer. From a recent feedback session engaging our consumers, they shared with us the need to have more handy sizes as well as sizes that can be enjoyed by the whole family. This is the reason we went back internally and produced the 55g and 175g Dettol soap sizes".
While espousing the benefits of the new soap sizes at one of the market storms, Brand Manager, Dettol Personal Care, Aurora Monyei stated "The Dettol 55g economy pack is handy; providing affordable hygiene solution for consumers. It can be used by children to easily wash their hands; it can also be slotted into travel packs and taken for vacation. The Dettol 175g Family pack on the other hand gives our consumers value for money, it is a bigger size and fit for usage by the whole family".
"The 55g and 175g soap sizes are available in various variants ranging from Dettol Original to Dettol Cool, Dettol Skin Care and Dettol Re-Energize and it's equally as potent as the 70g and 120g soap sizes" Aurora stated while reiterating the potency of the new variants.
While commending RB Nigeria limited, winner of grand prize at Dettol market storm at Agege Market; Ebun Fatila expressed gratitude to Dettol for the innovative soap size especially as she it believes it will make life easier for traders and consumers alike. "Dettol is a good product; the family size and economy pack meets the exact need of our customers. They keep asking if there are smaller or bigger sizes other than the 70g and 120g which has been in the market over the years. With these new sizes, our customers can finally get soap to meet their exact needs" Ebun stated.
Expressing her excitement about the market storm, a trader at Oke-arin Market; Simi Oyedele stated that the new Dettol sizes are good initiatives as they meet the requests of customers at the market and it is easier to use for children.
See photos from the Market Storm:
__________________________________________________________________________________________________
Advertorial– Sponsored Content