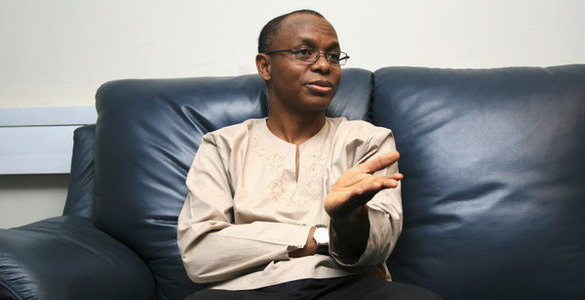 Kaduna State governor, Nasir El-Rufai has advised that Nigeria must get rid of Nigerian National Petroleum Corporation (NNPC), or stand the risk of the corporation destroying the country.
According to Premium Times, the governor made the statement on Monday at the 7th Wole Soyinka Centre Media Lecture Series in Abuja, where he was a guest speaker.
"If you don't kill the NNPC, it will kill Nigeria," he reportedly stated.
He further stated that "NNPC has become so entrenched in corruption that the only way out for Nigeria is not to attempt to salvage the corporation, but to destroy it and create a new oil company."
El-Rufai also expressed hope that President Muhammadu Buhari would implement the proposal of getting rid of NNPC.
Here are some excerpts from his speech:
"About N971bn was budgeted for subsidy payments in 2014 alone (more than twice that was eventually paid). You all recall how trillions of naira were paid out as oil subsidy in 2011, when only N254bn was appropriated. No one has been successfully prosecuted for this scam. Huge deficits in gas supply have ensured that the country's thermal plants cannot produce power at optimal levels…

The long and short of the situation of our oil industry is best exemplified by the parallel government called the NNPC. In 2012, it sold N2.77tn of 'domestic' crude oil but paid only N1.66tn to the Federation Account. In 2013, it earned N2.66tn but paid N1.56tn to FAAC; in 2014, (it earned) N2.64tn, but remitted N1.44tn; while between January and May 2015, it earned N733.36bn and remitted only N473.2bn.

That means that the NNPC only remitted about 58 per cent of the monies earned between 2012 and the first half of 2015. A company with the audacity to retain 42 per cent of a country's money has become a veritable parallel republic.

The NNPC feels entitled to consume more resources than the 36 states, the FCT and the Federal Government combined. How could a country so dependent on oil revenues have been so lax about the proper governance, efficiency and security of its oil industry?

An efficient and productive oil sector, able to create jobs, spur industrialization and earn more revenues requires that we tackle the monster that the NNPC has become. We should replace the NNPC with brand new organizations that are fit for purpose – a commercialized and corporatized national oil company and new industry regulators…"