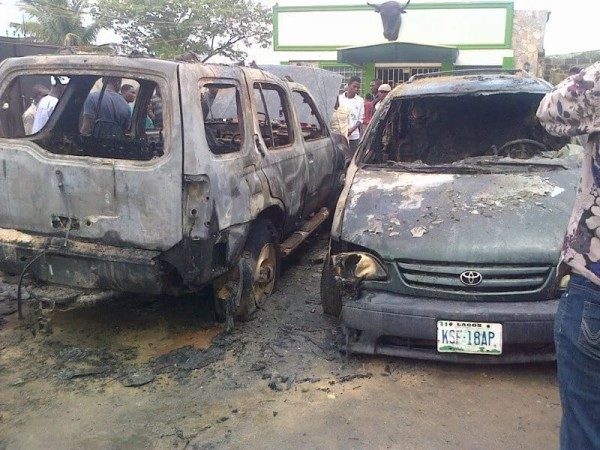 Police authorities have arrested some individuals said to be members of the robbery gang that robbed a Zenith Bank and First Bank branch respectively in June.
According to Punch, four suspects have been apprehended. They were arrested in Okitipupa, Ondo State, and Ikorodu, Lagos State, while three SUVs allegedly bought from the proceeds of the robbery were recovered.
The suspects have been identified as Monday Akpan, Bright Agbojule, "Jafaru," and "Baba Ibeji."
In addition, the report states:
The four members of the gang were arrested by men of the Special Anti-Robbery Squad, in an operation involving a former SARS commander, SP Abba Kyari, and an officer, DSP James Okeke.

PUNCH Metro gathered that one of the suspected robbers, a week after the operation, had headed for the Okitipupa area, Ondo State, with a Lexus bought with the proceeds of the robbery.

A police source told PUNCH Metro that the suspect was arrested by soldiers, who were on a stop-and-search exercise in Ondo State.

It was learnt that the suspect was also found with bundles of new N1,000 notes with bank seals.

The police source said the arrest was the break that the police needed, adding that the suspect later led policemen to arrest other members of the gang.

He said, "The soldiers were on a stop-and-search and they found the suspect, identified only as Baba Ibeji, while on his way to his home town in Okitipupa, Ondo State.

"During a search, they found bundles of new N1,000 notes with bank seals in his bag.

"The soldiers, who were also aware of the bank robbery in Lagos, smelt a rat and contacted the Lagos State Police Command on the development.

"The former CP, Kayode Aderanti, immediately contacted experienced hands in SARS for the interview of the suspect. The suspect gave the contacts and names of other suspects. The operatives subsequently mobilised more officers to Ikorodu and made some arrests.

"Three suspects were picked up by the police in Ikorodu. Two of them had bought Sport Utility Vehicles with the proceeds. All of them had bought plots of land with their loots. Three vehicles have been recovered for now."

Our correspondent learnt that the suspects would be paraded on Monday (today) at the state command headquarters, Ikeja.

It was learnt that efforts were still being intensified to get other members of the gang, which reportedly numbered about 15.

The Lagos State Police Public Relations Officer, DSP Kenneth Nwosu, confirmed the arrests in a text message.