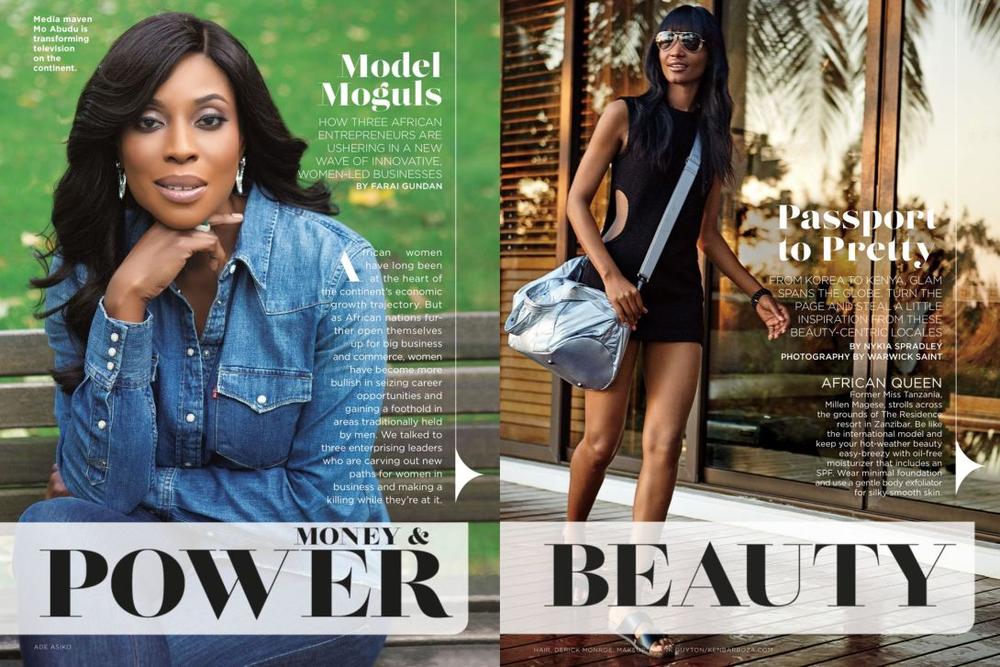 The first Global Issue of Essence magazine sees 2 familiar faces – CEO & Executive Producer of Ebony Life TV, Mo Abudu & Former Miss Tanzania & Model, Millen Magese.
Mo has been profiled in the magazine's 'Money & Power' segment as a "Model Mogul". The feature details "how three African entrepreneurs are ushering in a new wave of innovative, women-led businesses" written by Farai Gundan and photographed by Ade Asiko. The feature also profiles Kenya's Nelly Tuikong of Pauline Cosmetics & Zambia's Monica Musonda of Java Foods.
The article describes Mo as the "media maven" who is "transforming television on the continent," and then goes on to herald how Mo started Ebony Life TV with a brief interview with her. In the article, when asked why she started Ebony Life TV, Mo stated how there was a widespread ignorance about the customs and ways of natives of Nigeria. "You continually got asked the most ridiculous and mind-boggling questions like 'Do you guys live in trees and holes in Africa?' 'Do you guys dance around fires?' and 'What do you eat for breakfast?'" "I think somewhere deeply buried in my subconscious was a need to tell Africa's story."
Be sure to grab a copy of Essence' first global issue to read more from her interview.
Tanzania's Millen Magese was also featured in their Beauty segment titled "Passport to Pretty". Written by Nykia Spradley and photographed by Warwick Saint, they write on Millen as the "African Queen" as she "strolls on the grounds of The Residence resort in Zanzibar."
They also advise that we "be like the international model and keep your hot-weather beauty easy-breezy with oil-free moisturizer that includes an SPF. Wear minimal foundation and use a gentle body exfoliator for silky smooth skin."
The Global Issue is already available!
Photo Credit: Essence August Issue