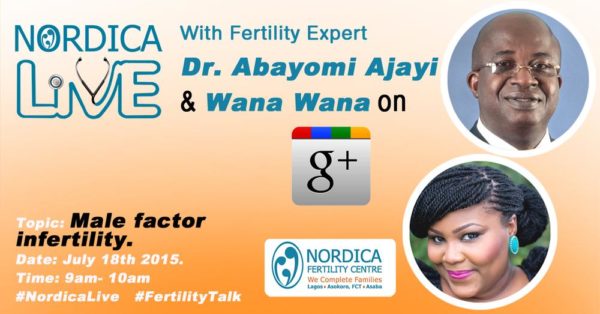 Nordica Fertility Center presents #NordicaLive, Nigeria's first Google+ hangout on fertility. The live hangout will be hosted by Inspiration FM's popular OAP, Wana Wana alongside Dr. Abayomi Ajayi and other experts from Nordica on 18th of July, 2015, from 9am-10am.
The topic for the maiden edition is 'Male factor infertility'. Male factor infertility is a major challenge confronting Nigerian men. Many men do not think about their fertility, and avoid learning more due to fear of the unknown and cultural ideals. Drawing from over 12 years knowledge base at Nordica Fertility Centre and a of panel experts, Nordica Live will explore factors contributing to the rise in male factor infertility among Nigerian men, proffering solutions and counseling.
Be part of this hangout as fertility experts answer all your questions, debunk myths and misconceptions about male factor infertility.
To be part of this hangout, register on: https://plus.google.com/u/0/events/cs5kcprrke7h617h2rtofkfc78k or search for #NordicaLive on Google+ to join. You can also ask questions, they will be shortlisted for live answers during the hangout.
See you there!
Contact:
Nordica Lagos Centre
106/108 Norman William Street, South West Ikoyi, Lagos
Tel: 01-4617023-4, 01-4532326, 01-4532266, 08074343435, 08033150085, 07026277855
Email: [email protected]
_________________________________________________________________________________________________
Sponsored Content