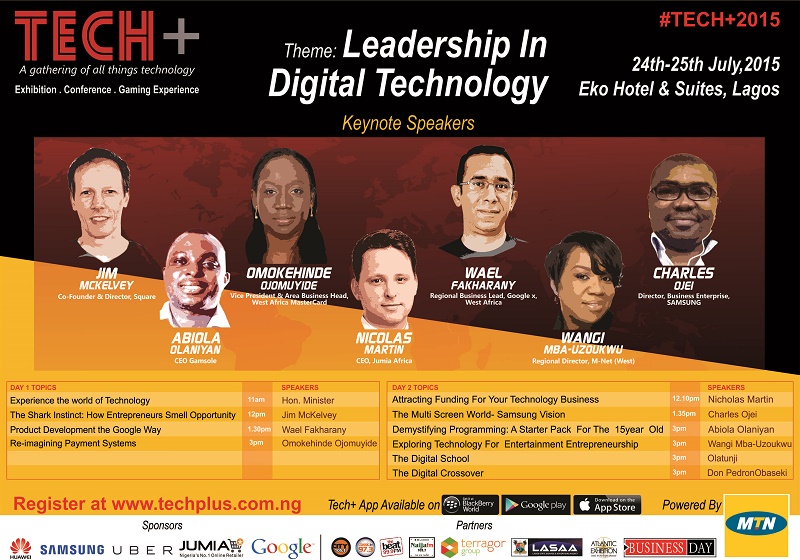 MTN Nigeria has partnered with Connect Marketing Services (CMS) to host the maiden edition of Tech+ 2015. This partnership is in furtherance of efforts aimed at improving access to technology and understanding of how it can enhance business productivity among SMEs.
Tech+ 2015 is an innovative technology conference and exhibition that will feature live high-tech demonstrations of the latest digital products and services along with hands-on practical workshops facilitated by renowned IT experts. The two-day event with the theme "Leadership in Digital Technology" is scheduled to hold in Lagos.
The event will not only showcase the latest technology but will equally be an avenue for participating individuals, businesses and top brands across Nigeria to understand the potentials of the emerging digital technologies. Particularly, businesses will have the opportunity of interacting with business solutions that will drive their businesses whilst providing value for their customers.
Speakers at the event will include: Jim McKelvey, Co-founder and Director, Square; Nicolas Martin, CEO, Jumia Africa; Wael Fakharany, Regional Business Lead Google X West Africa; and Abiola Olaniyan, CEO, Gamsole.
Expected guests at this maiden event include: SMEs, IT Experts, Manufacturers, Entrepreneurs, and tech savvy consumers.
Date: Friday, July 24th & Saturday, July 25th
Venue: Eko Hotel & Suites
Follow the conversation on twitter using #TECH+2015 and #MTNTECH+
__________________________________________________________________________________________________
Sponsored Content