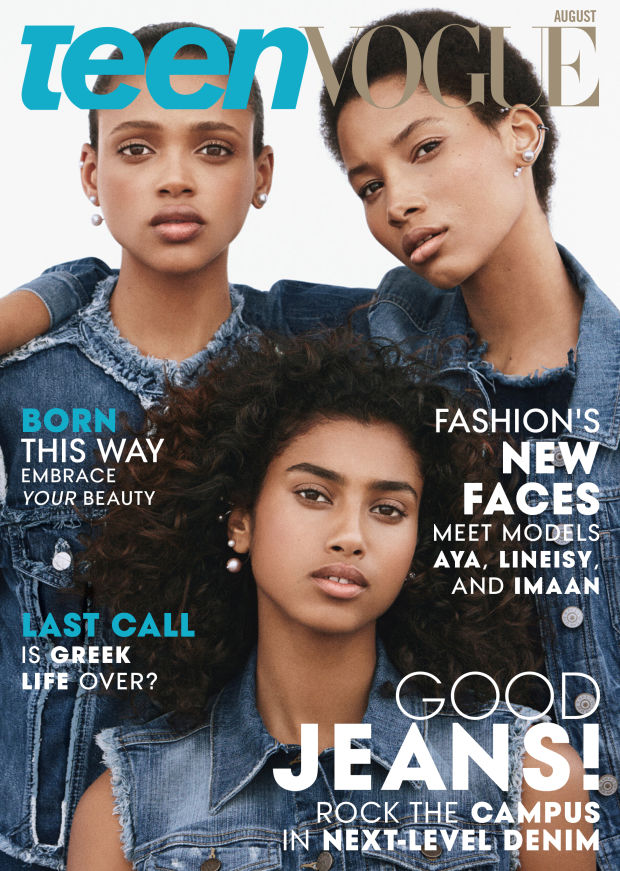 With today's ever-present subject of race and the lack of Black models in the fashion industry, publication – Teen Vogue has released it's latest issue in which it refers to an all-Black trio – Aya Jones, Lineisy Montero & Imaan Hammam as "Fashion's New Faces".
Known to be a reliable source when looking for the next 'it girl' in fashion – having predicted the talent of people like Ariana Grande, Jennifer Lawrence, Chanel Iman, Karlie Kloss and more – when they say these are the gals to watch, you better keep your eyes peeled.
After securing their presence on the runway, they are sure to make some big waves in the coming months. According to Fashiosta.com, Aya was found on the streets of Paris and has since walked in 47 runways; Lineisy was scouted at an amusement park in Santo Domingo and has featured in campaigns for brands since then; and Imaan, half-Moroccan and half-Egyptian born in Amsterdam, has appeared in Victoria's Secret runway and a Givenchy campaign.
We can't wait to see what they do next – maybe spearhead campaigns and collections?
Photo Credit: Fashionista