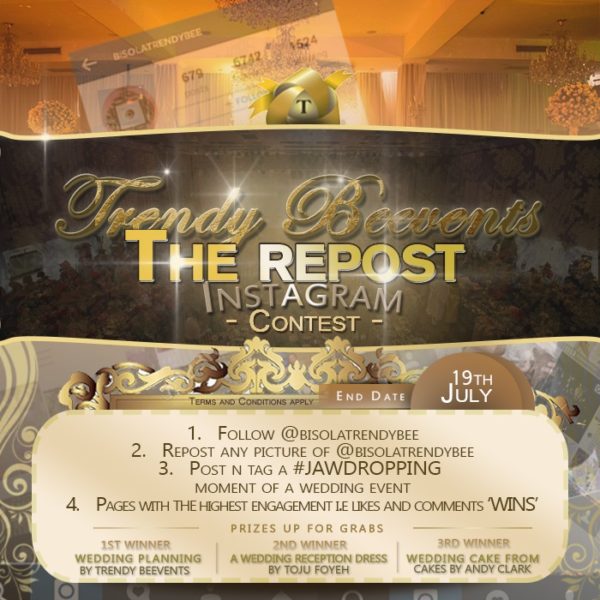 Trendy Bee Events provides a world class master piece when it comes to event planning, with various successful events which include weddings, bridal parties, corporate events, birthday parties etc. The unprecedented success of Trendy Bee Evenst has increased the online presence of the company with thousands of followers on Facebook, Twitter and Instagram.
On this note the CEO, Bisola Eseigbe Borha would like to reward its followers with an Engagement Competition called 'The Repost JawDropping Contest', an Instagram contest.
See details on how to get involved in the ongoing JawDropping Instagram Contest which ends on the 19th of July.
Steps:
1. Follow @bisolatrendybee, @tojufoyeh and @andyclarkcakes on Instagram
2. Repost the picture above and Comment saying your ideal jaw dropping moment of a wedding
3. Tag @bisolatrendybee and #JawDropping
4. Page with highest engagement with likes and comments wins.
Prizes to be won:
1st winner- Wedding plans by @bisolatrendybee
2nd winner- A wedding reception dress by @tojufoyeh
3rd winner- Cake by @andyClarkcakes
You can follow Trendy Bee Events on their social media platforms for more information on their past works and events and how to bring your dream event to life:
Facebook: facebook.com/TrendyBEEvents | Instagram- @bisolatrendybee
_________________________________________________________________________________________________
Sponsored Content