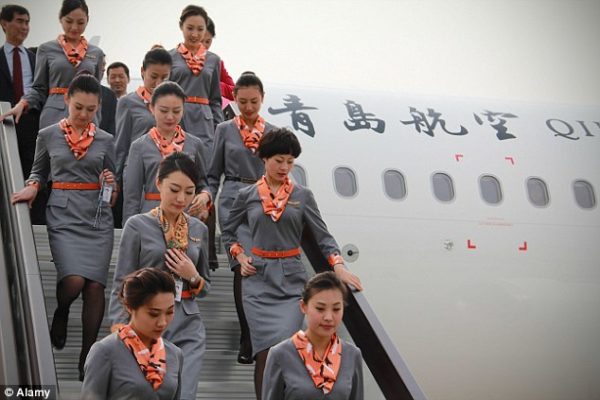 Chinese airline, Qingdao Airlines, reportedly prevented a flight attendant from boarding one of its planes because she was deemed "too fat."
A crew member revealed the news, Daily Mail reports.
The banned attendant is said to have exceeded the airline's height-to-weight ratio requirements.
Although the airline admits to having stringent weight requirements, it however denies sacking any employee for this reason.

The report further states:
According to Qingdao's current standards, as listed on their website, any woman who applies for a job as a flight attendant must be between 165-172 cm (65-68 inches) tall and weigh between 50-68kg (110-150 lb).

They must also be under the age of 30.

"We are concerned that exceeding weight standards will compromise the ability of cabin crew members to respond in emergency situations, and we hope the crew can maintain good body shape," the airline representative told said.
In other news, Uzbekistan Airways announced early this month that all passengers will have to stand on weighing machines with their personal luggage after they have checked in.
The company has promised not to reveal the weight of individual passengers.
But it will mean some overweight people could be excluded from busy flights on smaller planes if limits are exceeded.
Photo Credit: Alamy/Daily Mail