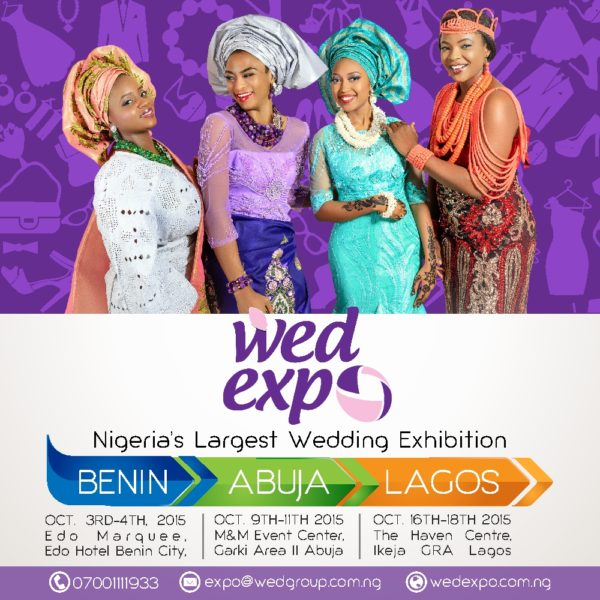 Exhibition Guru one of the biggest Exhibition organizers in Nigeria that powers the popular WED Expo (Nigeria's Largest Wedding Exhibition) is proud to present a new edition of the wedding expo this October with a new media campaign that cuts across tribes! The new city for this edition will be Benin which means the expo would hold in Benin, Abuja and Lagos.
What makes this edition different – Co-Located Exhibition:

WED Expo already has a large patronage but what this means is a Bigger Exhibition and a lot more guests. Your company gets to see the best of both worlds, clients that come for wedding related items and customers that are there for fashion or beauty related products.
Thousands of guests are expected at each exhibition!
Who can Exhibit?
WED Expo: Wedding/Event planners, Event Decorators, Bridal houses, Fabrics, Aso-oke and Asoebi merchants, Photographers, Videographers, Gift/Souvenirs, Cake makers, Caterers, Cocktails, Rings merchants, Beads and Accessories retailers, Groom houses, Bridesmaid Dress Designers and much more.
Fashion and Beauty Expo: Makeup brands, Cosmetic companies, Fashion labels, Fabrics merchants, Fashion houses, Designers, Perfumeries, Beauty reps, Makeup Retailers, Makeup Manufacturers, Beauty houses, Makeup artists, Hair Stylists, Hair Merchants and many more.
Get great discounts when you take a tour with WED Expo! If you exhibit in all 3 cities – Lagos, Benin and Abuja, you will get mouth watering discounts on your booth costs. Hurry and grab this offer.
City, Date & Venue:
WED Expo Benin
Date: October 3rd to 4th, 2015
Venue: 14.85 Marquee, No 4 Okada Drive, Edo Hotel, GRA Benin City, Edo State
WED Expo Abuja
Date: October 9th to 11th, 2015
Venue: M and M Event Center, Beside Nicon Luxury Hotel, Garki Area 11, Abuja
WED Expo Lagos
Date: October 16th to 18th, 2015
Venue: The Haven Event Center, Beside Arch Bishop Vining Memorial Church, Ikeja GRA
– Get 10% off when booked before August 20th
– Get 20% off when you refer another exhibitor this August
– Refer a friend and Get N10,000 or 20% off your booth cost
To book a booth:
Call: 07001111933, 08096448289, 08182855057 | SMS/Whatsapp – 08096448289 | BBM Pin: 7C6B6761 | Email: [email protected]
Visit: www.facebook.com/wedexpo | www.instagram.com/wedexpo | www.twitter.com/wedexpo
WEDDaily.com is the official Media partner for WED Expo. For up-to-date details kindly go to www.weddaily.com
For pictures of past WED Expos, please click on the following links: WED Expo Lagos 2015, WED Expo Abuja 2015, WED Expo PortHarcourt 2015
WED Expo Media campaign was made possible by the following vendors: Fabrics @fabricsnbeyond, Makeup @ami_mansur, Jewelry @beadsbyoma, Aso-Oke @molbaks_alasooke, Bridal Hairstyling @chatoyerbeautylounge, Bridal Gowns @qupidbridals & @toshowoods, Photography @shawn_cognitostudios, Oufit designer @fittedaffairs, Shoes @zinellabuja
Please CLICK HERE for more info on WED Expo October 2015.
__________________________________________________________________________________________________
Sponsored Content