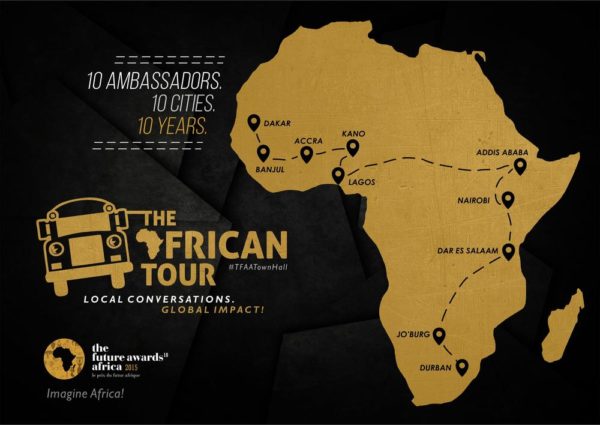 The Future Awards Africa (TFAA), Africa's youth awards will be touring 10 African cities to host town hall meetings as part of run up to the 10th edition of TFAA set to take place in December.
The town hall meeting is designed to gather leading young people to tackle important issues facing the continent with a focus on their community. The meetings will also spur nominations of young Africans creating change. Taking place in August and September 2015, the meetings will take place across several cities including Durban (South Africa), Dakar (Senegal), Accra (Ghana), Dar es Salaam (Tanzania) and Addis Ababa (Ethiopia).
"Young people across the continent are becoming increasingly aware that tackling the issues and collaborating on unique solutions can generate powerful multipliers effect that create wide-ranging impact—not only in their local communities and countries, but also in the rest of Africa," said Mfon Ekpo, Executive Director, The Future Project (TFP). "We need to ensure these voices are heard and recognised as a rich source of inspiration and ideas that will transform our continent, and TFP is excited to help take these first steps," He continued.
The theme for TFAA's 10th anniversary is 'Imagine Africa!', chosen to highlight young Africans who are fulfilling the promise of the continent by conquering the unlimited frontiers of imagination.
Nominations are open to the general public for individuals or teams above the age of 18 and no older than 31, who have been able to create incredible impact and well-documented accomplishments within their community and/or globally in the last year. These achievements should revolve around their results, potential for growth plus the ability to inspire other young people in Africa.
For more information and to nominate a candidate, visit www.thefutureafrica.com/awards, e-mail [email protected] or send an SMS to +2348022226712. Nominations close September 2015.
The award categories for 2015 are:
The Future Awards Africa Prize in Education
The Future Awards Africa Prize in Agriculture
The Future Awards Africa Prize in Advocacy
The Future Awards Africa Prize in Technology
The Future Awards Africa Prize in Public Service
The Future Awards Africa Prize in Community Action
The Tony O. Elumelu Prize in Business
The Future Awards Africa Prize in Entertainment
The Future Awards Africa Prize in Enterprise Support
The Future Awards Africa Prize for African Young Person of the Year
Follow them on Twitter: @TFAAfrica
_______________________________________________________________________________
BellaNaija is a media partner with The Future Awards Africa (TFAA).