Do you think you have what it takes to join the league of rule breaking achievers like Iyeoka Ivie Okoawo, Nuhu Ribadu, Chikwe Ihekweazu, Peace Anyiam-Osigwe and Ola Orekunrin? These TED Fellows are amongst an impressive line up of people who have distinguished themselves in their careers and have made an impact in their sphere of influence.
The application is now open for the 2016 TED Fellowship. So what do you need to apply to be a TED Fellow?
If you're an innovator whose work crosses boundaries, you may just find a home in the TED Fellows program. The program welcomes thinkers with big vision — and helps them share their ideas with the world.
So why should you apply to be a TED Fellow?
The TED Fellows program has a long track record of taking careers to the next level. Fellows attend a TED conference, for free, and have the opportunity to give a four-minute TED Talk. In speaking from the TED stage, you'll reach a wide audience and meet industry leaders who may be able to help your realize your idea. Your talk may even be posted on TED.com. But aside from the conference itself, Fellows gain access to free life coaching and mentorship, public relations advice and speaker coaching from a panel of experienced advisors. And as a Fellow, you become part of a global network of innovators from a wide range of disciplines that may become future collaborators.
We look for different applicants than many other leadership-oriented programs. Instead of business people, professionals, policy wonks and government officials, the TED Fellows program focuses on doers, makers, inventors, advocates, filmmakers and photographers, musicians and artists, scientists, entrepreneurs, NGO heads, and human rights activists.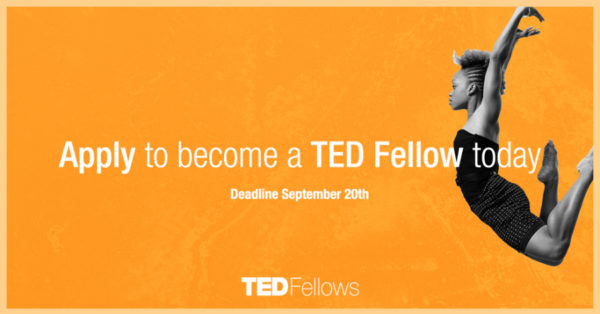 Apart from their impressive accomplishment, TED Fellows have two important traits: fine character and a good heart.
If you think you have all of the features listed above, then you should apply! CLICK HERE to apply. Deadline for the 2016 application is September 20th 2015.
For more information on the 2016 TED Fellowship Application, click HERE