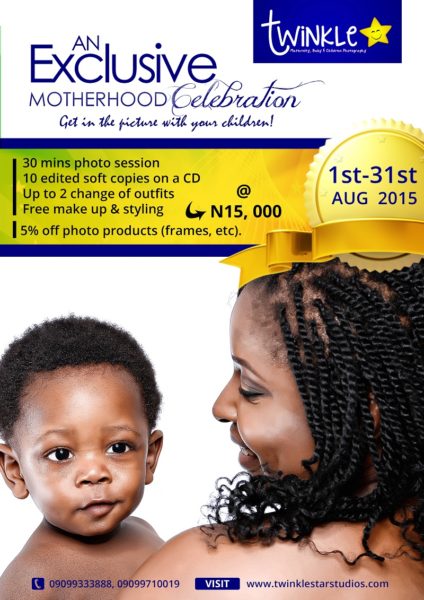 Motherhood is a great thing. It brings joy, sadness, laughter and frustrations. Sometimes, we just need to take a step back and remember. Remember how it all started.
Twinklestar Studios has decided to use the month of August 2015 in celebrating mothers for what they do, the beautiful persons they are and also give them the opportunity to get in the picture with their children.
We've put together an awesome package for you to get timeless pictures of you and your kids inclusive of FREE makeover and styling. From now till the 31st of August, 2015!
For more inquiries; call: 09099710019, 09099333888 | Email: [email protected]
Connect with us on: Facebook: facebook.com/twinklestarstudios | Instagram: @twinklestarstudios
Motherhood: "a journey of privilege and promise"
_________________________________________________________________________________________________
Sponsored Content