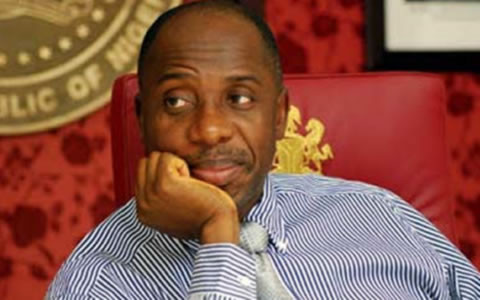 Former Rivers State Governor, Rotimi Amaechi, has filed a $300 billion suit against the PDP state chapter , its chairman, Felix Obuah, and two others.
Premium Times reports that the suit was filed at an Abuja High court over allegations made against him regarding foreign accounts ownership and embezzlement.
As a result, Amaechi is suing for N300 billion for "general damages done to him and defamation of his character, reputation and person."
The report gives further insight into the allegations, stating:
The PDP had in a statement in August alleged that Amaechi stole $757million (N80 billion) of Rivers State public funds and stashed them away in an account in his name in Bancorp Bank in Minnesota, United States of America.

It also alleged that the former governor embezzled millions of dollars of Rivers State money and stashed the money in other foreign accounts in his name, including in a bank in Switzerland.

The party said Amaechi's foreign accounts were revealed and blown open by Christiane Amanpour of America's CNN and alleged that Bancorp Bank wrote President Muhammadu Buhari intimating him that part of the funds was to be used to purchase a residence for the former governor in the US and that it (Bancorp Bank) planned to return the stolen funds to Nigeria.