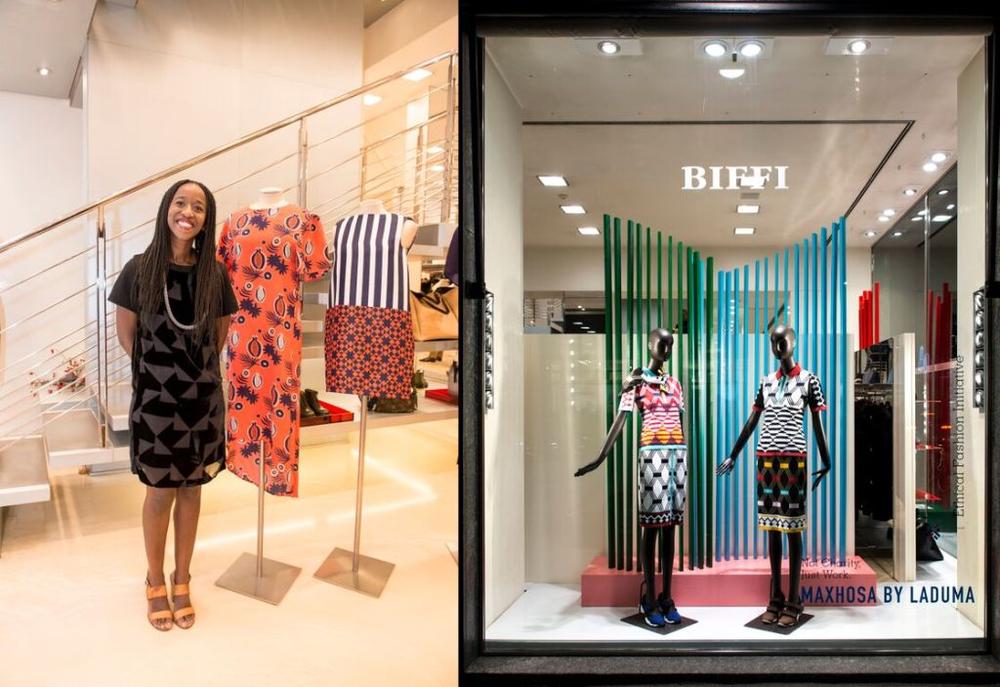 The Beat of Africa fashion showcase recently concluded its 3rd edition at Vogue Fashion's Night Out and Milan Fashion Week, and featured 5 African designers. Read the first scoop here.
Last year, they had a mix of Nigerian designers like Lisa Folawiyo, and Ghanaian designers like Duaba Serwa showcase their fabulous Spring/Summer 2015 collections. See here if you missed it.
The celebration of African fashion, a collaboration between Biffi Boutique & ITC Ethical Fashion Initiative, saw the designers – MaXhosa by Laduma, Mimi Plange, Sindiso Khumalo and Sophie Zinga – showcase their Spring/Summer 2016 collections at the iconic Milanese store – Biffi Boutique. The pieces from the collection were presented during Milan Fashion Week for the shoppers on Corso Genova and the fashion crowd to experience, with vibrant backdrops created by the From Studio Team.
According to an organiser , Simon Cipriani – "There is a huge buzz around African fashion but scarce opportunities for real trade. The Ethical Fashion Initiative is working on this and we are soon launching a new mentoring scheme to enable designers work alongside investors and business partners. This is a key component to grow and bring more work to Africa. Work not words is what Africa needs."
See images from the fab event below:
To find out more on The Beat of Africa, visit their website: www.ethicalfashioninitiative.org | Find them on Facebook: Facebook.com/TheEthicalFashionInitiative | Follow them on Twitter: @_EthicalFashion | Follow them on Instagram: @EthicalFashion | Find them on Pinterest: pinterest.com/ethicalfashion1 | Watch them on Youtube: youtube.com/user/Exportimpactforgood