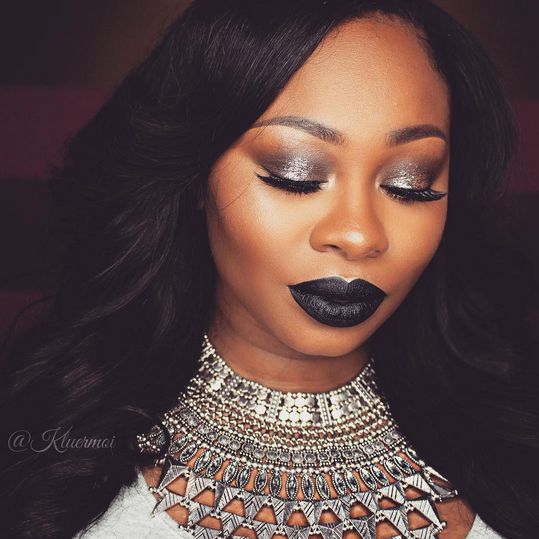 The days & nights are getting colder – and you know what that means! The dark lips will start rolling out!
This is one of our favourte times of the year, because you get to wear amazing dark lipsticks that are bold and edgy. So, to help you get ready for the era of the dark lipstick, BN Beauty is here with 5 tips on how to wear the darkest lipstick of them all – black lipstick.
This color of lipstick has been around for a while, with some makeup lovers rocking them in the Summer. But now that we are in the most appropriate time of the year, we can finally rock this lipstick loud and proud.
Check out these tips!
1. Prepare your lips
This is an important first step because dark lips can amplify the surface of your lips. The color amplifies the surface of your lips, and will show if they are cracked or chapped. This can make your lipstick look very messy and unflattering.
To avoid this, you can either run a tooth brush over your lips to brush off dead skin, or use a lip balm to get hydrated looking lips.
2. Pick the right black
Not all black lipsticks are created equally. When choosing a black lipstick to rock, it is important to get one that you've heard about or read reviews on. This way you already have an idea of what your finished lips would look like, and it prevents you from having isolated experiences like feathering lip stains, dryness etc. You could try cult favourites like Makeup Forever or Lime Crime.
If you aren't feeling too adventurous with your lip color of choice, but still want to have dark vampy lips, you could try getting a color that is closet to black. Go for a lipstick in deep maroon, or dark purple, to still give the illusion of black lipstick and ease you into wearing the dark color.
3. Use a lip brush
When applying a dark lipstick, a lot more precision is required. So, it is better to use a lip brush when putting this dark lipstick on to avoid making mistakes and smudging other parts of your makeup with the dark color.
4. Set it
Black lipsticks tend to be more elusive than other lip colors, so you need to give it more attention. After successfully applying the lip color, use a tissue to dab it off until it becomes a stain, then re-apply. This intensifies the color, however, the trick to locking it down is to apply a thin coat of translucent powder. This helps set the lipstick and keep it from budging as you go through your day.
5. Keep the rest of your makeup neutral
Let's be honest, wearing a black lip can be so attention-grabbing. So, you need to keep the rest of your makeup easy and laid back.
You can however spice it up with some glitter or a light neutral-looking base in dark brown or champagne with exaggerated eyelashes. But nothing too loud like yellow, red, bright purple etc.
Watch Destiny Godley create a fab look below with statement eyes.

Photo Credit: @Kluermoi (Instagram)