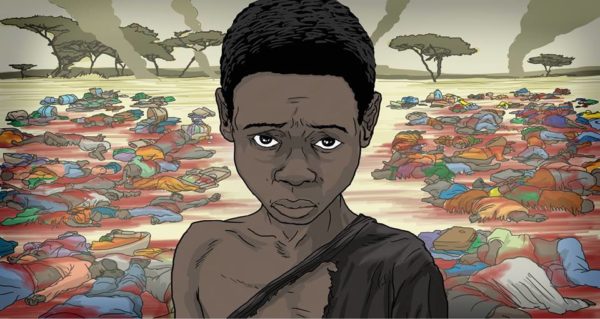 The Biafran War is such an unforgettable part of Nigeria's history. And although that era is long gone, its influence is still ingrained in the nation's culture psyche. And this is why all facets of its impact on Nigeria still need to be explored today.
Filmmakers Odera Ozoka, and Ashley Ellis, hope to facilitate this exploration through the powerful medium of film, in combination with an interactive social movement that sheds light on this pivotal time in Nigeria's history.
Award-winning writer/producer/director, Ozoka (His works include, Soul Diaspora, Hollywood Street, and co-production work on Ije, which starred Omotola Jalade Ekeinde and Genevieve Nnaji) and Los Angeles-based film maker, Ellis (Her works include For Love, After We Lost Shima) are collaborating on A Forgotten Place, a film set during the Biafran War, about an Igbo boy's chance encounter with a wounded Yoruba soldier and subsequent friendship that sets them both on paths through the war torn country in search of their families.
The film depicts the gruesome realities of war but also explores traditional culture and spirituality through fantastical/surreal explorations of the boy's inner fears and the soldier's confrontation with death.
A Forgotten Place is a live action film currently in production, and casting for the film will soon commence.
Odera and Ashley see the A Forgotten Place project as more than just a film. They see it as an opportunity to build a pan-African movement, using the power of film in combination with social media to help bring a story to life that can travel across cultural boundaries.
The team will be recruiting the best talents from across the continent to bring characters to life on screen and to contribute to the filmmaking process behind the scenes. In addition, the film will start an online and offline conversation about post-colonial legacies and conflict across the continent using the story of Biafra as a way to do so.
The duo has been working hard on the project, even taking it to the Cannes Film Festival 2015 where they met with several top agents from Europe and China to discuss avenues for having a wide reach. The pair was also one of the benefactors of highly competitive government film programme, Project Act Nollywood.
In addition to being a social movement, A Forgotten Place film project is also a medium for community development & employment opportunities. In each location the film will be shot in, residents will be hired to work on set. After the film has been shot, these sets will still be in existence, serving as lasting community spaces that serve as cultural/entertainment centers and reminders of the movement.
The team is currently scouting locations in Nigeria and South Africa. Also, when the movie is released, the production team plans to have mobile cinemas as a way of bringing the film straight to developing communities without access to theaters.
Here's a sneak peak of one of the locations:
During the course of the campaign, we will also host gatherings with movement participants, stakeholders, and more where we will have panel discussions and screenings where relevant issues pertaining to the film are discussed both online and offline.
Social media influencers and artists from all across the world have already joined the A Forgotten Place movement, and its momentum is increasing with each passing day.
And we need you! We're looking for people from all creative disciplines to join the movement. We're looking for artists from all over the continent to participate in the movement with their talents. Musicians, costume designers, painters, sculptors, graphic artists, and other creative individuals are all welcome.
For information on how to submit your work for the film, exclusive Behind the scenes updates, and to join the conversation online visit:
Website: http://aforgottenplacefilm.com/
Seed & Spark: http://www.seedandspark.com/studio/forgotten-place-0
Facebook: https://www.facebook.com/aforgottenplace
Instagram: @aforgottenplace
Twitter: @_forgottenplace
_________________________________________________________________________________________________________
Advertorial