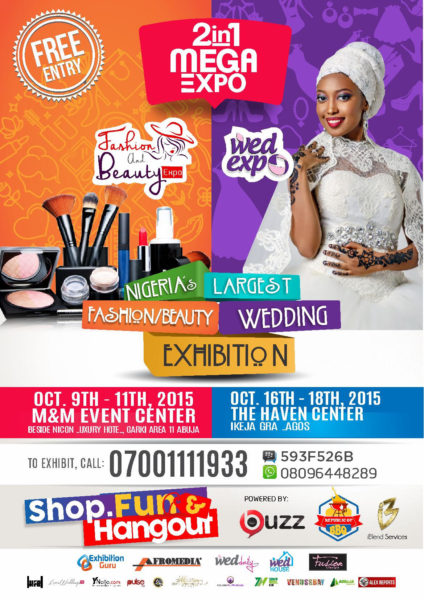 Have you looked for where to buy all your beauty supplies or stock on your clothes, fabrics and more? Are you getting married within the next 1 year? If your answer is YES, then you should be at the 2 in 1 Mega Expo holding in Abuja and Lagos this October!
Admission is FREE and there will be lots of Freebies and DEALS. Everyone can attend!!!
If you operate any business in the fashion, beauty, weddings and lifestyle industry, then you have to be at this event.
Cost to Exhibit: Starts at N50,000 instead of N60,000 for 3 Days (You can't beat that) … Offer ends soon
*Other options available
Offer Ends October 2nd – Call to Reserve/Book a booth
Who Can Exhibit:
The exhibition will feature the latest products and services in the weddings, lifestyle, fashion and beauty industry.
WED Expo: Wedding planners, decorators, makeup artists, cake makers, dessert makers, caterers, photographers, beads and jewelry makers, bridal stores, suit houses, invitation cards, cocktails and drink management, hotels, airlines, resorts for honeymoon, beauty related brands, wine and spirit brands, rental companies, event halls, etc.
Fashion & Beauty Expo: Textile manufacturers and dealers, Beauty & Skin Care Products manufacturers and distributors, Fabrics Retailers, Makeup Artists, Makeup Retailers, Fashion Boutiques, Fashion designers, Aso-ebi merchants, Soap manufacturers, Organic Skin Care Products dealers, Fashion Accessories, Natural & Synthetic Hair dealers, Saloons & Spa's Health & MUCH MORE!!!
How to Book a Booth:
Call 07001111933 or SMS 08096448289 Or Add BBPin 593F526B
Pay into: Diamond Bank – WED Expo Limited – 0040977710
Get a confirmation of your payment
Details of Exhibition
WED Expo/Fashion & Beauty Expo Abuja
Date: Friday 9th – Sunday 11th October, 2015
Time: 12 PM – 8 PM
Venue: M and M Event Center, Beside Nicon Luxury Hotel, Garki Area 11, Abuja
WED Expo/Fashion & Beauty Expo Lagos
Date: Friday 16th – Sunday 18th October, 2015
Time: 10 AM – 6 PM
Venue: The Haven Event Center, Beside Arch Bishop Vining Memorial Church, Ikeja GRA
Remember you can book your booth with a deposit so hurry and do that today!
Contact Us
Phone: 07001111933, 08096448289, 08182855057 | SMS/Whatsapp: 08096448289 | BBM Pin: 593F526B | Email: [email protected] | Instagram: @wedexpo | Facebook: facebook.com/wedexpo
For more info visit www.weddaily.com the official blog of WED Expo.
______________________________________________________________________________________________
Sponsored Content