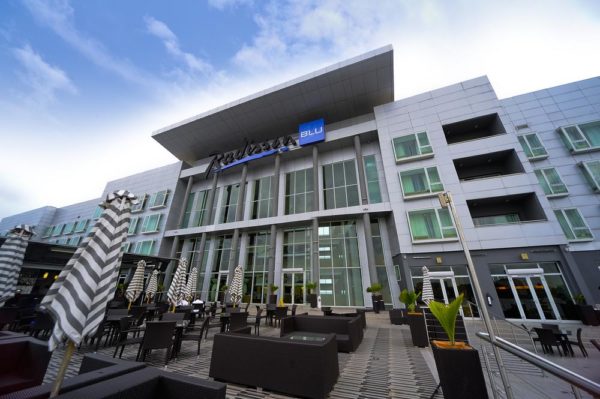 With 170 rooms, Radisson Blu Anchorage is ready to welcome guests back to its premium location.
Yes, the 5-star, water-front hotel in Victoria Island, Lagos has reopened for business following an extensive renovation of its facilities and employee training.
We were invited for the soft-opening of the hotel over the weekend and every one we met at the hotel had smiles on their faces as well as a 'Yes I Can' attitude that was refreshing to see in Lagos.
Stepping into the newly renovated reception area, we were looking forward to seeing the extensive renovation of the hotel's facilities include the upgrade of power generation facilities, the central cooling system, refurbishment and upgrade of kitchen equipment, soft refurbishment and refresh rooms as well as the public areas.

The hotel was shut down during the period of renovation –which lasted for about 6 months – in a bid to ensure that they adhered to global health, safety standards and the magnitude of the renovation.
We spent a fabulous and restful night in their Presidential Suite and we were impressed with the hotel's additional services of a 24-hour concierge, an extensive range of satellite TV channels, free high-speed WI-FI, on-site secured parking, and One Touch Service to reach the hotel staff at the touch of a button.
Following a long day at work it was amazing to sit back and relax with cocktails at the outdoor infinity pool while a live band serenaded guests with lovely music.
We sipped on their signature mojito and ginger siesta cocktails.
…and if, like us, you are in love with their Sunday Brunch, then you should know that it is back with an even bigger, mouth-watering variety for guests to savour.
Voyage Restaurant at the Radisson Blu Anchorage Hotel has the best brunch buffet in Lagos so you can imagine how excited we were when we heard that Radisson Blu has been reopened.
Need a break from work without having to travel out of Lagos? Then Radisson Blu Anchorage Hotel is the destination for you.
For more information visit their website on www.radissonblu.com/Lagos or call 07080610000 | 014610126 | Email [email protected]