Woot! It is still like a dream.
On 10/10/15, BellaNaija Weddings and Baileys Nigeria welcomed over 30 lucky brides-to-be to WONDERLAND!
Inspired by the rich luxurious taste of Baileys, the love stories of BellaNaija Weddings and in anticipation of BellaNaija's 10th Year Anniversary in 2016, WONDERLAND was conceptualized in partnership with Baileys Nigeria.
As our first ever event, it meant a lot to us – it was our first chance to reach out to brides face-to-face, beyond our usual giveaways.
In Nigeria, weddings are about so many things and people – families coming together, parents, the friends … for WONDERLAND, we wanted to focus on 'the Bride'.
What's the story behind her smile? We wanted to connect with the people asking what colours go well together? … and after the wedding, questions like, "What do I do when I earn more than my husband?", just like a bride asked Osas Ajibade at the event.
After receiving hundreds of entries from all around the country with beautiful and captivating love stories; like Elohor, whose groom charmed his way into her life after their first meet at a BRT Bus lane,
"There I was standing 'jeje' on my own o, on the BRT lane and this really 'dudu' guy says from behind, 'Have you bought a ticket? If you haven't please buy mine when you get yours'. And I turn back like, 'this is supposed to be a joke now,' abi the new slang…'Issorite! You are so not ready to go home, oh!' Then he smiles and I'm like ok, real cute.

And the next thing I know o, we're sitting together, then we dropped off at the same bus-stop, we took the next one and dropped off at the same bus-stop again! And I'm like, 'are you going home with me?' He tells me his address and I could literally take a jog there… There I was thinking like, is God at work here?

It wasn't love at first sight, 'cos I really didn't even see 'us' happening, since I wasn't really in a good place then, but then it grew into so much more than that, that I really really really haven't ever experienced… Not been all has been sweet though 🙂

Long story short … lol… during a regular hangout, I never even saw it coming o, and my very personal own 'dudu' guy, was on his knees asking me to marry him, these things don't happen to you every day na, being the centre of attraction and all, happening to me Elohor!… I laughed hard, cried but sure I said yes…and this came after 2 years and a few months… Oh! Lest I forget he said he wasn't ever getting down on his knees to do a proposal like everyone else does. Did I laugh thereafter… Hell Yes!"
… while another bride's road to forever with her groom started innocently as school friends in primary school. The stories moved us to laughter and tears … after the selection process, we felt like we had made a new set of friends, each with unique challenges and triumphs. Each of these women accomplished in her own right, before meeting the men in their lives.
From the first welcome to WONDERLAND, to the parting gifts for the 33 #BBNWonderland brides, all invitations and gift boxes were stamped with the 18+ Drink Responsibly message.
The WONDERLAND experience started off with brides travelling from various parts of the country, from Abuja to Anambra, from Cross River to Ogun, on an all-expense paid trip to Lagos, including flight and accommodation courtesy of Baileys Nigeria.
On Saturday, brides arrived at the Four Points by Sheraton Hotel for the highly anticipated event, which trended all day long on social media. They were filled with excitement, as they prepared for the event, which trended all day long on social media.
The day kicked-off with a cocktail reception. On arrival, the elegantly styled-brides in white dresses were treated to Baileys cocktails as they mingled in the room filled with what seemed like familiar faces, as they had bonded during their glam session with the BM|Pro team, headed by Banke Meshida-Lawal, Baileys Brand Ambassador.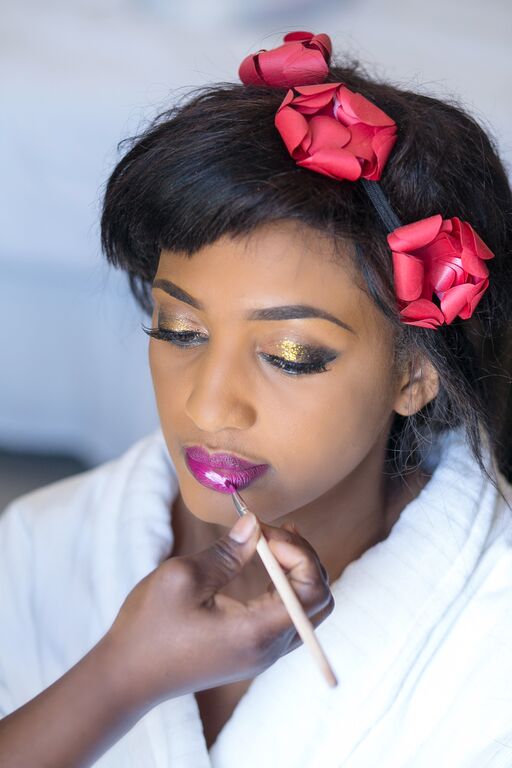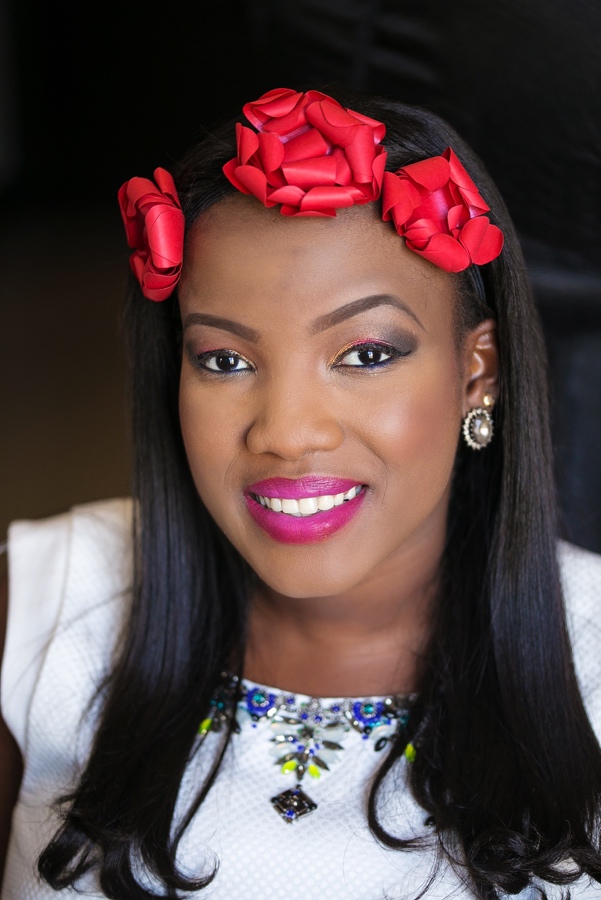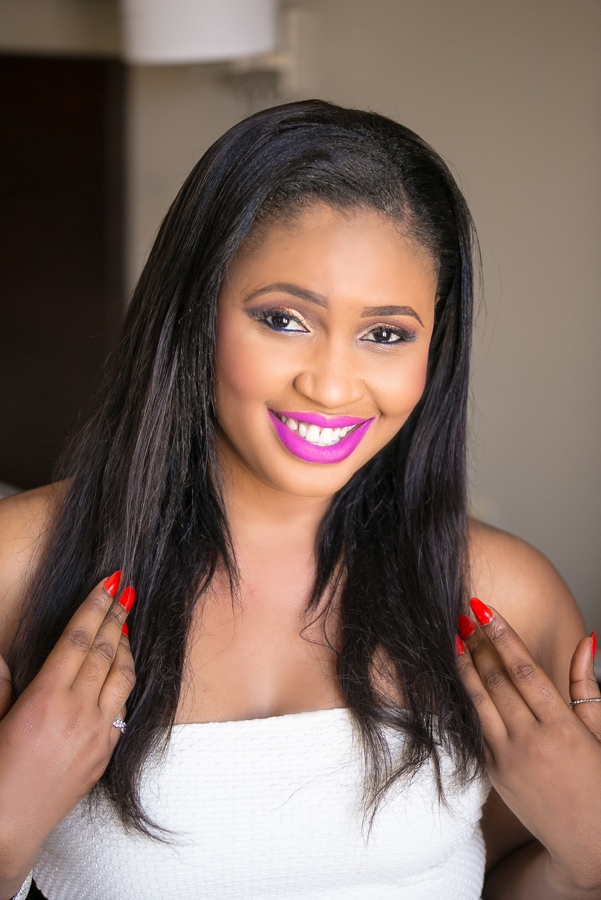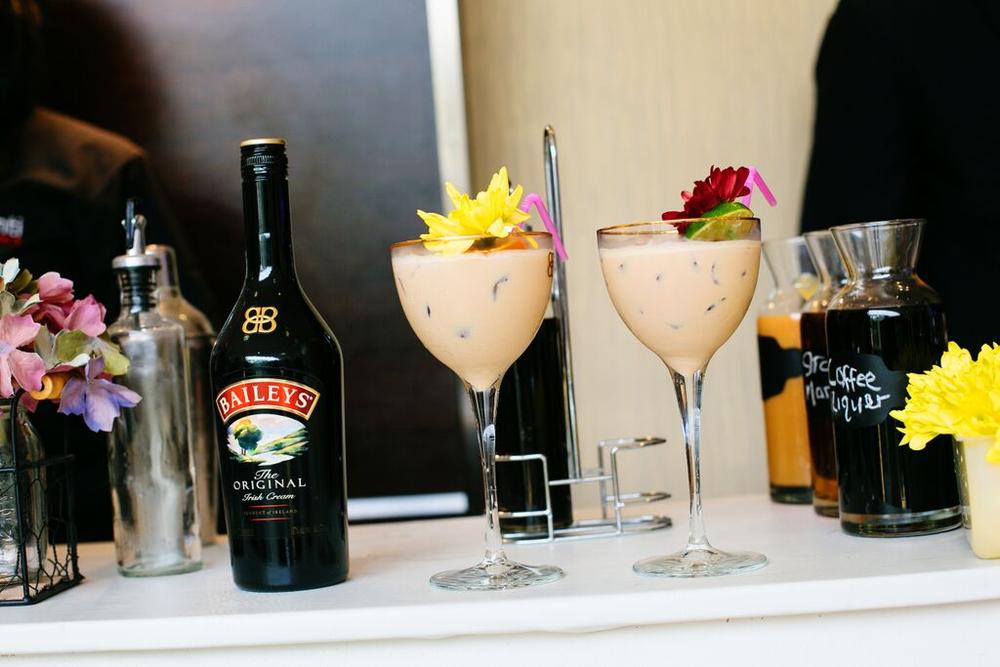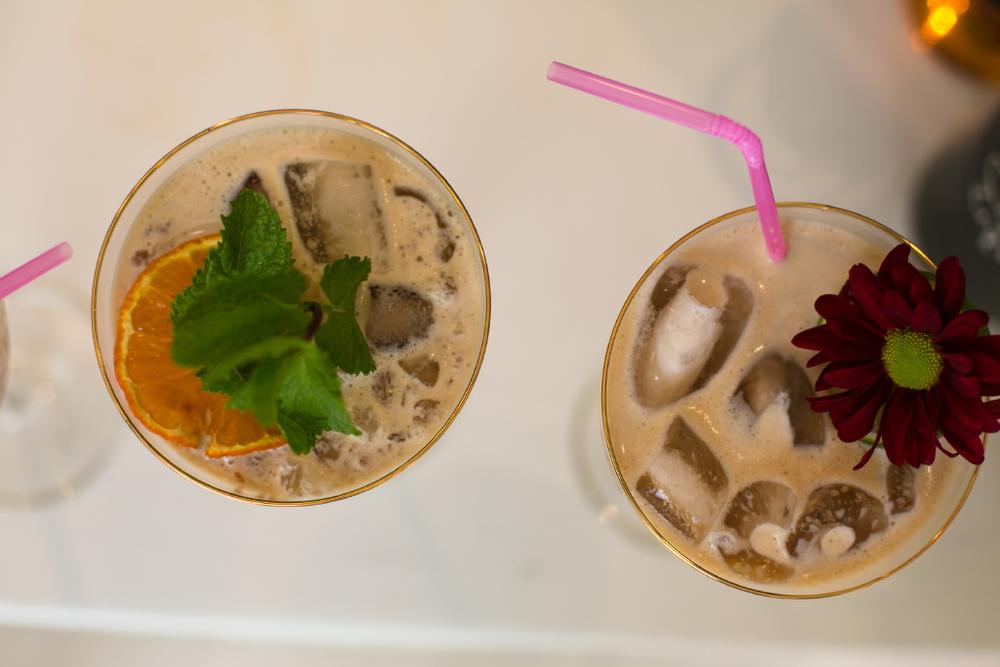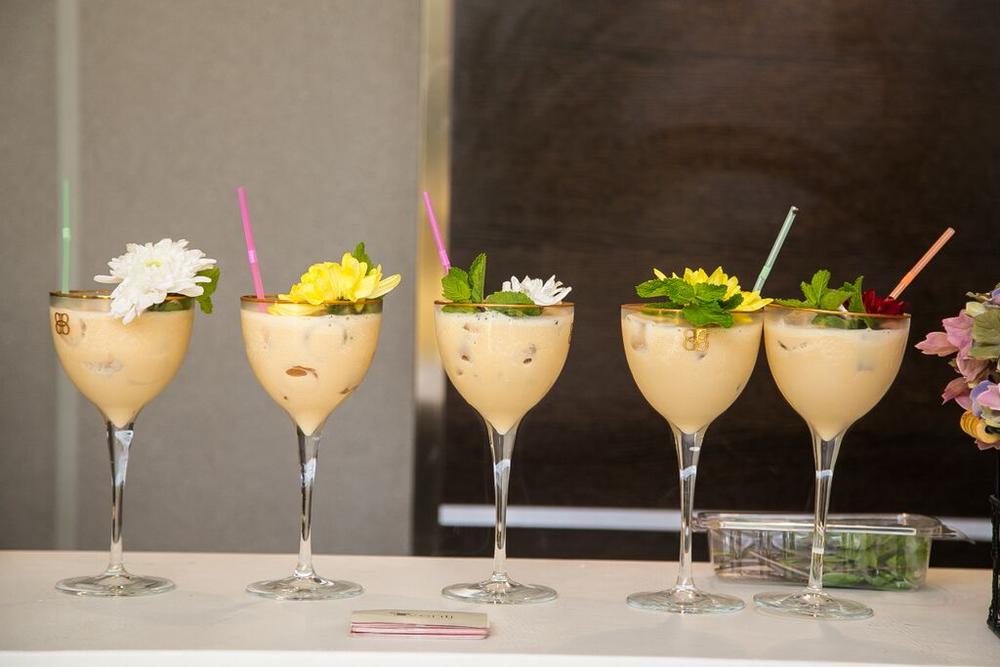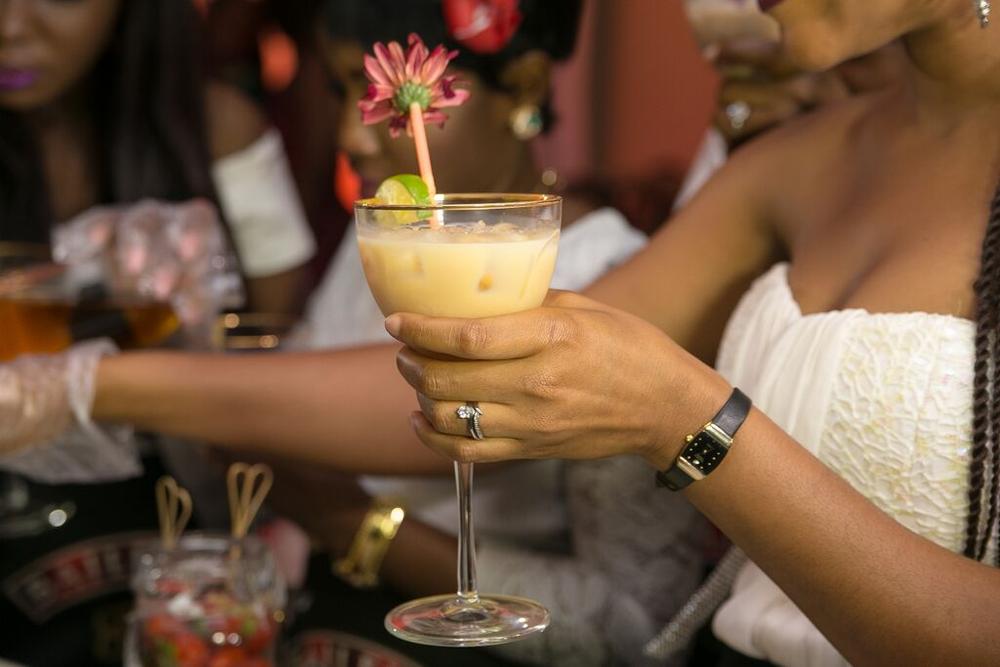 During the event, BM|Pro makeup artists were stationed outside the event for quick touch-ups, to get the brides pucker-perfect for their portraits, taken by Atunbi, and for videos by Klala Films, Trace TV and Lanre Esho Films.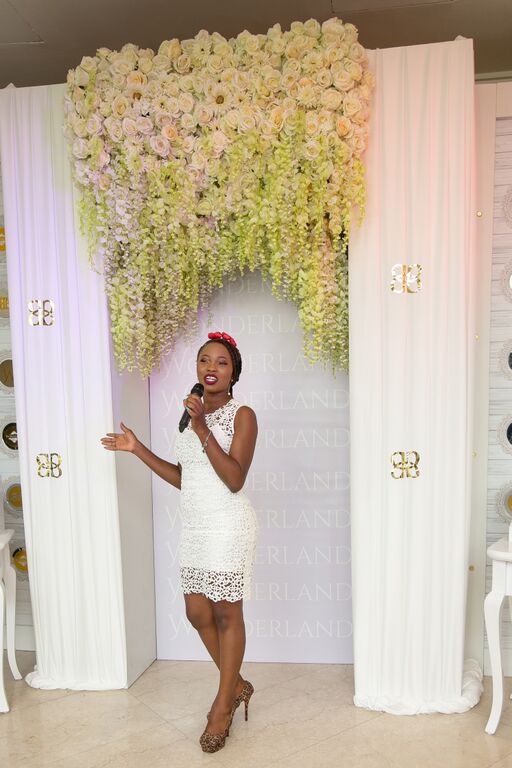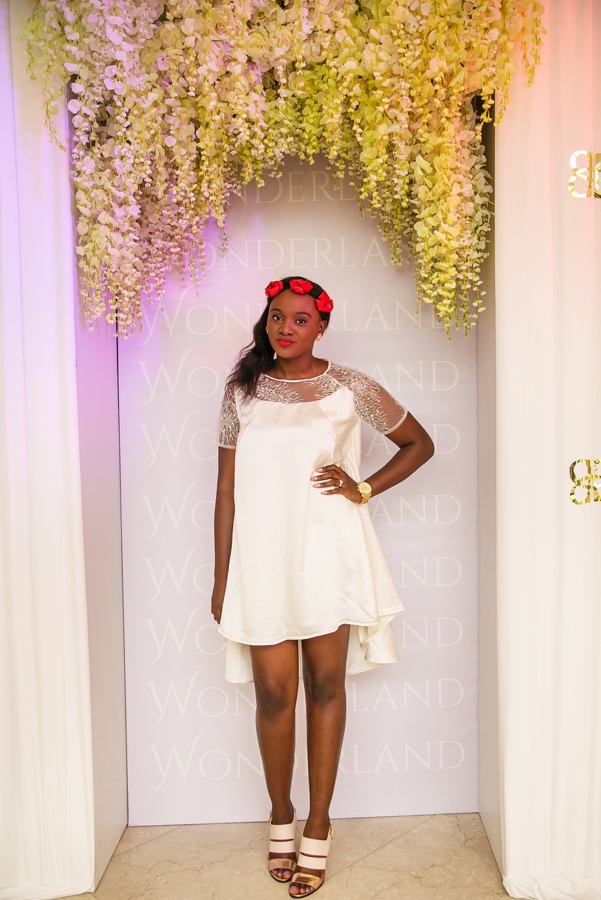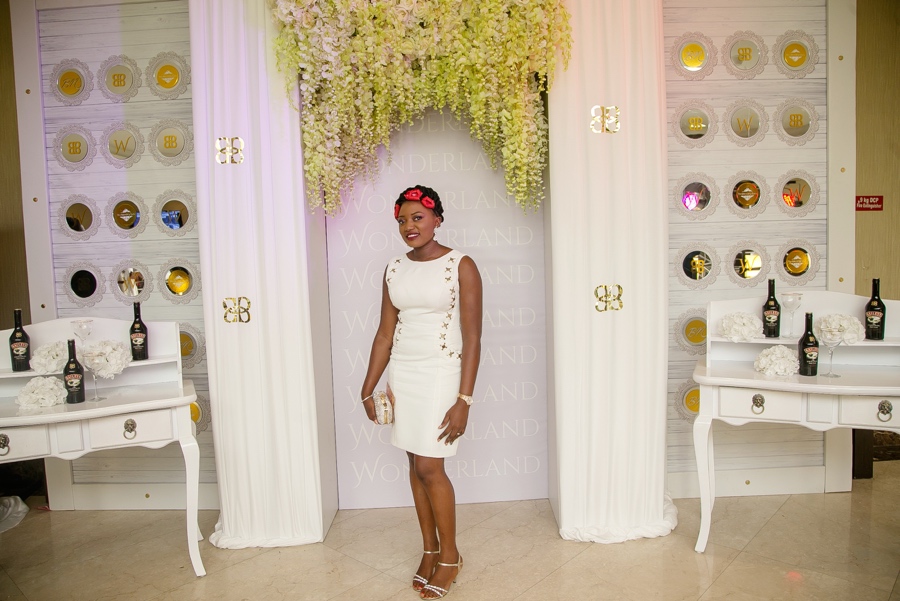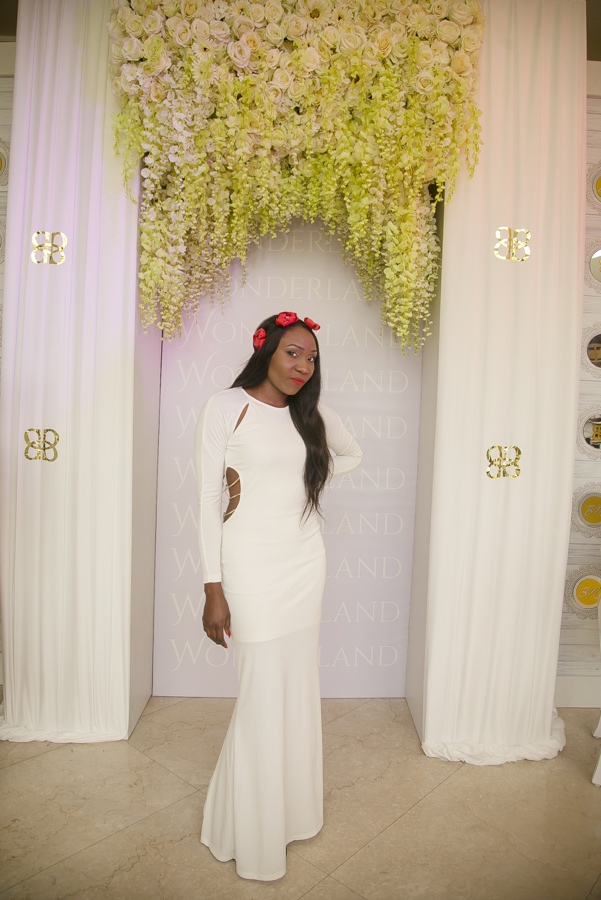 Soon afterwards, guests were guided through the tunnel into WONDERLAND – for a once in a lifetime experience with Baileys & BellaNaija Weddings.
It was such an alluring welcome, it blew the brides away as they marveled at the grandeur of it all. Exquisitely decorated by The Wedding Guru, WONDERLAND was truly a dream!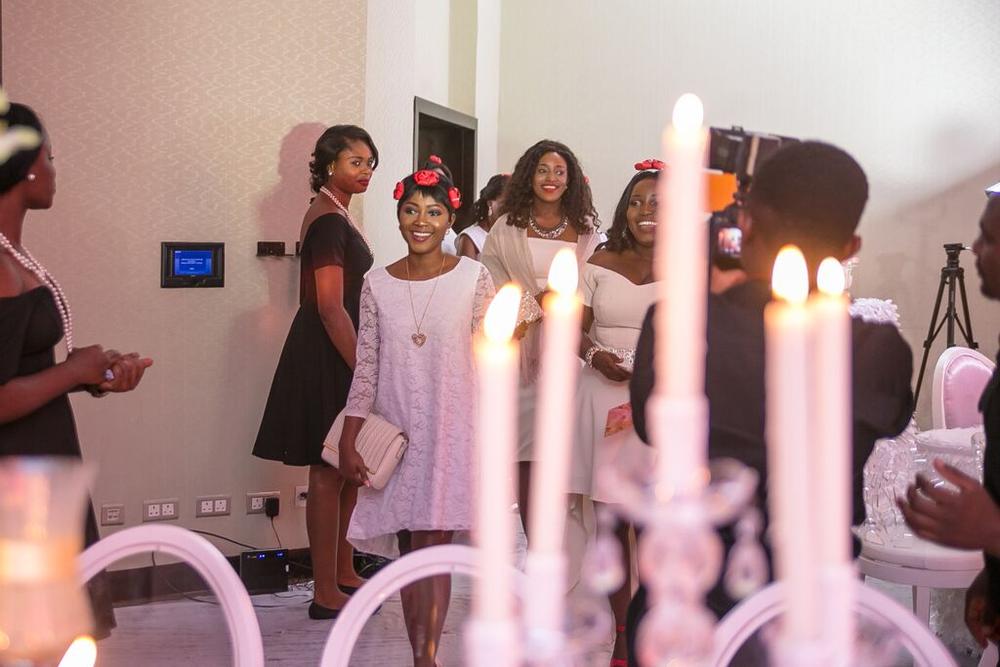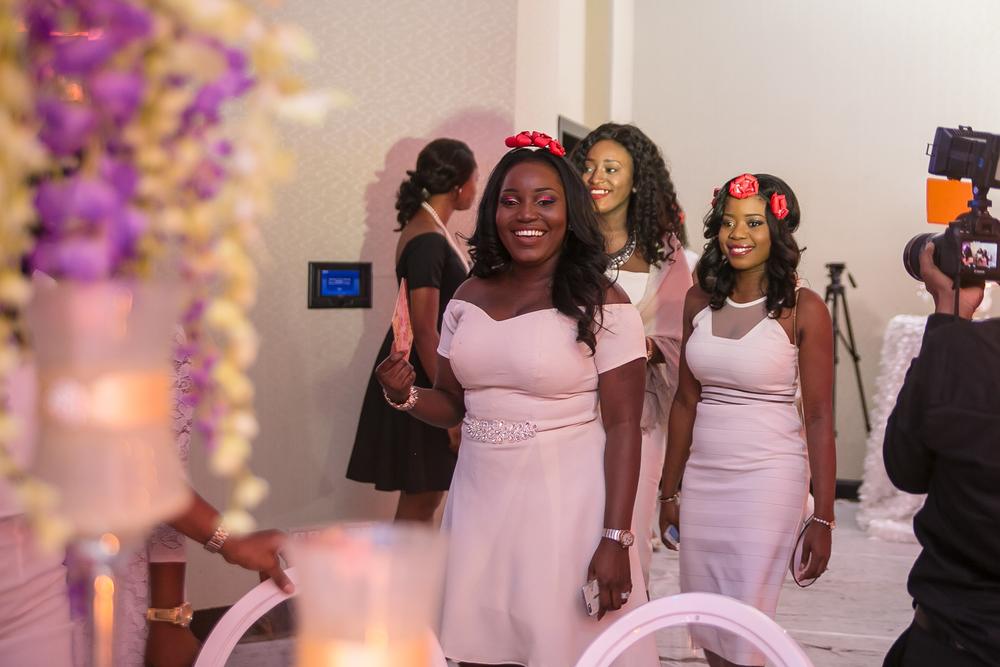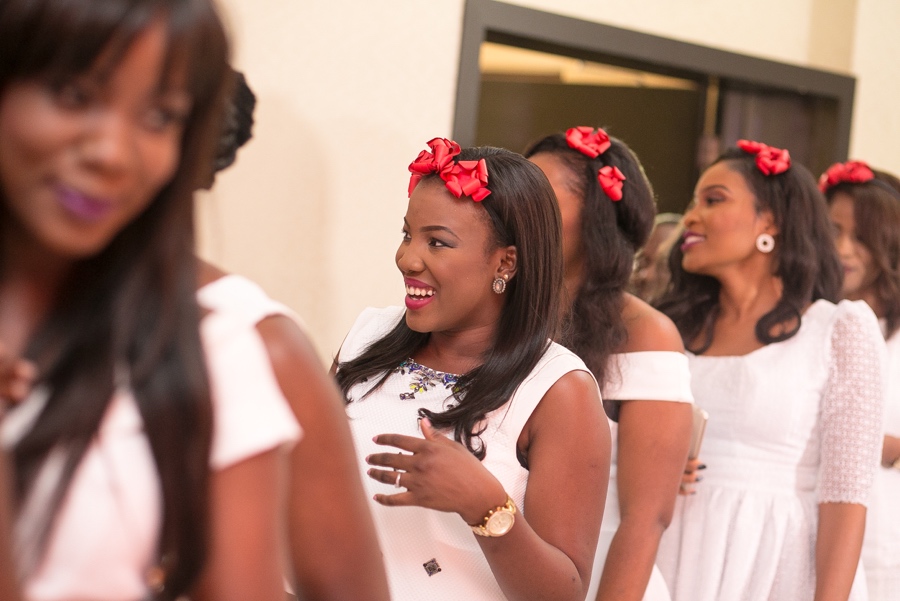 The tablescape featured 4 feet tall floral stands, covered with hydrangeas, delphiniums, roses, orchids and cascading wisterias, complemented by double layered mirrored table tops, glass and crystal candelabras, pillar candles, gold glass charger plates and rose style folded napkins encrusted with brooches. Other major décor highlights included the stage, featuring a 3D mirror customized with WONDERLAND in gold plates and decals of the Baileys Logo, a white piano and a breathtaking mural of a groom and his bride in her wedding dress cascading down to a floral explosion.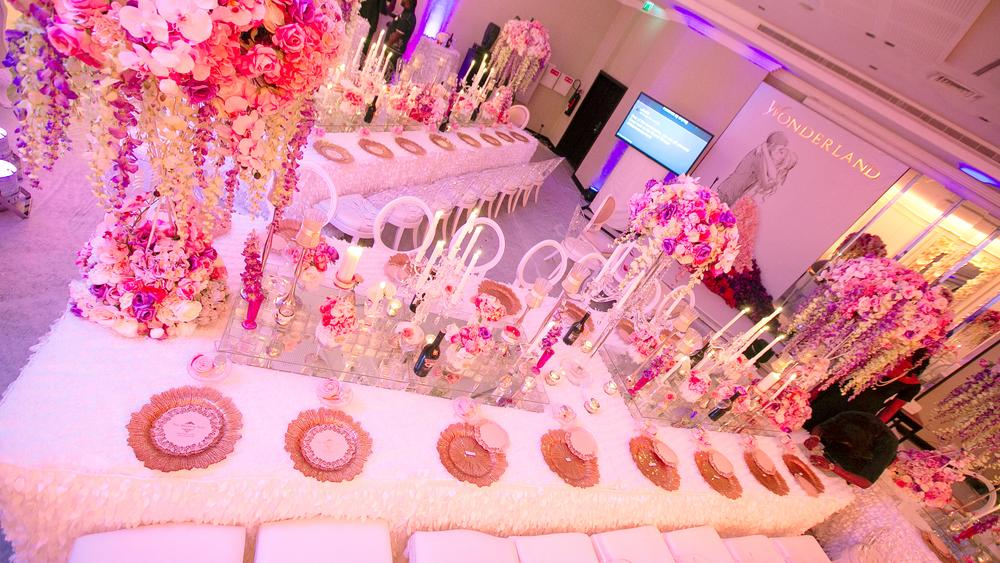 Hosted by Bovi, the day featured an exciting line-up of activities including games and more. Brides won a variety of gifts including bridal accessories from Le Reve Pieces and Zena Accessories, Selfie Sticks from The Gift Haven and spa certificates from the Four Points Spa.
A Q&A session followed with recent celebrity bride Osas Ajibade who spoke about her wedding planning journey and award-winning OC Ukeje who is about to celebrate his first year anniversary. There were informative sessions with leading industry vendors such as Funke Bucknor-Obruthe of Zapphaire Events and Christine Ogbeh of The Wedding Guru.
Bovi was more than a host, as he chimed in on the celeb Q&A, as a husband of six years and father of two. The first question was aimed at OC, "Why aren't you wearing your ring?". OC answered that he always has to take it off for his work, and it's currently getting resized.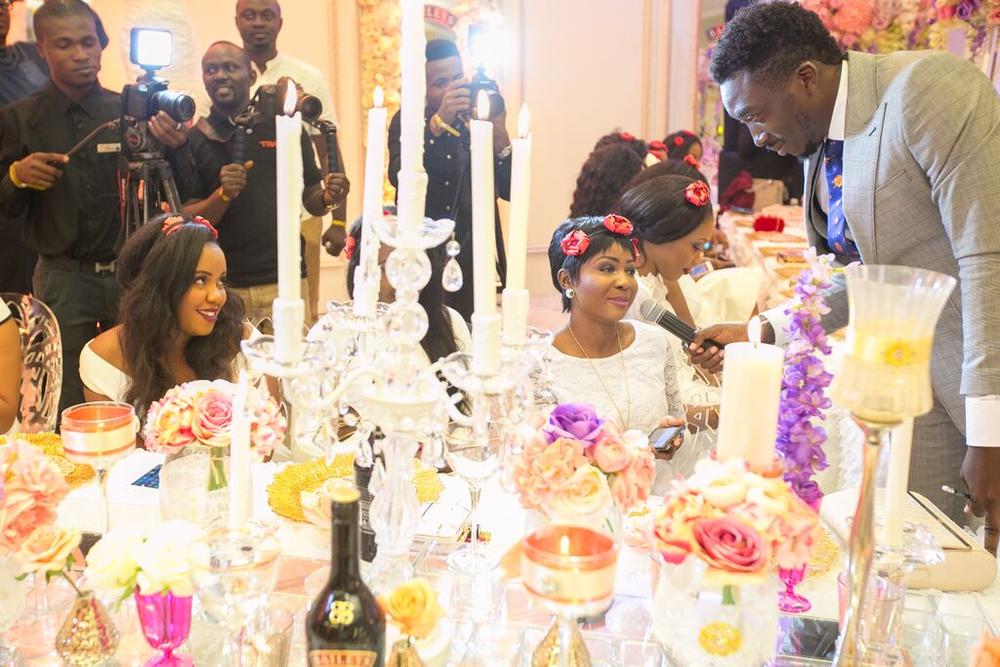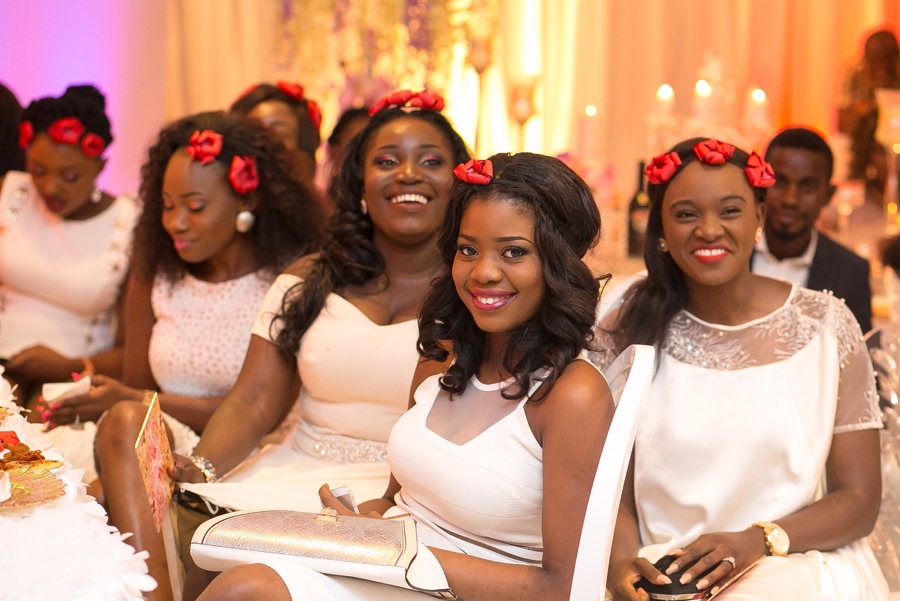 During every intermission, DJ Crowd Kontroller had the brides on their feet with the latest hits, peppered with some old school jams.
The interactive 'Make Your Baileys Cocktail' session with Lara Rawa of Eventi Cocktails was a major highlight as brides could not get enough of the yummy cocktails; made with a variety of lush infusions, and presented so beautifully, they were a hit all around! Brides were thrilled to learn how to make their own Baileys cocktails for when they return home.
There were other games, including 'what's in your handbag', charades and more!
During the lucky dip at the event, 6 #BBNWonderland brides won various amazing prizes including a Baileys bar, bridal makeup by Banke Meshida-Lawal, a honeymoon from Afric Holidays, wedding ring set worth up to $5,000 from Rings and Bands NG, a wedding dress from Blush by MyQ, a wedding photography package courtesy The Five Studios & Atunbi Photography. A bride also won a custom-made reception dress by April by Kunbi for audience participation while another won a special prize for social media contribution.
Lizzy gets to choose from four amazing locations – Santorini, Zanzibar, Mauritius and Maldives – for her dream all-expense paid honeymoon.
And just when the brides thought their #BBNWonderland experience was over, there were 2 major surprises still in store.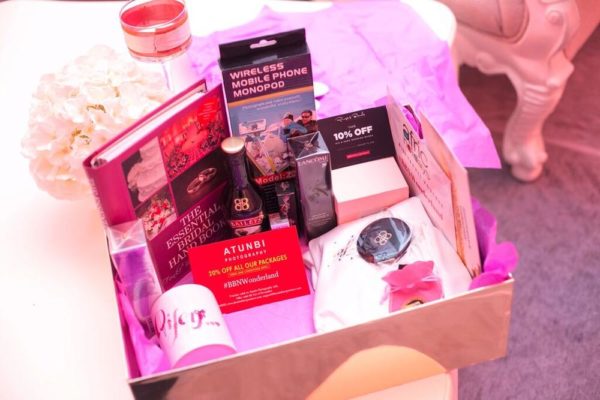 The first, a deluxe gold WONDERLAND gift box created by The Wedding Store carted in by the Coker Creative team. They squealed with excitement as they explored its content, which consisted of:
· A Bottle of Baileys
· A Bridal Mug
· A Luxe "Wifey" Bridal Robe
· Best selling BM|Pro Lipgloss
· A Delicious Baileys Cupcake
· A selfie stick from The Gift Haven
· A Baileys Compact Mirror
· The Essential Bridal Handbook by Funke Bucknor-Obruthe
· Bridal earrings from Le Reve Pieces & The Velvet Box
· Discount Cards from Atunbi Photography services, The Wedding Guru, Afric Holidays bookings & Rings and Bands
Lagos-based brides also received a special BBNWonderland code from Uber Lagos, this gave them access to a free ride home, further confirming the #BBNWonderland "Drink Responsibly" commitment. The brides also had access to extra internet on the day thanks to Smile.
As if that wasn't enough, #BBNWonderland brides were all gifted 2 special gift bags courtesy international cosmetics brand Lancome. One bag contained Lancome cosmetics while the other, bridal favourite Lancome fragrance "La Vie est Belle".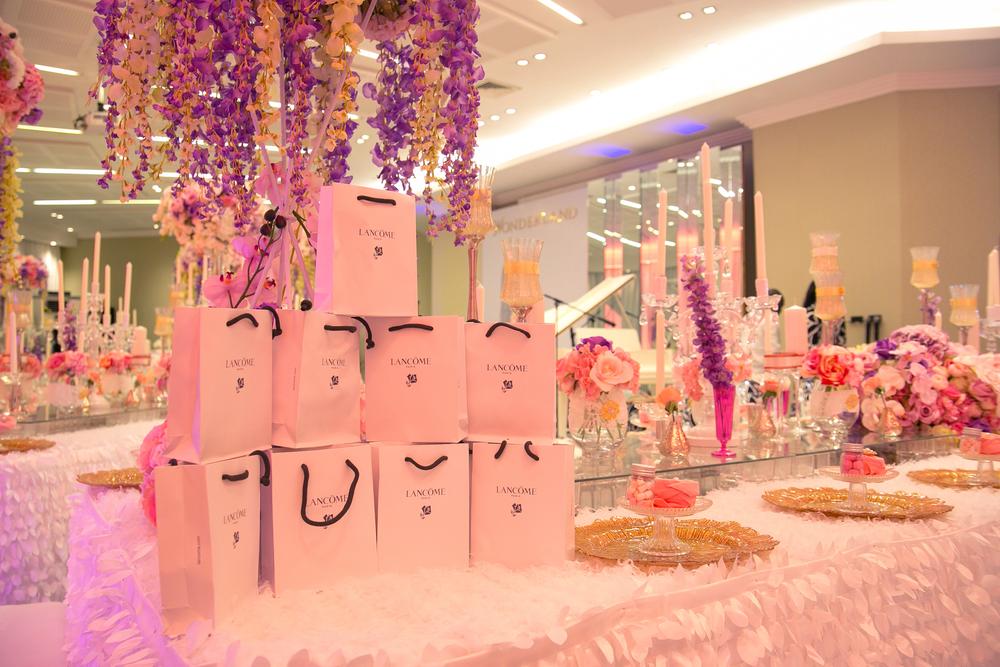 Finally, the room was engulfed with the melodic sounds of the piano and a loved familiar voice…it was Banky W!
The #BBNWonderland brides jumped to their feet, danced and sang along. He opted for an intimate performance with no backing track – Masterkraft was playing the white piano keys,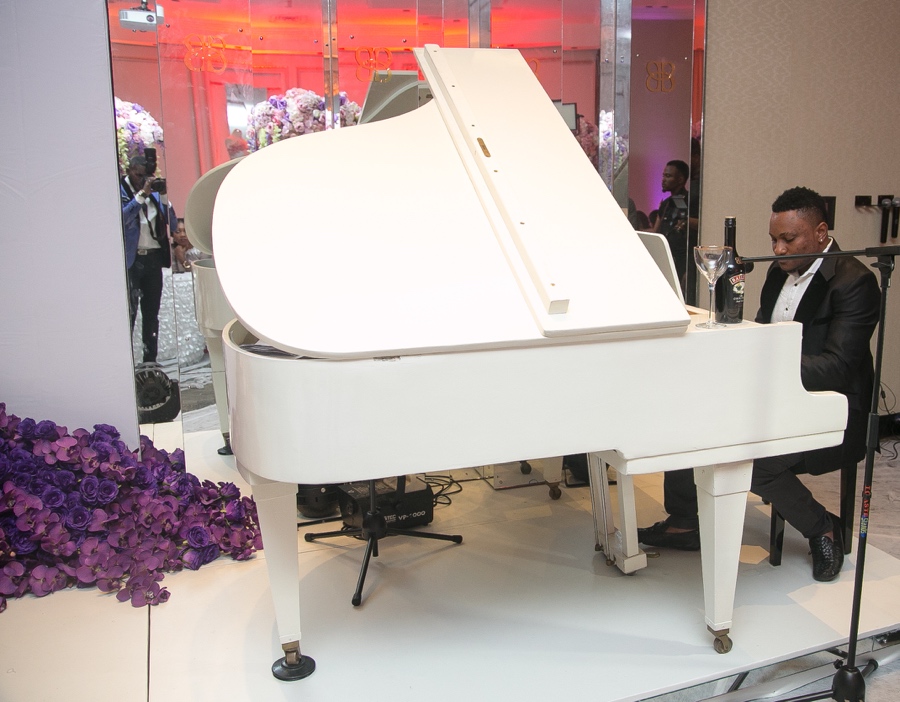 and Banky had two back-up singers to accompany him. Shaydee also performed. Songs included the spoken word 'Letter to my Unborn Child', and of course mega hit, 'Yes/No'.
It was a dazzling crescendo for an amazing day.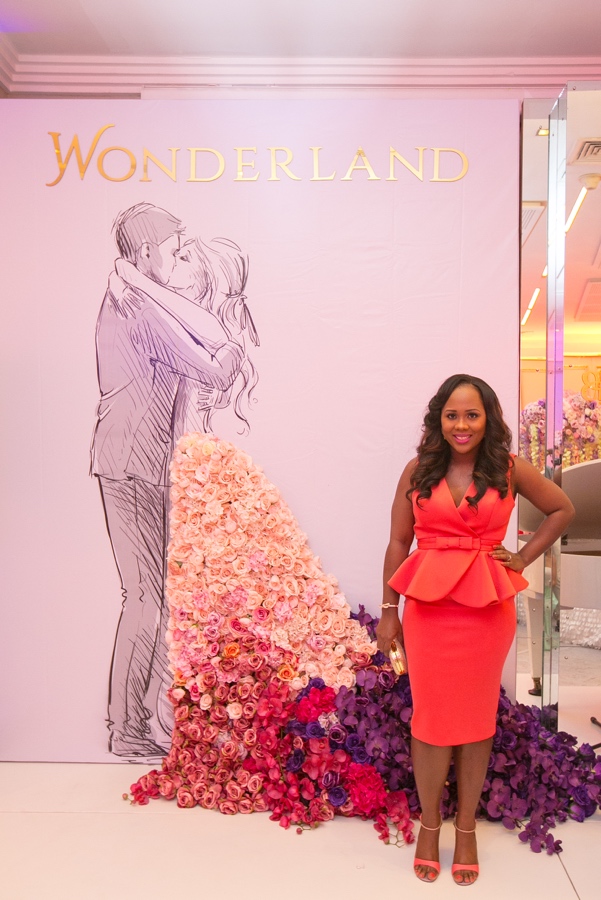 Speaking on #BBNWonderland and the collaboration with Baileys, Uche Pedro – Founder of BellaNaija.com said,
"Baileys was a natural fit for us to partner with – the brand is all about celebrating women, friendships, and special moments. As the first BellaNaija event, #BBNWonderland was a wonderful experience. I read every single WONDERLAND entry and yes, the stories were so romantic! However, what struck me was the vibrancy and confidence of all the #BBNWonderland ladies. These are dynamic women who are ready to take on the world."
"WONDERLAND was a dream. It took a great team of people, that I am thankful to, in bringing this idea from concept to reality, and it has been such an amazing journey" reiterated Nkechi 'Ink' Eze – Editor, BellaNaija Weddings.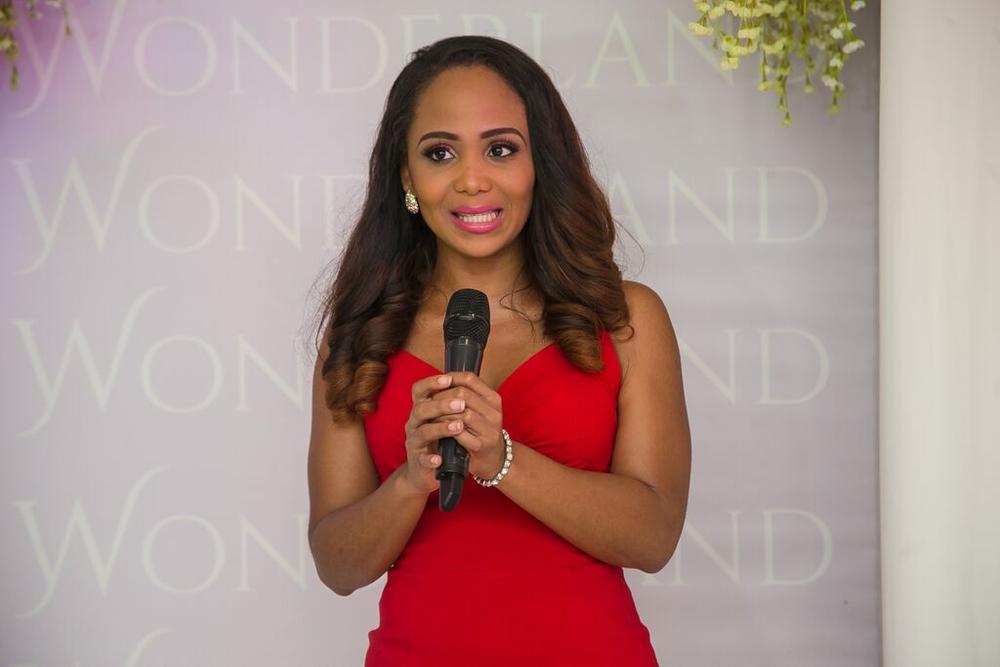 "Baileys is passionate about inspiring African women to shine and feel fabulous. A woman's journey to the altar and ultimately to forever is a very special time, and through the #BBNWonderland platform, we were able to celebrate her in an extraordinary way" remarked Ufuoma Udjoh, Brand Manager, Baileys Nigeria.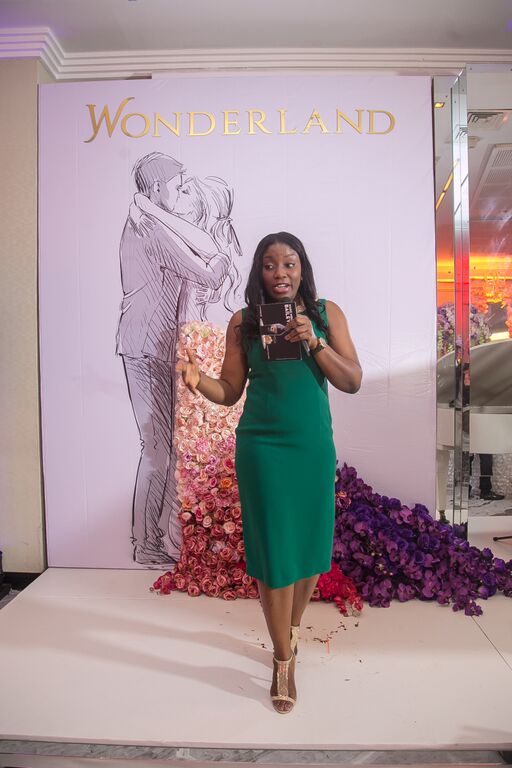 All the #BBNWonderland brides could not stop gushing about the experience – "We were treated like princesses, everything was paid for and we received lifelong tips from people who care. The gifts, the entire event… Amazing, amazing, amazing! Thanks BellaNaija Weddings and Baileys Nigeria" expressed Alma, a bride-to-be based in Abuja.
Chidimma from Anambra shared,
"It was indeed a once in a lifetime experience for me! I have had such a rough time for approximately two years now, and in those two years, I lost touch of some parts of me. This helped me find myself in many ways. I'm not talking about the decoration or Banky W or even the ride in a limo!
For me, it was the "how was I chosen to be one of the 30 brides-to-be?", my story wasn't that wonderful if you ask me! How did I even think that I'd be allowed to go on such trip by my parents (I come from a very very strict home; these are the kind of  things we were warned not to 'chook' our heads into), meeting new people; people who were not afraid to express themselves, people who had wonderful stories to tell, people who seemed like to genuinely care a bout me, people who made me feel like I've known them before now (believe it or not, I knew not a single soul before now).
Ultimately, I felt the kind of freedom I haven't felt in those two years. Or was it the lessons I learnt from waking up the morning of the event, at the event and waking the next day. You know how you keep recieving gifts and you are afraid that if you close your eyes and open them, there's a gift before you; that's how I felt all through, even now that I am back home (I am waiting for someone to burst into my room with a gift).
My family said, "we haven't seen you this active and happy in a very lonnng time". Friends said "they felt they were at the event with me" 'cos of how I kept them posted. Lol. Hubby-to-be said "you forgot me when you were in Wonderland" but I didn't! Sister said "no need for you to have a bridal shower" lol
And I said "I used to wonder if I'd make a beautiful bride, but now that I know; I can keep calm"
Thanks to the Baileys team and the BellaNaija Weddings team and the numerous sponsors of the event for this experience."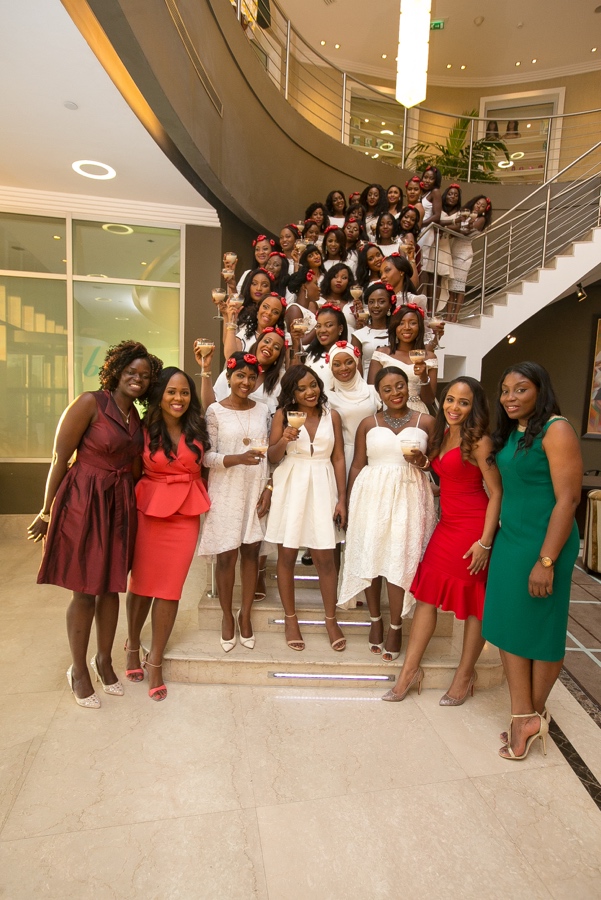 It was truly a day of smiles, entertainment, lifelong memories and friendships in WONDERLAND.
Photo Credit: Atunbi
Vendor List
Venue, Food & Drinks: Four Points by Sheraton Hotel
Cocktails: Eventi Cocktails
Makeup: BM|Pro
Decor: The Wedding Guru
Dior Chairs: Oaken
Diamond Chairs: Rent A Party
Social Media Screens: Enplug
Internet: Smile
Videography: KLala Films and Lanre Esho Films
Piano & Mic Stands: Figma Entertainment
Invitation and Poster Design: Light Design Studio & Dejj Designs
Music: DJ Chike (Crowd Kontroller)
Speaker: Funke Bucknor-Obruthe
MC: Bovi
Celebrity Bride, Groom: Osas Ighodaro, OC Ukeje
Guest Appearance: Banky W
Event Management (Planning & Coordination): Coker Creative
Invitation/Gift Box: The Wedding Store NG
Paper Flowers: Pretty Paper
PR: Redrick PR
***
For ALL the live photos and videos from the #BBNWonderland weekend, check out the hash tag on Instagram – #BBNWonderland and follow @BaileysNigeria and @BellaNaijaWeddings for more !