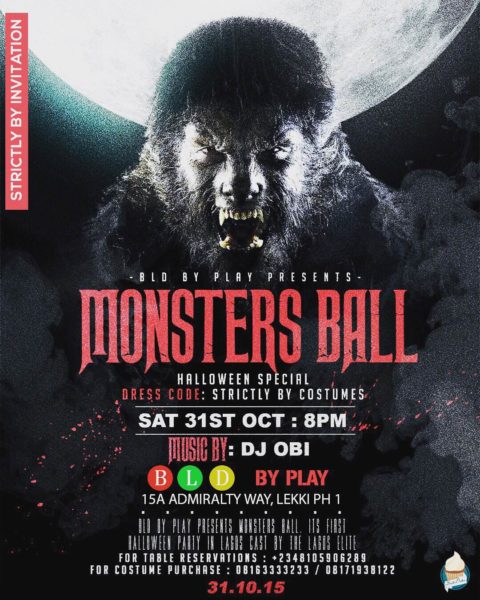 You are officially invited to the BLD by PLAY first ever Halloween party- The Monsters ball holding this Saturday. You are advised to come out looking like a scary Cookie Monster. Ok, maybe a scary Cookie Monster isn't as scary to a cookie lover, thus we would be serving complementary Halloween themed cookies ( and pastries) created by celebrity chef Alex to distract your scary Cookie Monster cravings. LOL.
We would also be organizing several Halloween themed games such as bubbing for apples, spooky charades, wrap a mummy, monster mash, trick or treat, fill the pumpkin, etc.. I mean it's a Halloween party, we might as well.
DJ Obi will be spinning the music that Saturday, and y'all know how Obi gets with the turn tables..
Date: Saturday, October 31st
Time: 7 PM
Venue: 15a Admiralty way, Lekki Phase 1, Lagos
For table reservations please contact 08105906289, for costumes please contact 08163333233 or 08171938122.
_________________________________________________________________________________________________
Sponsored Content