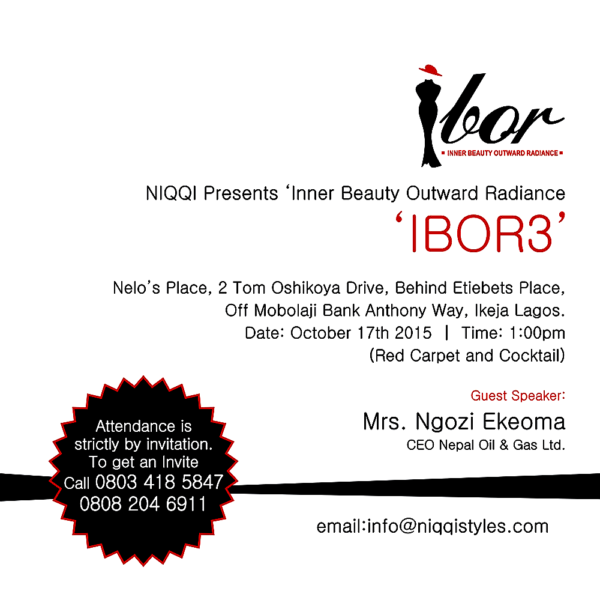 It's that time of the year again, when women from all over the city of Lagos gather for the annual IBOR Conference and Fashion Show. IBOR simply means 'Inner Beauty, Outward Radiance'.
IBOR is an initiative of Niqqi Styles, with a vision to groom the complete and balanced woman; a woman who is physically, spiritually, financially, morally, emotionally and professionally beautiful. It started as a quarterly programme in 2012 and has grown since. Women of different age groups, economic and social classes come together under an atmosphere of friendship, business and networking, to learn, mingle and share. Entrepreneurship opportunities, mentoring opportunities, career development, Spiritual upliftment, enlightenment sessions, emotional fortification, skills acquisition, goody bags and give-aways etc are some of the benefits you stand to derive from this superbly loaded programme. Women who have attended the 2 previous annual shows can't wait for the third season to happen this year. We are extending the invitation to you as well, to partake of this splendid opportunity.
Date: Saturday, October 17th 2015
Time: 2 PM (Red carpet and cocktail by 1 PM)
Venue: Nelo Place,. 2, Tom Oshikoya Drive, beside Etiebet Place, off Mobolaji Bank Anthony Way, Ikeja, Lagos
Theme: 'Inner Beauty, Outward Radiance Season 3'
For registration, advertisement, sponsorship and participation enquiries, please contact us via:
Phone: +2348127665111, +2347039367157 | Email: [email protected] OR [email protected] | Website: www.niqqistyles.com
Don't forget to tell your friends as well. See you there!!!
________________________________________________________________________________________________
Sponsored Content