Good morning fashion lovers!
It's time for one of our favourite fashion features – BN Collection to Closet. This is our regular style feature where we show love to our amazing African fashion designers by shining a light on those who #BuyAfrican.
Today we have the ever-gorgeous model & entrepreneur, Agbani Darego in Nigerian womenswear label, Meena.
Enjoy!
***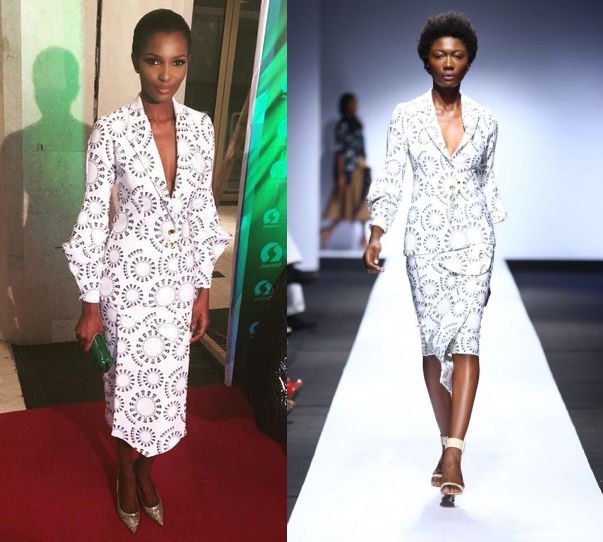 A few years ago, we had a new crop of fashion designers that not only gave us unique ways of merging African & modern fashion, but also showed us a promising new crop of talent to watch out for. Womenswear fashion designer, Uju Offiah of Meena was one of those designers, and we can honestly say her presence in the Nigerian fashion industry has delivered  more than we could have hoped for.
A protégé of Nigerian designer, Ituen Basi, Uju launched her fashion brand in December 2010 with the aim of bringing Ready-to-Wear fashion, as well as custom made pieces for the growing crop of fashion-conscious Nigerian women.
The design label first caught our eye with its "Silver Shadow" collection inspired by the 70s (click here to check it out) and has been dominating runways, red carpets and more since then.
To attend Silverbird's 35th Anniversary Celebration over the weekend, former Miss World, designer and model, Agbani Darego rocked a chic piece from the fashion labels new collection for Spring/Summer 2016 showcased at the Heineken Lagos Fashion & Design Week 2015.
The outfit is a 2-piece print skirt suit which features puffy sleeves, gold buttons and a plunging neckline. Her flawless makeup was created by Doranne Beauty. See more images of the fab lady below;
Photo Credit: @Agbanidarego (Instagram)