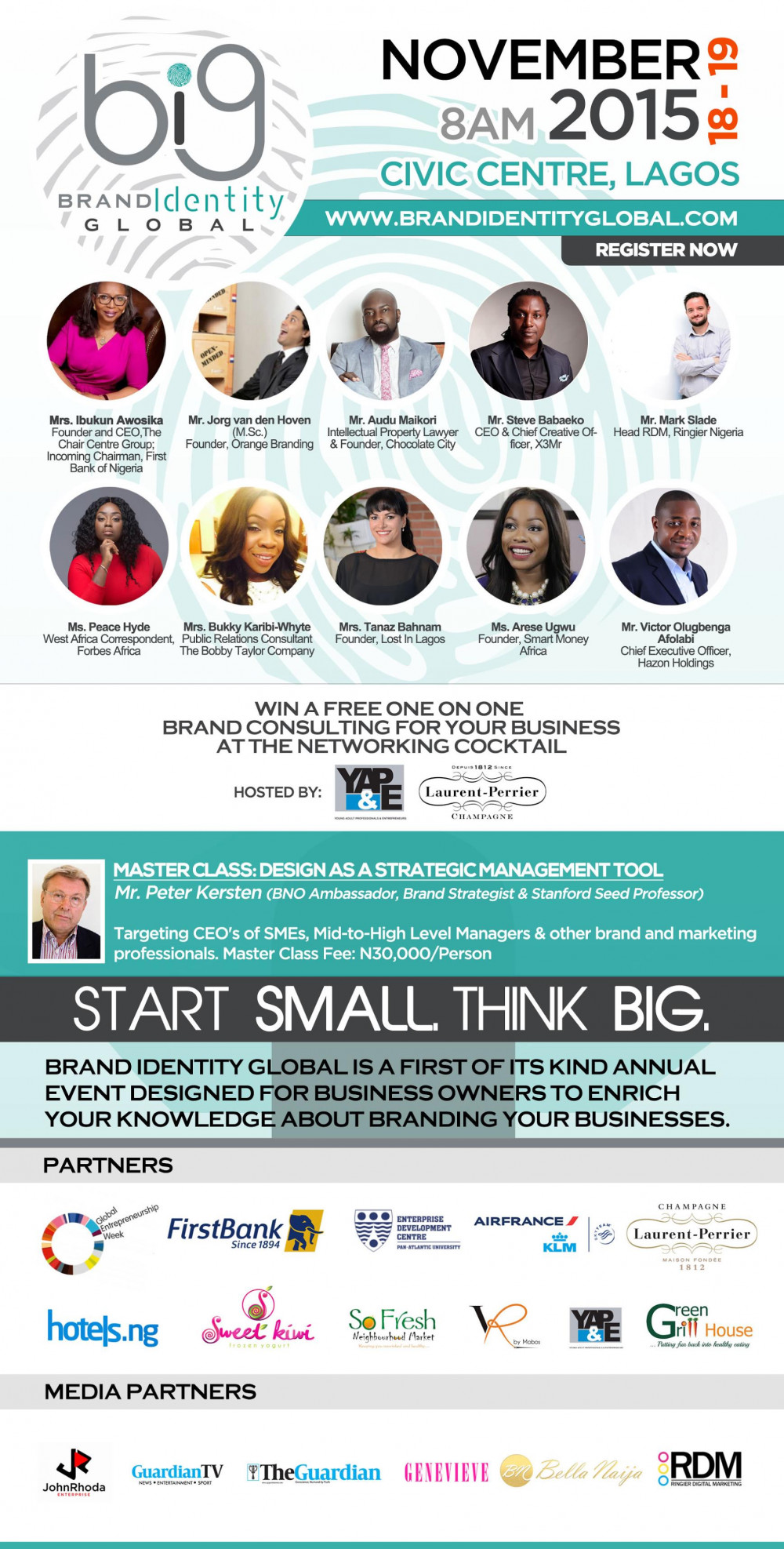 The BIG Conference is the first of its kind annual event, which has been created to help business owners enrich their knowledge about branding on an international level. The BIG Conference was developed with small businesses and entrepreneurs in mind.
The two-day conference kicks off tomorrow!
The BIG Conference is for brand and marketing professionals who are looking for new innovation in the brand and marketing sphere. It is also dedicated to helping businesses understand branding from a local to a global perspective, helping small, medium and big companies build a strong brand identity that can rival any international competitor. The conference seeks to inspire and educate individuals who dream or have been mandated to build Nigeria's top future brands. Over the course of the conference, professionals will gain the tools, inspiration and insights required to take their brand to the next level.
The BIG conference is set to hold on the 18th & 19th of November 2015 as part of the activities for Global Entrepreneurship Week in Nigeria.
The first day of the conference which will hold at the Civic Centre in Victoria Island would feature two international brand professionals, Peter Kersten, who is an award-winning brand branding professional, a BNO ambassador and a Stanford Seed coach. The other – Jorg Van den Hoven is also an award winning brand professional, Founder of Orange Branding and design consultant for the Canton Fair product design center. The Chairman-designate of FirstBank, Ibukun Awosika is also expected to inaugurate the conference.
The wealth of experience these speakers bring with them will definitely leave you inspired, educated and energized. The conference will also feature experience Intellectual property lawyer – Audu Maikori, CEO of Chocolate City to speak on how to protect your brand using the laws available in Nigeria today. Other speakers include Steve Babaeko, CEO of X3M, Victor Afolabi and many more talents within the space.
On the 19th will be a Masterclass titled 'Design as a Strategic Management Tool,' which will be held at the Enterprise Development Centre inside the Lagos Business School, Ajah. The Master Class is for branding professionals, mid to high level managers and CEO's of small, medium and large companies.
The BIG conference is gearing up to be the best branding conference Nigeria has ever experienced and it is a must attend for all business owners. Fresh thinking starts here!
To register, visit the website, www.brandidentityglobal.com
The BIG Conference
Date: 18th & 19th of November 2015
Venue – Day 1: The Civic Centre, Victoria Island, Lagos
Venue – Day 2: The Enterprise Development Centre inside the Lagos Business School, Ajah
Connect on Social Media
Facebook: facebook.com/BrandIdentityGlobal
Instagram: instagram.com/BrandIdentityGlobal
Twitter: twitter.com/ThinkBIGLagos