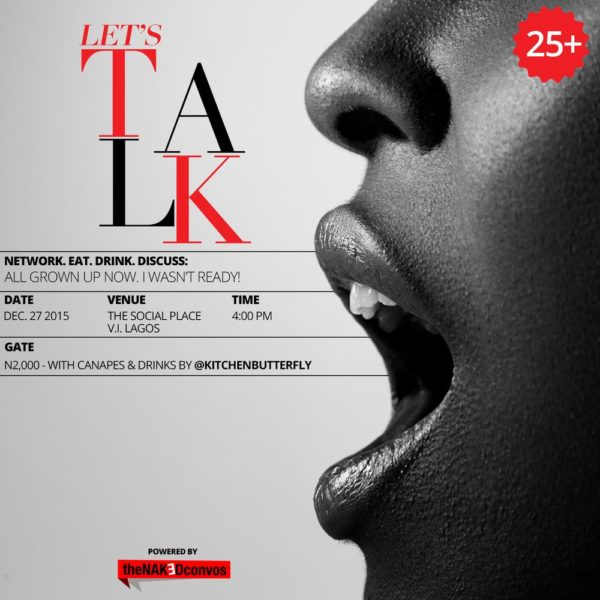 Let's Talk is an open networking and discussion forum targeted at young Nigerians, 25 and above. Imagine a space with hundred other young professionals, entrepreneurs, wives, husbands, parents like you, amazing cocktail food, drinks, classic lounge music and quality discussions about the things that affect your everyday life as an adult living in Nigeria – that's what Let's Talk is.
There will be no frills, thrills or games; at Let's Talk, we will go straight to the business of the day – networking – meeting other young people who could maybe connect you to that dream job, contract or even that evasive "bae" you've been looking for all year – and of course the open discussion.
The topic for the first edition is: All grown up now. I wasn't ready! There will be no panels or speakers – at Let's Talk, we'll all be talking like friends, colleagues, young Nigerians who share the same daily struggles and challenges as we continue to discover the grown up life. We will discuss the hustle, professional and otherwise, the many bills we have to pay, the expectations from family and society and many other things.
Moderating the discussion will be Gbemi Olateru-Olagbegi. Dress code is smart casual so you can throw on a blazer over your denims, rock your trad or your sweet black dress. Food and drinks will be provided by the amazing  @kitchnbutterfly and we all can't wait to see you guys.
Date: Sunday, December 27th
Time: 4 PM
Venue: The Social Place, Victoria Island, Lagos
Fee: N2,000 (with Canapes & Drinks)
Save the date and quickly invite a friend or two as we have limited seats. For enquiries, please send an email to hello@thenakedconvos.com.
_________________________________________________________________________________________________
Sponsored Content