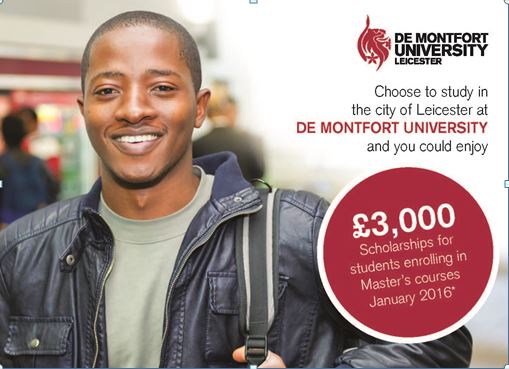 Are you still planning to study in the UK starting in January 2016? Then think De Montfort University! DMU is a vibrant, multicultural hub of learning, creativity and innovation that never surrenders to convention. The most improved university in the UK according to The Sunday Times league tables, DMU is a great place to study and, being based in Leicester, it is a great place to live. Little wonder then that DMU is one of the top 25 universities for graduate employment.
Jules Pringle, International Recruitment Officer for Sub-sahara Africa will be holding information and recruitment sessions across Lagos, Ibadan and Abuja to discuss study options and scholarship of £3000 available to ALL Nigerian students starting in January 2016.
Over 20 postgraduate courses to chose from- http://www.dmu.ac.uk/study/postgraduate-study/postgraduate-courses-starting-in-january-and-spring-2016.aspx. Come with all your academic documents to receive on the spot Admission offers.
Meet with us in the following locations:
Tuesday, November 24th (Ikeja):
Time: 9 AM – 12 NOON
Venue: UKEAS, 76 Opebi road, Ikeja
Time: 2.30 PM – 4.30 PM
Venue: PFL, 49 Sobo Arobiodu street, GRA-Ikeja
Wednesday, November 25t (Victoria Island):
Time: 10 AM – 12.30 PM
Venue: UKEAS, 1st Floor, 6 Adeola Odeku Street
Time: 3 PM – 4 PM
Venue: PFL, 296B Jide Oki Street, off Ligali Ayorinde
Thursday, November 26th (Ibadan)
Time: 10 AM – 1 PM
Venue: UKEAS, 1 Shell Close, Ile Oridetu, Onireke Close
Time: 2 PM – 5 PM
Venue: PFL, Oni & Sons bus stop, Ring road, Ibadan
Friday, November 27th (Abuja)
Time: 9 AM – 11 AM
Venue: B&S Education Women Development center, Oyinbo block no 1.18, Central Area
Time: 2 PM – 5 PM
Venue: UKEAS Suite3, 2nd Floor Hatlab Place, 1952, Sokode Crescent
Enquiries:
Babs Ogundeji – DMU Country Representative
Phone: 08157714913 | Email: [email protected] | Skype: babs.abraham | Website: dmu.ac.uk/nigeria | Facebook: DMU Nigeria
DMU……..This is Your Future.
_______________________________________________________________________________________________
Sponsored Content