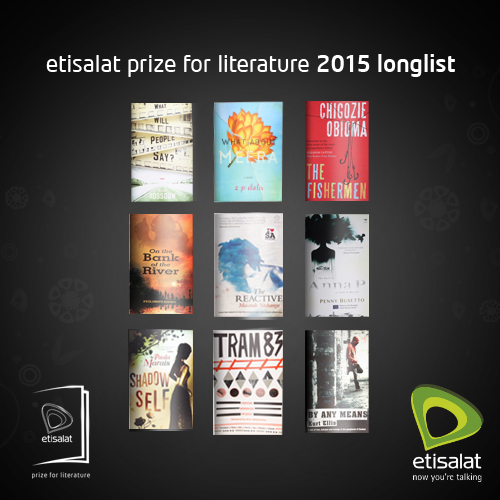 The longlist of the Etisalat Prize for Literature 2015 has been selected from an array of over 100 titles submitted from across Africa.
This year's longlist of 9 books was selected by an esteemed panel of three judges chaired by Professor Ato Quayson, Professor of English and inaugural Director of the Centre for Diaspora Studies at the University of Toronto, and also comprising Molara Wood, writer, journalist, critic and editor; and Zukiswa Wanner, author of Men of the South and London Cape Town Joburg.
The 2015 longlist, for the Etisalat Prize for Literature is:
Ifeoluwapo Adeniyi (Nigeria), On the Bank of the River
Penny Busetto (South Africa), The Story of Anna P, as Told by Herself
Z P Dala (South Africa), What About Meera
Kurt Ellis (South Africa), By Any Means
Paula Marais (South Africa), Shadow Self
Fiston Mwanza Mujila (Democratic Republic of Congo), Tram 83
Masande Ntshanga (South Africa), The Reactive
Chigozie Obioma (Nigeria), The Fishermen
Rehana Rossouw (South Africa), What Will People Say?
Professor Ato Quayson, Chair of the Judging Panel commented: "The range of submissions for the Etisalat Prize this year represents the vitality of literary writing on the continent, and the longlist is a selective showcase of the best to be found. The subjects covered in the longlist are so fascinating and varied that it would take another novel just to describe them all. Magnificent!"
The judges now have the task of selecting a shortlist of three at a retreat in the Seychelles in December.
The winner of the 2015 Etisalat Prize for Literature will receive £15,000, an engraved Montblanc Meisterstück pen and will attend an Etisalat sponsored fellowship at the University of East Anglia, mentored by Professor Giles Foden, author of The Last King of Scotland.
The Etisalat Prize for Literature launched in June 2013 is the first pan-African prize that is open solely to debut fiction writers of African citizenship and has now established itself as the most prestigious literary prize for African fiction.
The distinguished Patrons of the Etisalat Prize are noted African writer Ama Ata Aidoo (Ghana), Pulitzer Prize winner Dele Olojede (Nigeria), Former deputy editor of Granta Magazine and former senior editor at Jonathan Cape, Random House, Ellah Allfrey, OBE (UK, Zimbabwe), Writer and Intellectual best known for his works of fiction, Kole Omotoso (Nigeria), Editor, writer, broadcaster, consultant and co-founder of Allison & Busby, Margaret Busby, OBE (UK/Ghana) and Novelist, Poet and Playwright, Zakes Mda (South Africa).
_______________________________________________________________________________________________
Advertorial– Sponsored Content