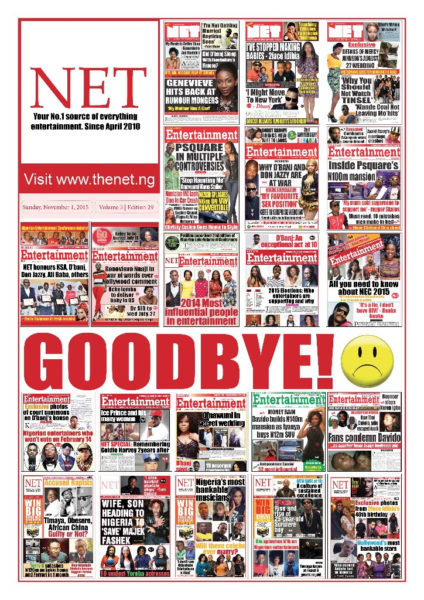 Nigerian Entertainment Today (NET) Newspaper is going out of circulation after 6 years of putting out their 16-page entertainment focused weekly newspaper.
Publisher of the NET Newspaper, Ayeni Adekunle made the announcement in October and now the very last issue of the newspaper has been released.
According to NET, they will be focusing more on their website – www.thenet.ng – thus leading them on into the future.
NET also has a NECLive Series platform for enhancing cooperation and increasing knowledge within the Nigerian creative industry. It was created in response to the recurring problem of limited capacity building in the industry which was identified at the past three editions of the Nigerian Entertainment Conference.
The goal of NEC is to bridge identifiable gaps in the creative sector, and in so doing advance the agenda of CORA and NEC to support the industry in Nigeria.
Congratulations to the NET Ng team on the new move.