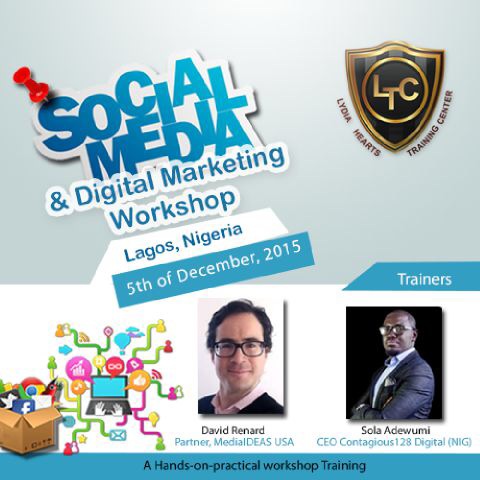 The importance of digital marketing for your business can never be over emphasized 90% of your business clients are connected to the internet, LinkedIn, Google+, Google Analytics, Twitter, Email and Mobile marketing and many more. These are the Connectors to your clients. Digital marketing is indeed the future! It has become a very powerful and essential tool for companies and individuals to improve their marketing strategies and branding, relating with clients, monitoring and increasing sales, etc. to enhance business growth and productivity. However, this tool has not been fully achieved by businesses, companies and brand individuals. This workshop will help you achieve media presence for individual & company brand, through our hands-on-practical training.
Our Trainers are well vast in their different fields and are eager to share their knowlege and experience with the Nigerian market.
About the trainers

– David Renard is a partner at MediaIdeas USA, a global consultancy that provides research and advice on the publishing industry's technology-enabled future. He has trained and consulted for hundreds of companies, including advising executives and board of directors of Fortune 500 (USA) companies on the impact of technology innovations on the financial industry amongst many others. David will be taking the Hands-on-workshop training, working with the participants in groups and individually.
– Olusola Adewumi sits at the helm of affairs at Contagious128, forerunners in social media marketing, digital deployments and monetization with Lagos & London offices. He has had progressive working experience in the integrated marketing communications industry since 2001, which dovetailed into his early voyage in the digital media space. He is a JCI certified Public Speaker (JCI University USA). He will be training on Digital advertising
Highlights:
Digital advertising and Digital Monetisation to generate income through online platforms
Growing online user base/clients, advertising & generating revenue through search engine/content/digital marketing
Hands-on training on "how to use social media/ & digital marketing to drive sales and engage your clients
Finding your company/ individual social media presence
ideate new ways of growing your clientele
Client friendly tools needed to grow your business
Hands-on-practical workshop with Certificates
One-on-one with trainers
Using Google analytics, etc to enhance business growth
Who Should Attend?
Entrepreneurs, Media personnel in companies, Comapny marketers, Business owners, Bloggers, Social media marketers, Online Sales Representatives, Publicists, Media staff in Publications, NGO, media staff of Faith based-organizations, Individuals ( personal branding), and anyone or organization aspiring to generate more income or engaging their clients, using the new age digital marketing tools.
Date: Saturday, December 5th
Time: 9 AM – 5 PM (Networking session & lunch inclusive )
Venue: Dream factory studio ( DFS) Onward Complex, Alausa Ikeja Lagos, Nigeria.
Fee: N10,000 ( Early bird registration closes 20th of November, 2015) | N15,000 ( Late Registration from 21st of November to 3rd of December, 2015)
Send payment to:
Bank Name: Sterling Bank Plc | Account name: Lydia Hearts Initiative | Account number: 0025164748
Payment confirmation: Email your Name, Teller number & phone number to [email protected] to confirm your registration.
For inquiries, call: 07066348645
Early bird Registration closes 20th of November 2015.
Note: Participants are to bring their Laptop/ Tablet
For more information, visit http://lydiahearts.org/events/lydia-hearts-training-center-ltc/.
Learn from the world's best hands-on trainers. It is practical like never before!
________________________________________________________________________________________________
Sponsored Content