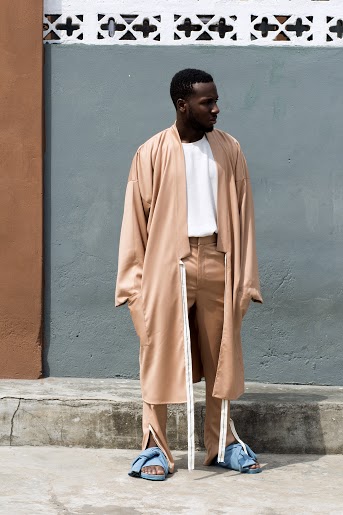 Nigerian menswear fashion brand, Tzar owned by Ian Audifferen, is here with a collective of pieces from their Spring/Summer 2016 collection titled – "1760".
The collection has been created with inspiration from art and personal experiences. According to Ian – "For my Spring Summer 16 collection titled '1760' – a number but more importantly my identity for a certain gruesome period in my life spent in a remote part of Western Nigeria.
The experience from this time and Alberto Burri's work on Sacchi mesh to explain this somewhat traumatic timeline. The collection is a visual and emotional interpretation of my habitation in that environment. The predominant colour being blue emphasizes the difficulty in accepting the change I had to endure, an inflexible mindset. But then over time, after much cogitation, I reckoned that embracing the situation and creating my own acceptable version of reality would be the better option."
With hues in brown depicting the long dusty roads he walked, the collection also has loose silhouettes of oversized burlap-esque linen shirts with exaggerated sleeves and distressed necklines exuding a sense of despair.
View the collection below;
Photo Credits
Photography: Jerrie Rotimi (Instagram: @Jerrie_Rotimi)
Model: Dammy Sotannde
Designer: Tzar (Instgram: @TzarStudios)