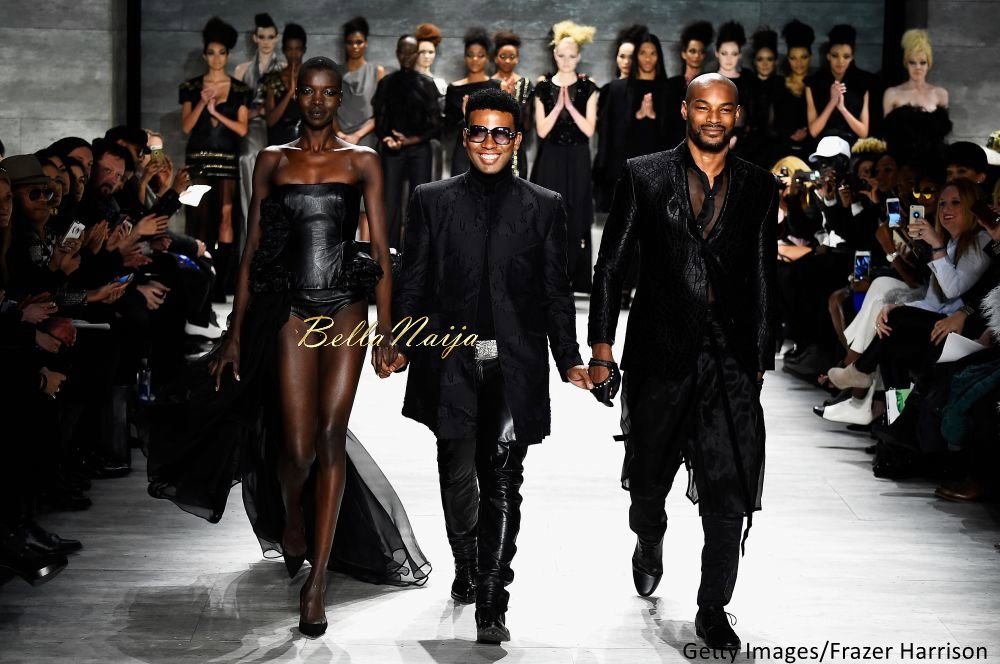 The stage is set and we are ready for the 2015 edition on Music Meets Runway!
Today is the big day and we have some exciting news for you – New York Fashion Week favorite- South African designer David Tlale, will be headlining the fashion shows. He will be showcasing his designs at the highly anticipated event at Eko Hotels & Suites.
In the 13 years since Tlale launched his brand, the South African native has showcased his inimitable designs at all the premium fashion platforms, and etched his mark as a favorite on the South African and African fashion landscapes.
In 2009, he was awarded Fashion Designer of the Year at the Africa Fashion Awards in Johannesburg, and later made his debut at Mercedes-Benz New York Fashion Week. In 2011, he presented his "Made in the City" collection in celebration of the 92 years of Nelson Mandela's life, and sent 92 models down the Nelson Mandela Bridge used as a runway on what is deemed to be the longest ramp in the history of South African fashion.
The proudest moment for Tlale was being the first South African fashion designer to showcase Solo at the Mercedes Benz Fashion Week New York in September 2012. He also received an award for Designer of the Year in the African Diaspora in New York in 2014. David has worked with many supermodels including Oluchi Orlandi, Tyson Beckford, Nykhor Paul, Tatum Keshwar and Millen Magese.
Since his debut on the catwalks, Tlale has been an ambassador for the "Change-4-Ever Campaign", an initiative that aims to alleviate poverty in Southern Africa. As well as appearing at the MMR event as the international fashion designer, David will be receiving an award for his outstanding achievement in the fashion industry.
This year's Music Meets Runway event will feature artists like Darey, Seyi Shay, Victoria Kimani, Lil Kesh, Wizkid and many more. Darey will be hosting the event!
The event will introduce the Music Meets Runway Recognition Awards, aimed at celebrating excellence in craft.
Dress Code: Royal
Tickets: Available at Eko Hotel & Suites
For Sponsorship enquiries: [email protected]
General Enquiries: [email protected] | For Press: [email protected] | Follow them on Twitter: @musicmeetrunway | Follow them on Instagram: @musicmeetsrunway | Like the Facebook fan page: www.facebook.com/musicmeetsrunway | For all updates and special announcements and to join the conversation, use the hashtag #MMR2015
________________________________________________________________________________________________
BellaNaija is a Media Partner with Music Meets Runway 2015